In this article, I am going to give you 23 top tips to spice up your kitchen wall decor.
The kitchen is one of the most used rooms in a home. It is often the epicenter of it, in fact. However, it is usually a room that stays as a basic functionality room instead of it becoming a nicely decorated and accessorized room. Even if you have had a new kitchen fitted, and it looks lovely, it may still not feel very homely. Kitchens tend to be one of the areas that just feel a little clinical instead of homely.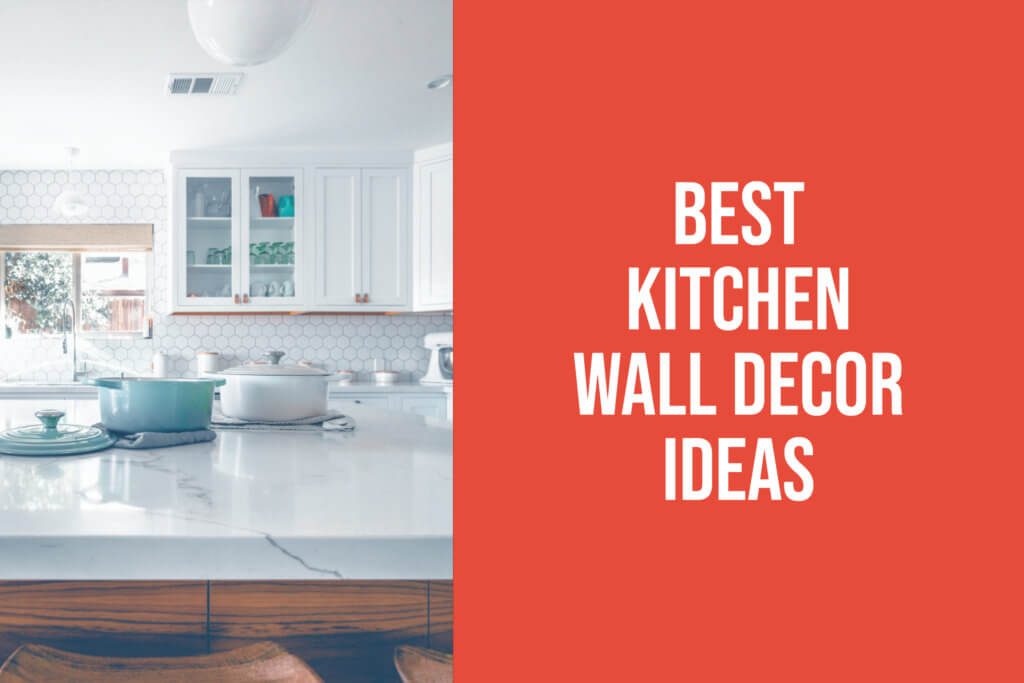 That is why, here at Kudos House, we have got some ideas of wall decor to spice up the kitchen:
Pallet Wine Rack
Pallets are the staple of DIY. They are readily available and made with relatively high-quality wood. I have done many DIY projects myself with pallets, and this is one of them. Although I did not take photos of mine when I did it (Doh!).
You may think it would be difficult to make a pallet wine rack, but it really is not that hard. If you have the pallet wood already, and the room to mount it to the wall, you can complete this project with a minimal amount of tools and skill!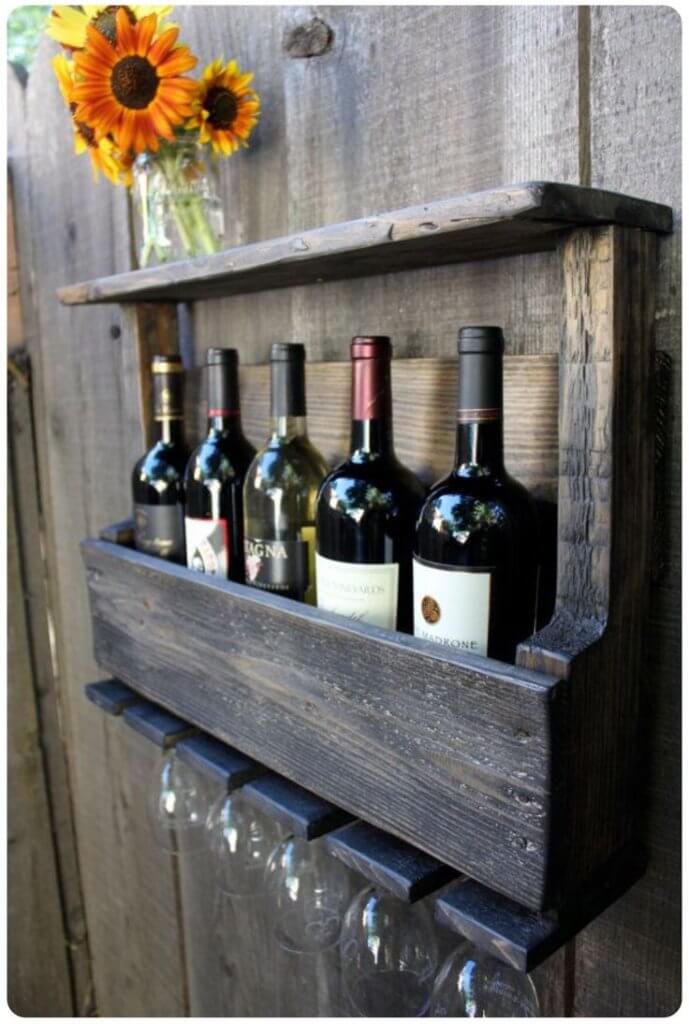 Pallet Cup Holder
If you are anything like me, then cupboard space is premium real estate in the kitchen. We have got so many cups that if we put all of them into the cupboards, we would have no room for anything else. That is why I think this idea is so good. We often have quite a lot of available wall space, so why not use it?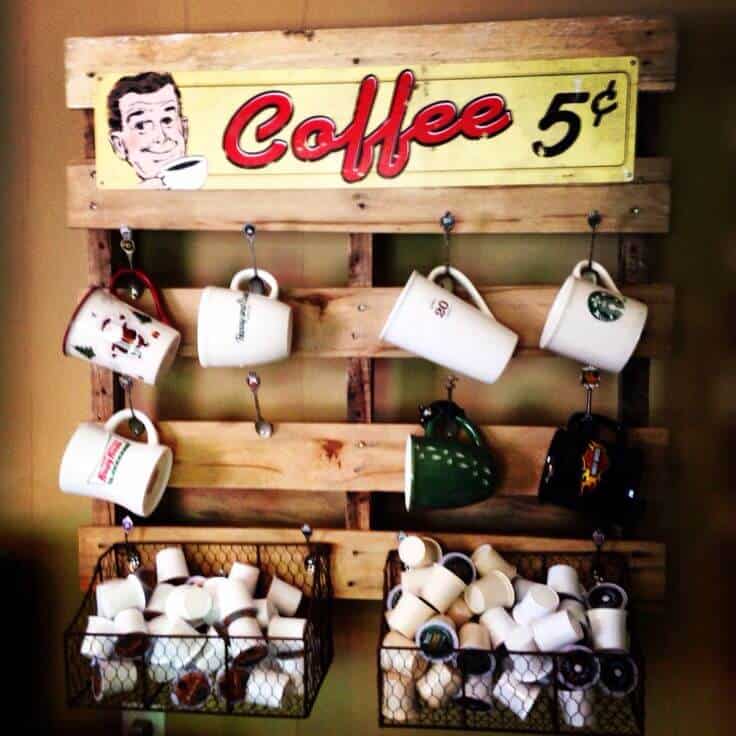 These pallet cup holders are a cheap way to increase your cup storage without taking up any of that prime space. One of the best things about these is that you can customize them in any way that you like:
Add shelves for your tea and coffee jars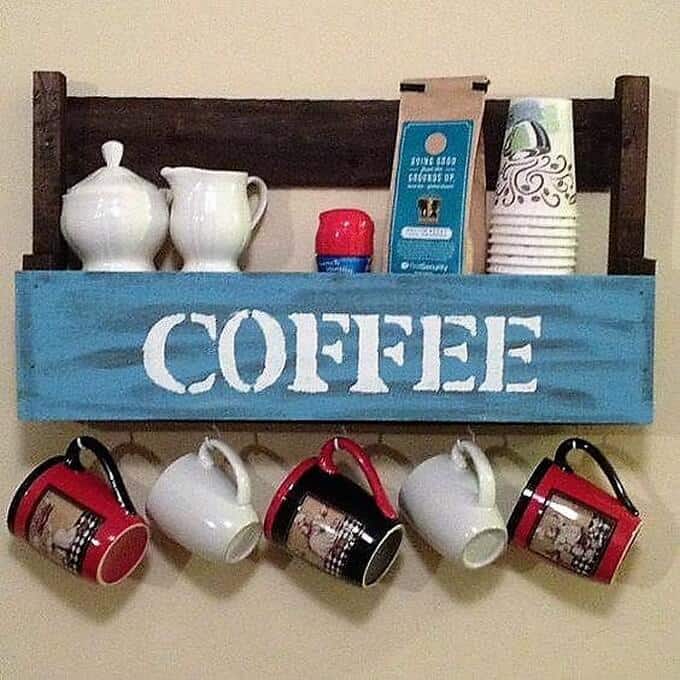 Paint them any color you like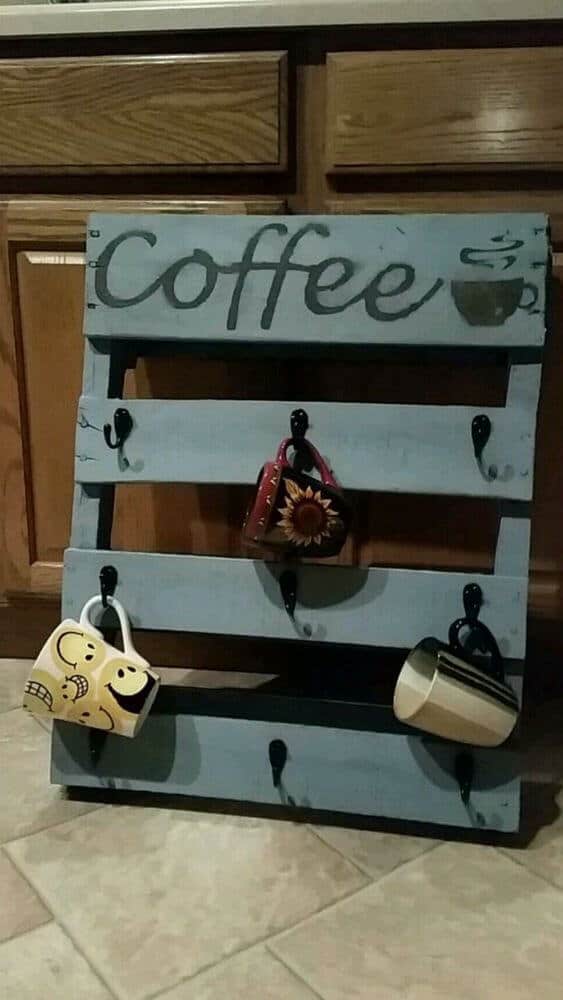 Add anything from 1 – >999 hooks for cups (OK, 999 is probably a little too many, but you get the idea).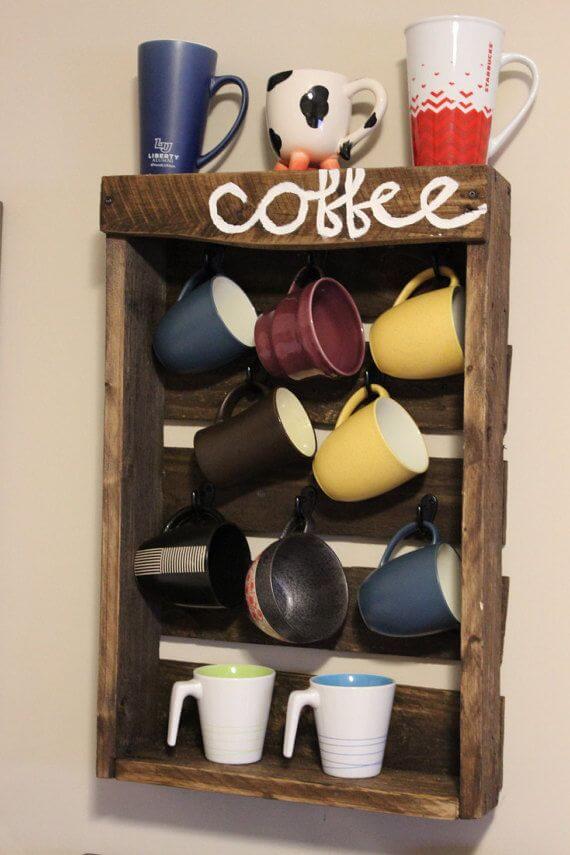 Pallet Pot Hangers
While I am on the subject of DIY, pallet wood, and cupboard space, I will mention these. Mounting pallet wood to your wall with hooks will allow you to hang pots up instead of keeping them in your cupboards or on top of the worktops.
I would suggest that you cut, stain and mount them on the wall before you add hooks for the pans though. Pre-mounting will allow you to use strategic placement of hooks and pots to get the most out of the space without the unnecessary work of adding hooks that will be useless after you have mounted the pots.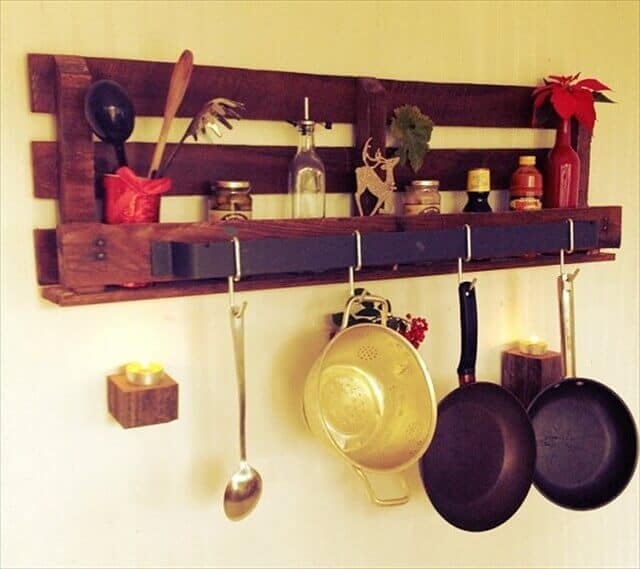 Pallet Spice Rack
I told you that this would spice up your kitchen. It wasn't just a metaphor. While you are on your DIY mission to make the three items above, why not just go another step and make a pallet wood spice rack? Again, as you are using pallet wood and making it yourself, there is no end to the possibilities of how big you make them.
Remember that we are talking about wall decor here, so this is a wall mounted spice rack. However, it does not need to be wall mounted.
One piece of advice that I would urge you to take, though, is to make the space for the spices oversized. I made one of these once, and I measured the area to fit the size bottles that I had. A few months later, the manufacturers changed the size of the jars, and now I have to have them on the worktop or make a new one.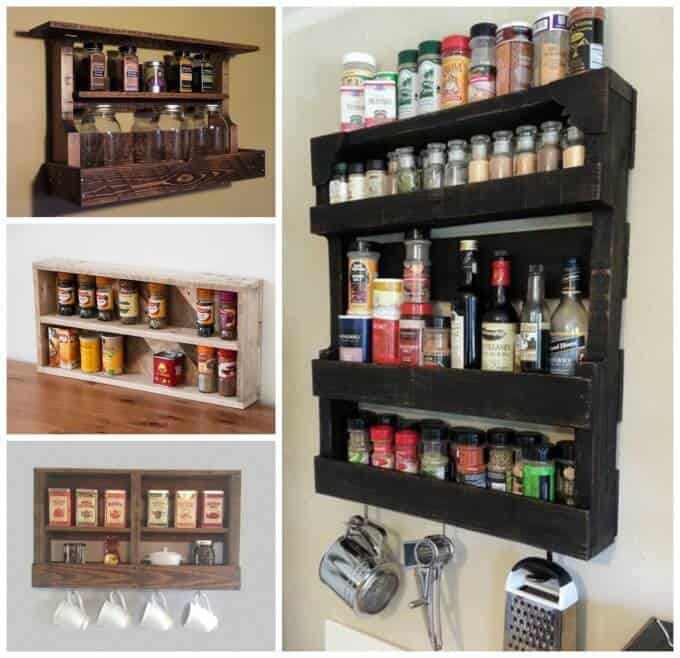 Pallet Wood Chalkboard Menu
How many times do you get asked: "What's for dinner?" If your house is anything like mine, then I get asked at least five times a day. AT LEAST. I am sure that my children think that I will say something different on the second and third time that they ask.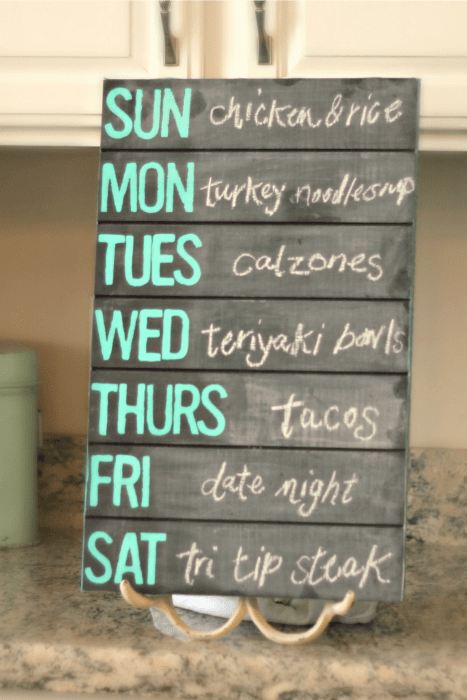 This is a problem that I have somewhat solved with a pallet wood chalkboard menu. I write on there each week with the plans for the weeks' dinner. Therefore, the children can see what we are having each day, and probably tell me that they do not want pasta on that day!
One of the great things with this idea is that you have an option with how you make it:
Paint the wall and frame it with wood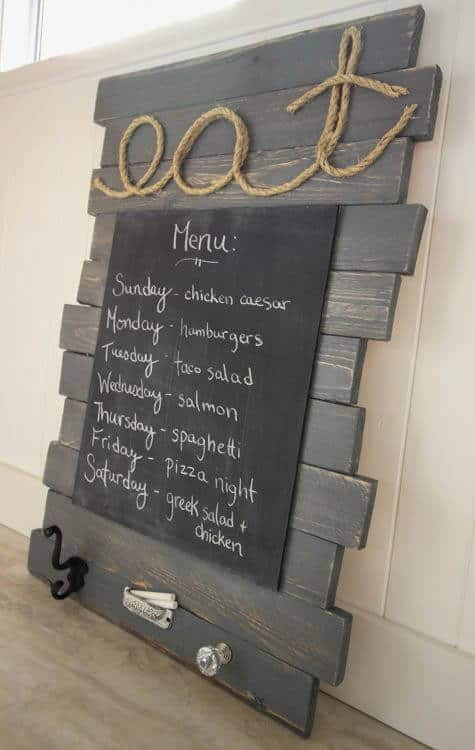 Make a board that you can remove and change location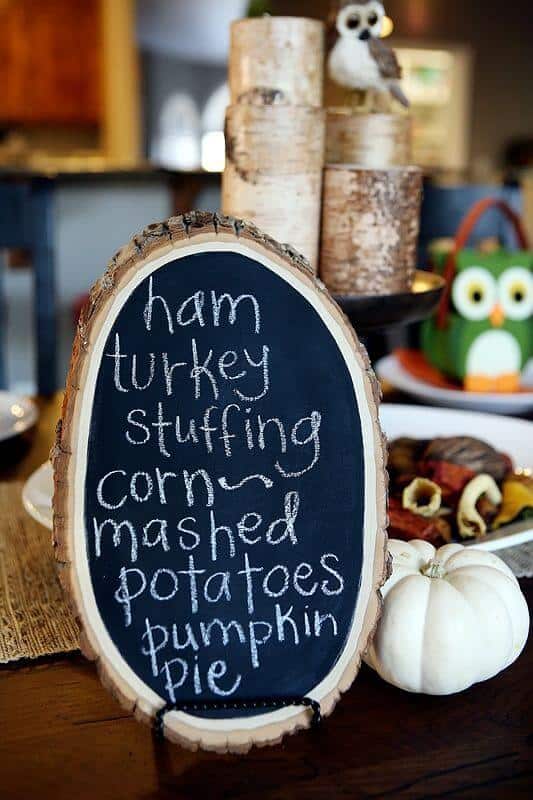 Kitchen Wall Sticker Decor
Ok, so let's move away from the pallet wood for a little while. (I might take another look at it later, maybe). Wall stickers are one of the easiest ways to add a little variety and decoration onto a wall.
I won't go into every type of design that you can get, as there are so many that you would be reading all day. However, what I will do is look through some of my favorite types of designs.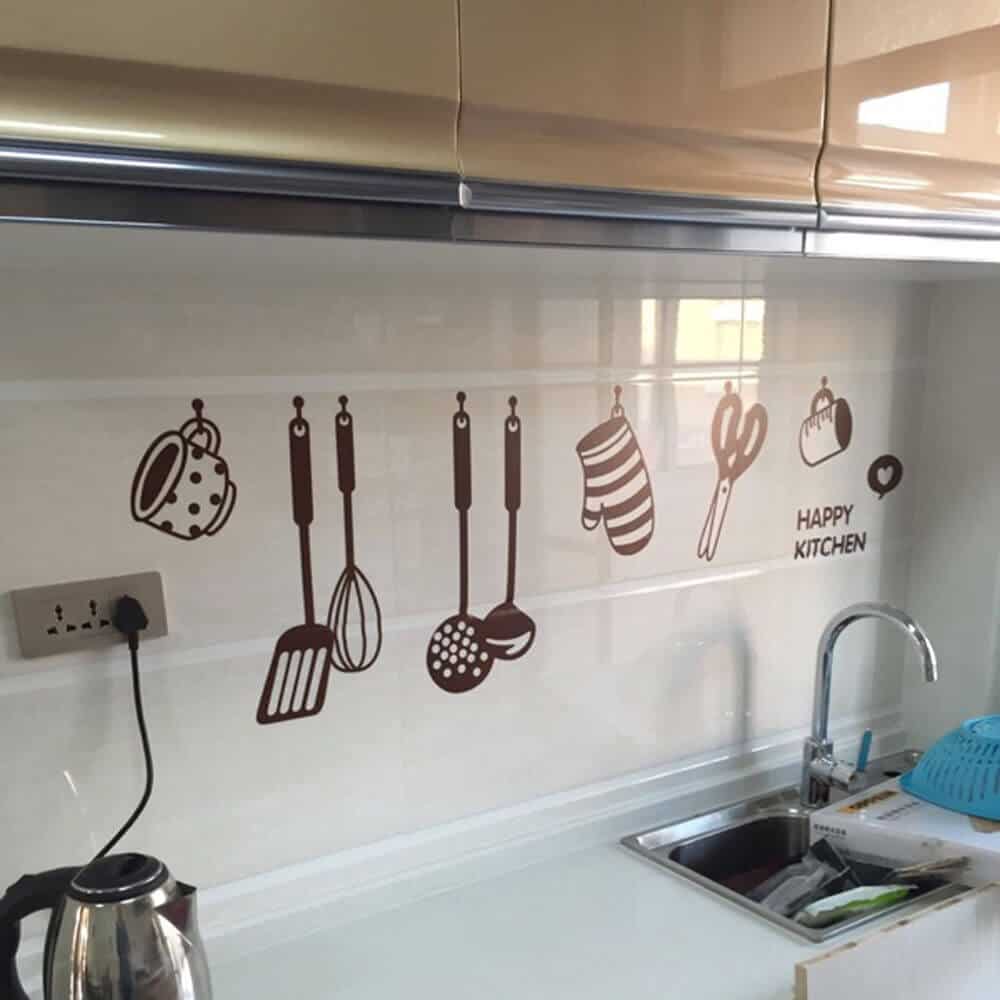 Quote Stickers
There are many shops that you can buy these stickers from, and many of them will make them with custom quotes that you choose yourself. That is one way that you can make your kitchen stickers very personal. Here are a couple of quotes that I like myself:
Spoonfuls of love added to every recipe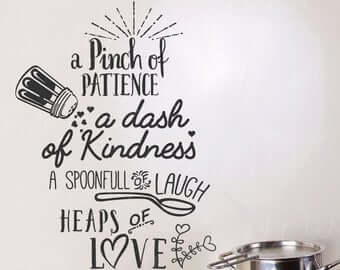 This kitchen is seasoned with love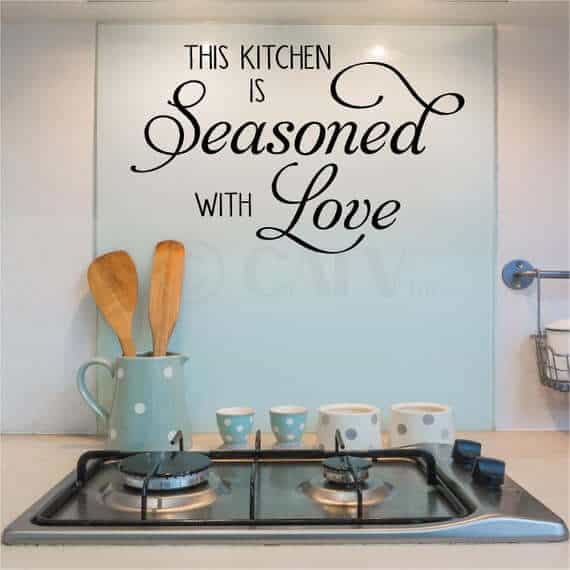 This kitchen is made for dancing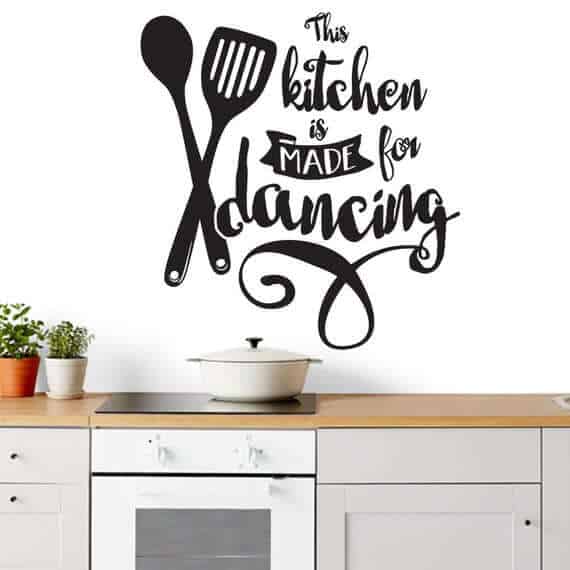 The kitchen is the heart of the home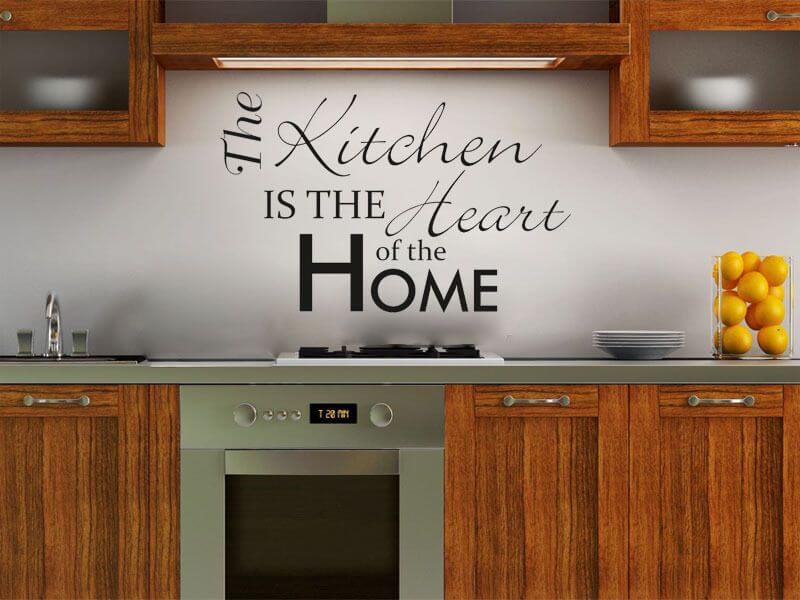 As I said, I will not go into all of the quotes that you can use, as you can make up your own to suit your family. However, I do feel like they are a great way to add a little bit of a personal touch to your kitchen.
Image Stickers
If quotes are not really your thing, or you already have quote stickers, then why not think of some other things that you can use a vinyl service for:
Shelf shadows – Shadows of shelves are a great way to make your kitchen look great. You can even add real hooks to the stickers so that you can hang cups or utensils off them, so it looks unique.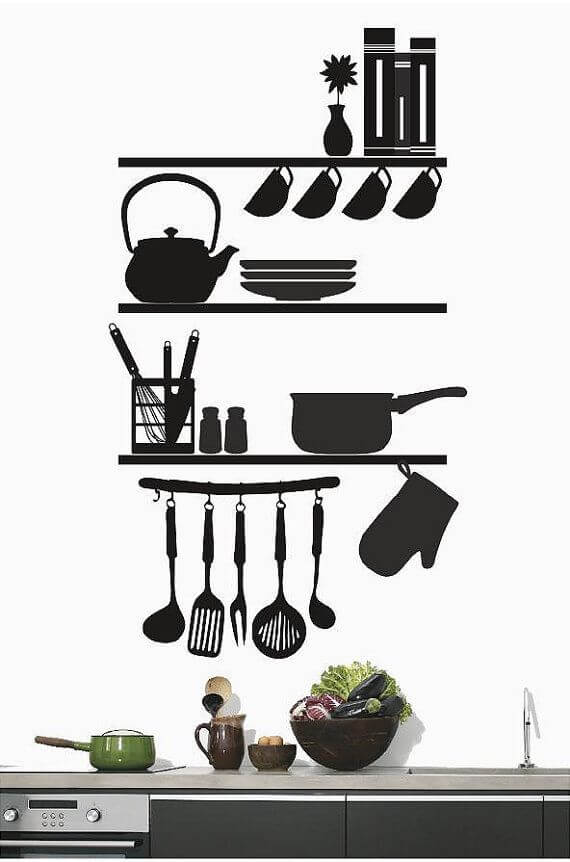 Images of coffee cups – Are you an avid coffee lover? Why not show it off with some large coffee cup stickers?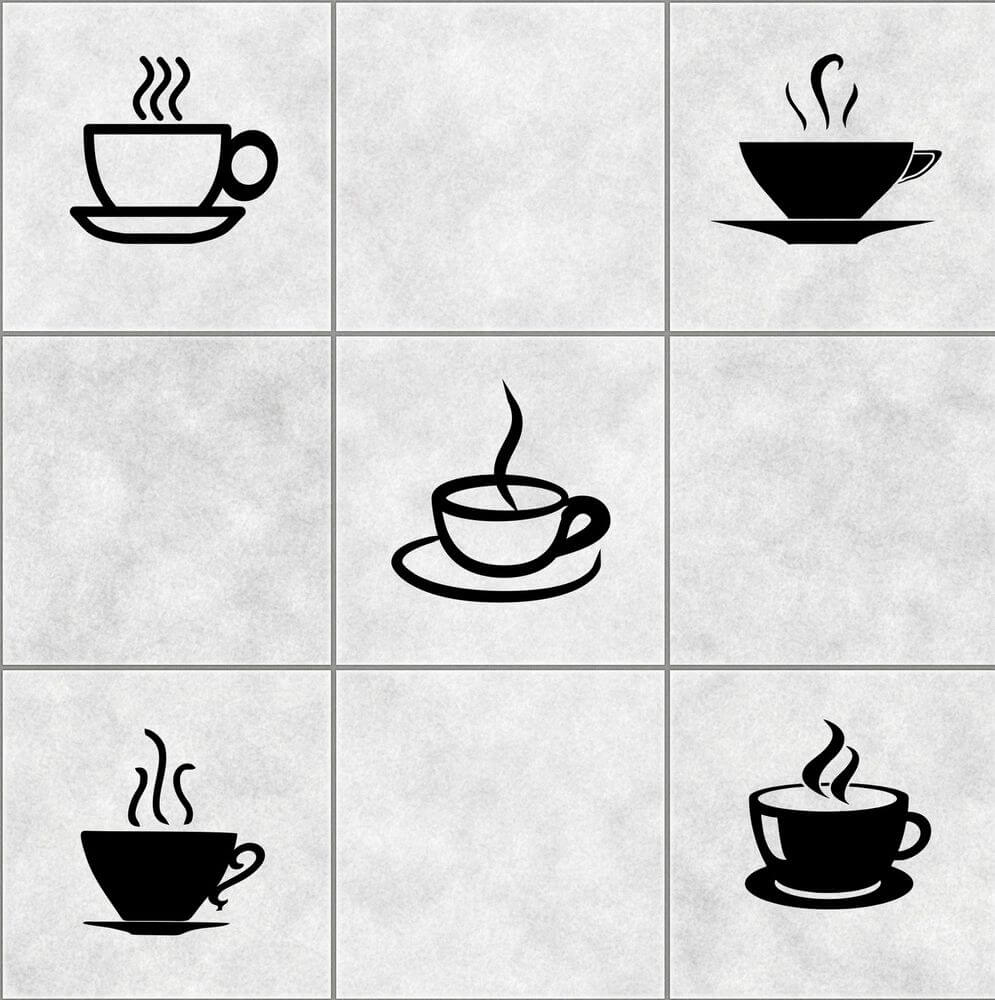 Jolly Chef Sticker – This one is pretty self-explanatory. However, it certainly adds a lot of character to a kitchen.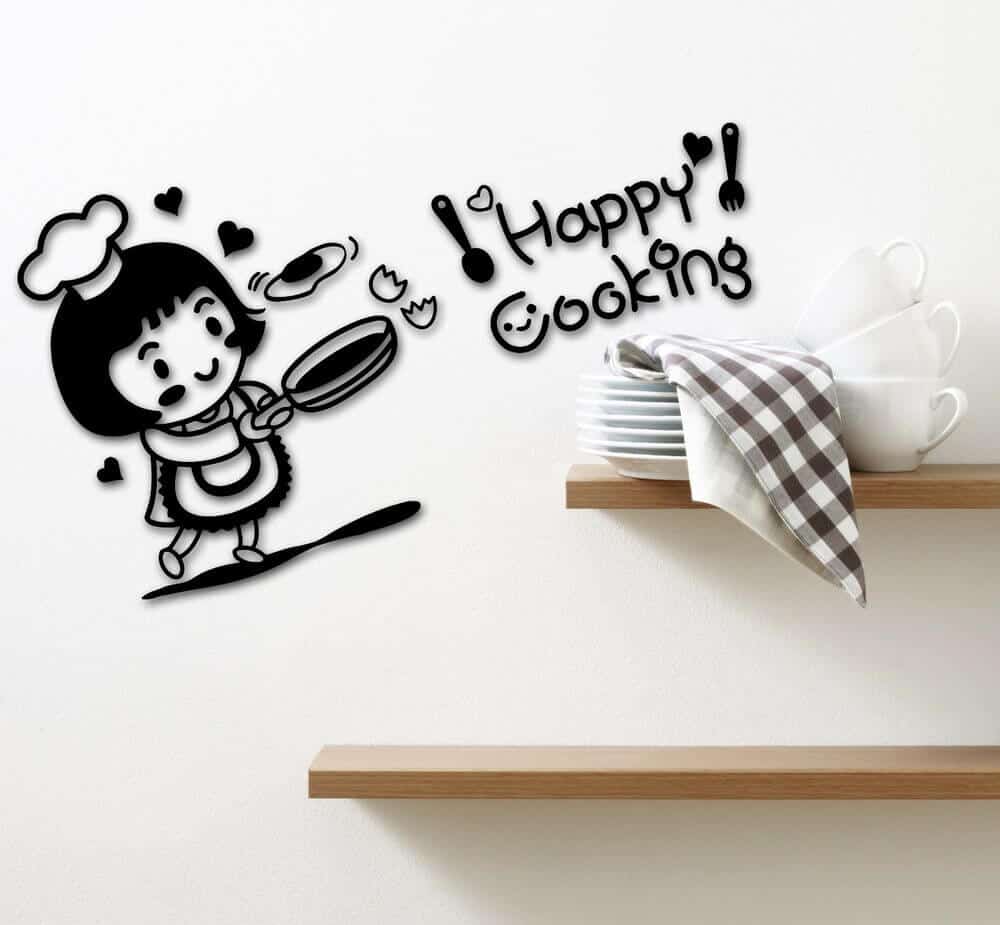 Negative Space Art
Negative space art is pretty cool if you ask me. It is usually reserved for other areas of the home, but I have managed to find one, yes, only one image of negative space wall art that would fit into the kitchen. This is it: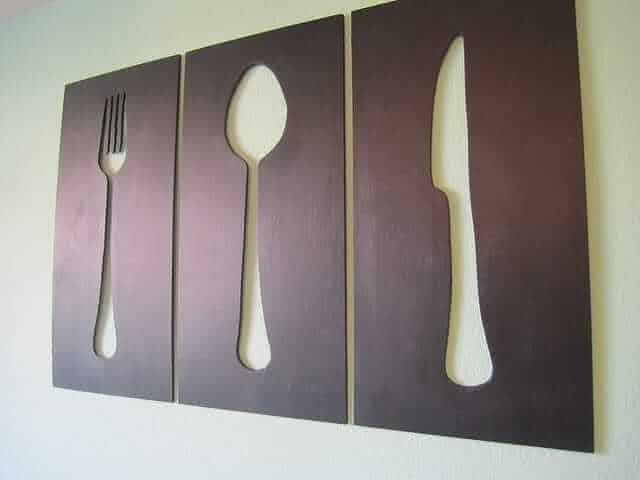 I would love to know if you have any other styles that you can think of. Or, even better, some images of negative space art that you have used in your home that you can send us and we can add into the article!
Antique Framed Kitchen Utensils
Do you have a love for cooking? If you do, then you are likely to have a collection of antique cooking utensils. And if you don't have a collection, I think that they are a brilliant way to add some character into the kitchen.
If you look on sites such as eBay, I am sure that you can find sets of them that you can simply mount onto wooden frames and mount on the wall.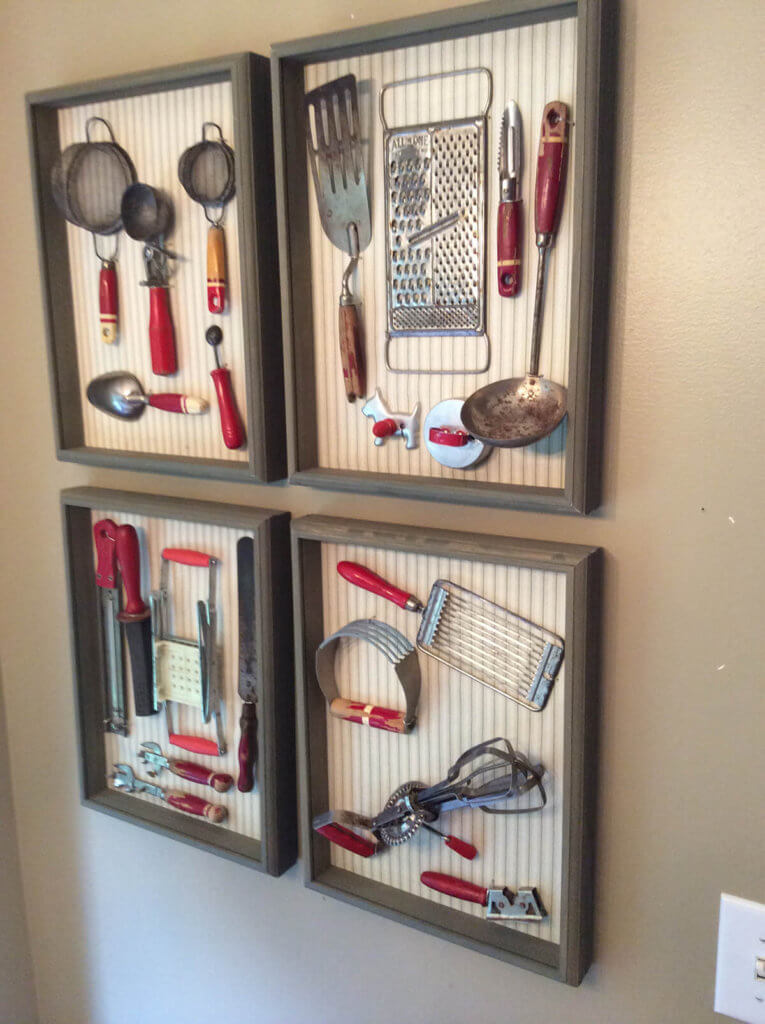 This is not just a good idea for antique utensils. You could do this for the appliances that you use every day. It is a little bit like a shadow board that you would use in a garage. However, it is for the busiest work area of the house.
Best Kitchen Wall Decor Ideas to Spice up your Kitchen – Conclusion
The kitchen does not just have to be a clinical style area with no character. There are many ways in which you can add a homely feel to it. Even if it is only by the wall decor. If you have the wall space, I think that almost all of these ideas would go very well together. Just make sure that you have the area planned so that you do not overcrowd.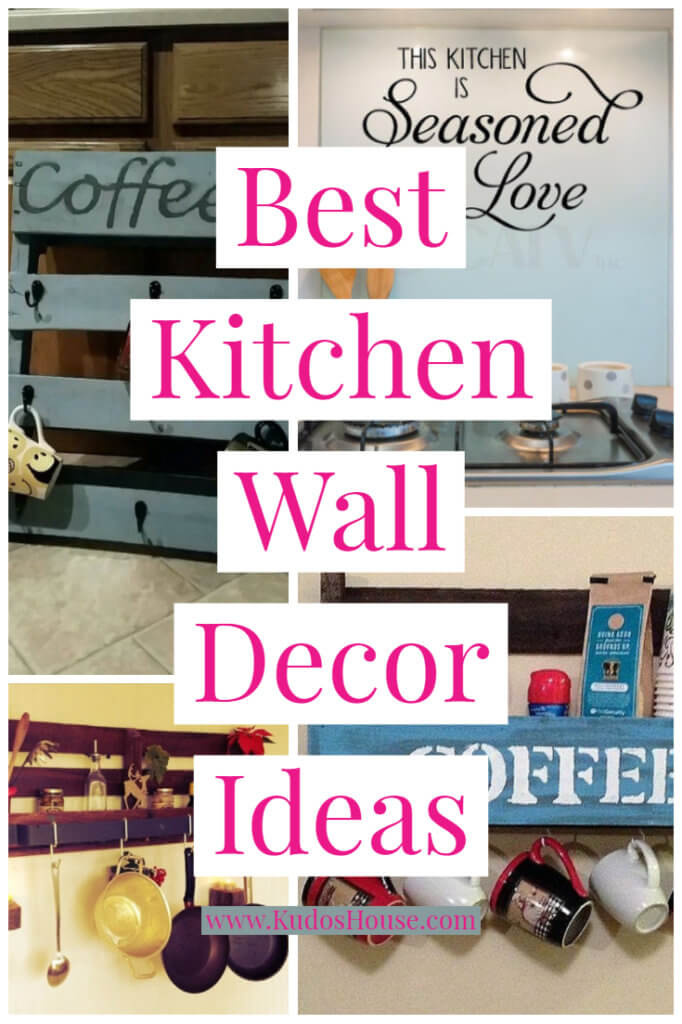 I hope that it has given you some good ideas on how to use your kitchen wall space. Let us know if you have any other ideas!