While a classic white color is pretty much always in style, pops of other shades can also be the perfect way to add personality to a home — especially in the bathroom. Because it is usually a small space, the bathroom typically requires minimal furnishings, fixtures and/or paint to refresh.
At the same time, since it is a highly trafficked area, simply redoing the walls or adding new accessories can have a big impact on a home's overall design. Think of the bathroom as a great way to dip your toes into the world of color. Rather than having to repaint the entire first floor, why not start small with a space where a bit of color will make a big impression?
If you are looking to redo your bathroom in 2020, consider trying a bold, modern splash of color or even a trending neutral such as light gray. There are lots of ways to brighten and finish your space. With that in mind, the below post highlights several color and design trends expected in the new year.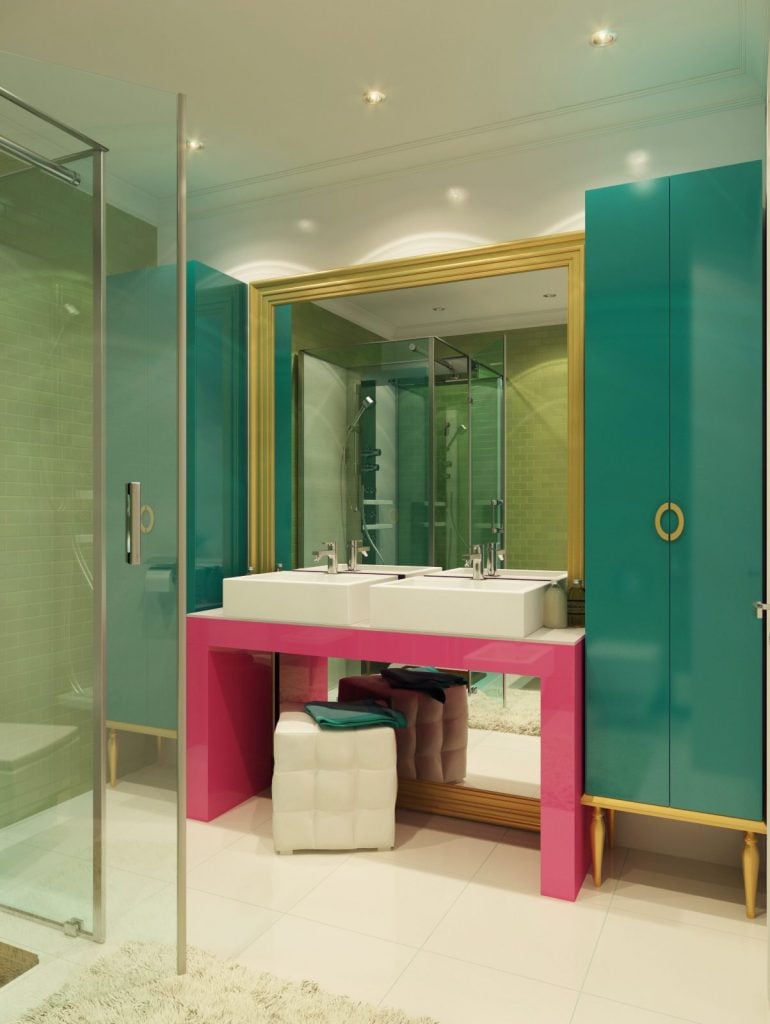 Popular Colors for 2020
Explore these ideas to get inspired with how to redo your master, main, half or hall bath:
Bold accents against a black and white tile wall: Here is an idea that can ease you into color — keep the neutral backdrop of a classic white subway tile or similar look, but spice it up a bit with color accents. You might try a red sink or bold, bright towels, for example. Either way, you could still get an overall neutral appearance, yet one that is a little more interesting.
Warm hues: Are you someone who is drawn to the warming shades of yellow, red and orange? If so, why not incorporate these energetic colors into your modern bathroom design? Adding warm hues to your wall is great for creating a bright, exciting space. Especially on trend this year is a bold and vibrant red.
Cool tones: In a room traditionally used for calming activities such as taking a bath or winding down for the day, blue, green or gray tones can also be a good choice. All of these shades signal a soothing vibe that is well-suited for a bathroom. Think coastal shades that are reminiscent of the ocean.
Lilac: For a more specific color on trend today, consider the gentle purple shade of lilac. Calming, pretty and effortlessly elegant, this shade is set to grow in popularity this year.
Plum: Also in the purple family but in a deeper, bolder shade, plum is another popular choice. Keep in mind that darker colors tend to make spaces feel smaller. If you are worried about dwarfing an already tiny bath, try a lighter shade instead.
Peach: Another trending hue this year will be peach. Warm and in the pink family, this shade is known for creating a fun and lively feel.
Pink: Perfect for a girl's bathroom, for example, pink can be a powerful shade that makes a strong statement. There are also many varieties of pink, from deep and vibrant to pale and delicate.
Bold black: It is hard to think of a braver choice than black paint in the bathroom. Painting one wall a black hue is an excellent way to nod to modern design, while also keeping your bathroom looking clean and sophisticated.
Deep charcoal: A neutral color with timeless appeal, a deep charcoal shade is beautiful and flattering. You could use it to accent a bath with white tile or white wainscoting, as well as to fully coat the walls.
Light gray: This shade has been trending for several years now, but it is an excellent neutral for creating a modern bathroom space. It is also proof that you don't even have to go big and bold to use color in a pleasing way in your space. Much like its charcoal counterpart, light gray can look especially eye-catching with white accents.
Are you thinking about redoing your bathroom this year and wondering what shades to pick? The 10 examples above are a wonderful place to look for inspiration. Whether you want to make small changes, such as towels and bath rugs, or bigger changes, such as swapping out a sink, there's potential to make a real splash with color in your space.
How to Choose the Right Color
When there are so many hot colors today, there are plenty of possibilities for refreshing your bathroom — but how do you pick? Here are some questions to answer when sorting through options.
Which colors am I drawn to most? As you browse trending color options, see which ones you are naturally attracted to and which ones you like imagining in your space. Gather a few options, narrowing them to a handful or so.
How will this look in different lighting? The same blue or purple shade can look different near a window, under a fluorescent light, during the day or at night. In other words, that swatch you find beautiful in the hardware store may not still be a favorite in the natural light of your powder room. Once you know the general shades you like, get some paint swatches to test in your bathroom. See what appeals most to you from there.
Can I visualize this color in my space? Beyond testing swatches, another way to prepare for new bathroom colors is to explore bathroom pictures in magazines and online. If you are leaning toward a black accent wall, for instance, find as many example photos of that look as possible. Determine if you always like this look, and it can help cement or change your choice.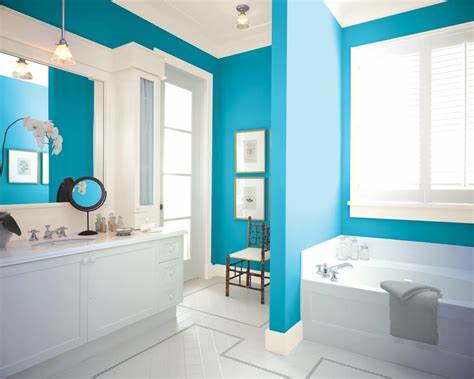 The good news about bathroom colors is that they are changeable. Even if you redo the whole guest bath in lilac and decide you don't like it, you can always repaint the walls with another color or use different accessories. That said, going with a trend that you love is a great way to breathe life and style into your bath.
Summary
Many people think that bathrooms need to be totally muted and neutral – only whites, grays, browns, and blacks. But that's simply not the case. Your bathroom can be just as colorful as the rest of your house, even more so if you wanted. Be sure to implement some of the tips above if you want a colorful bathroom.
Author bio: Erica Garland is Content Marketing Manager at Modern Bathroom and has 15-plus years of experience in the bathroom renovation industry. Modern Bathroom sells a variety of products you would need for any bathroom renovation project. With such a large selection of vanities, faucets, sinks, toilets and showers, Modern Bathroom is sure to have the perfect piece to give your bathroom an updated look.