You may have already read our article about mid-century modern living rooms, and perhaps you want to get some more ideas about mid-century modern decor for your home. That is why, here at Kudos House, we have compiled some more ideas that you can use throughout your home.
As I have stated in that article, the mid-century modern style got developed in the mid 20th century. Although that may have been a relatively long time ago in the world of interior design, this style has kept its allure and may have even grown in popularity.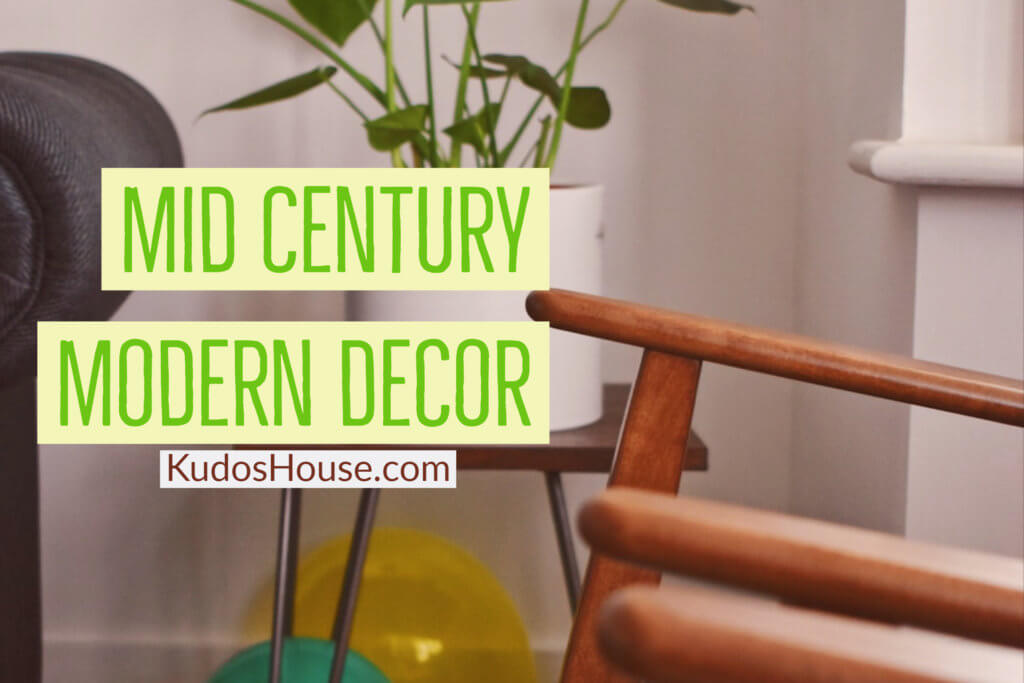 Made with Adobe Spark
If this is the first time that you are looking into this style of decor, then you are in for a treat. Not only is it a fantastic style of interior design, but it is also a style that you will undoubtedly be able to keep for as long as you want without it going "out of date."
Also, in the last article, I explained how it is not easy to describe this style very quickly. However, as we are going to look a little further into it this time, I will try to explain it.
What is Mid Century Modern Decor?
The name, mid-century modern, is a more modern name for the style of decor that you are going to be looking through today. It has not always been called that. At the time of its introduction, there probably was no name for it. It was just the "in" style at the time. And again, there s no real, definitive timeline for this style either. How I have seen this style described is by the following.
Post World War 2 practicality
'50s Enthusiasm
The rawness of the '60s
Colors and textures of the '70s
Scandinavian Simplicity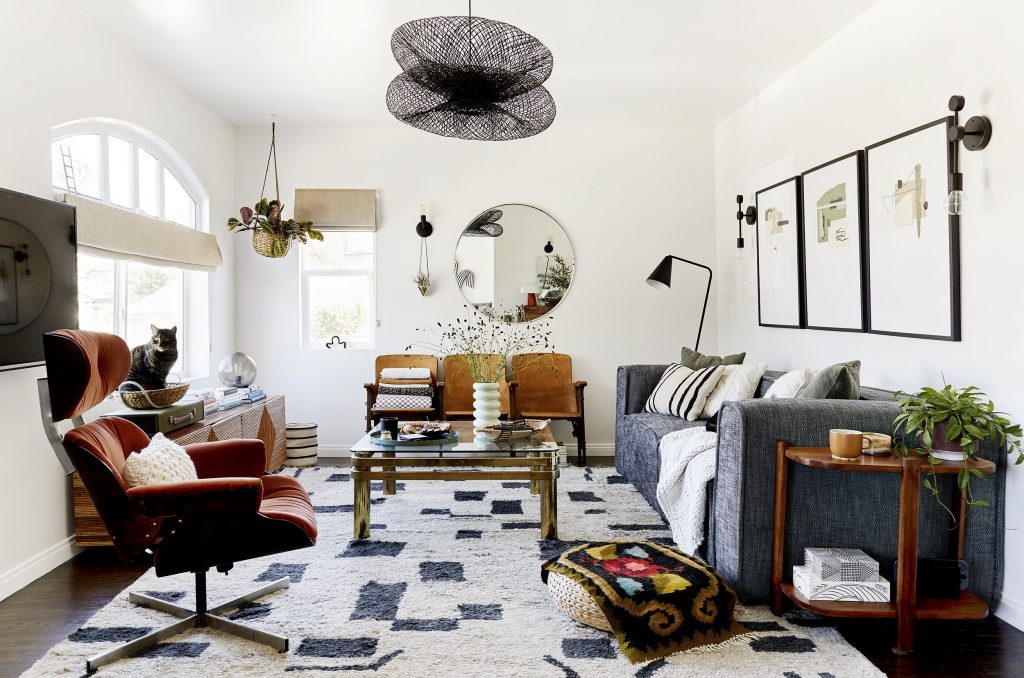 It is usually not described as just one of the above, but a mixture of some or all of them. Sometimes, you may find some furniture that only fits one or two of the descriptions, but they will still fit in with the style of any MCM room.
If you have taken a look through our Scandinavian article, then you will have seen that it fits quite well with clean lines and practicality of MCM. So, let's take a look through some of the distinguishing features that you are likely to find with MCM furniture.
Materials often used are as below.
Plastic
Acrylic
Formica laminate
Leather
The majority of these materials were pretty new onto the design scene when the MCM design movement was at its prime. Therefore, they are in a lot of furniture that you will see. Along with the materials used, there are also some styling aspects that you would expect to see too.
Hairpin legs
Chrome
Shell chairs
Cocoon seating
Matte finishes
Bold, yet pastel colors
An array of patterns
So, with those things said, we shall start to look through some of the room designs that we have picked out, and see where those design features fit in.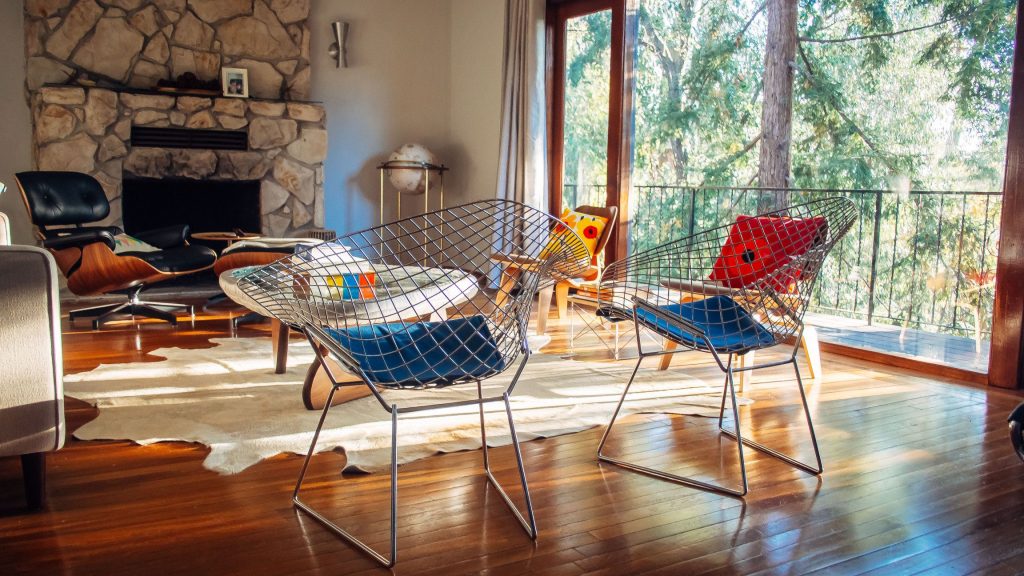 Mid Century Modern Living Room
In this next image, we have started with a mid-century modern living room. As you can see, the designer of this room has used a few of the style types that we have already spoken about earlier. A leather sofa with chrome legs, a Formica chair with chromed, hairpin legs, and a wooden table with a single chrome leg.
As you will see throughout this article, there are various styles of decor all mixed into one room. However, it certainly does not look strange. This flexibility is the beauty of the MCM style decor.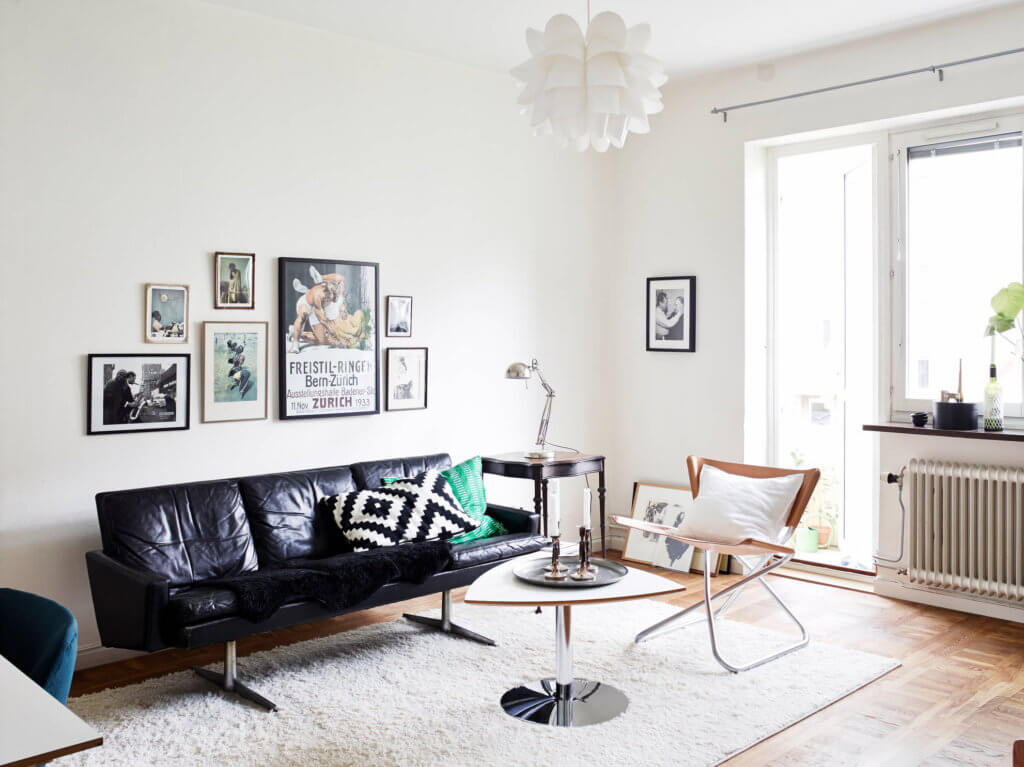 Mid Century Modern Round Coffee Table
One alternative to the table above that you could use is a round coffee table. This image shows that there are not a lot of style features to pick up on. However, the use of wood and tapered legs mean that it is a classic '70s style table that would fit perfectly with the description that I have given above.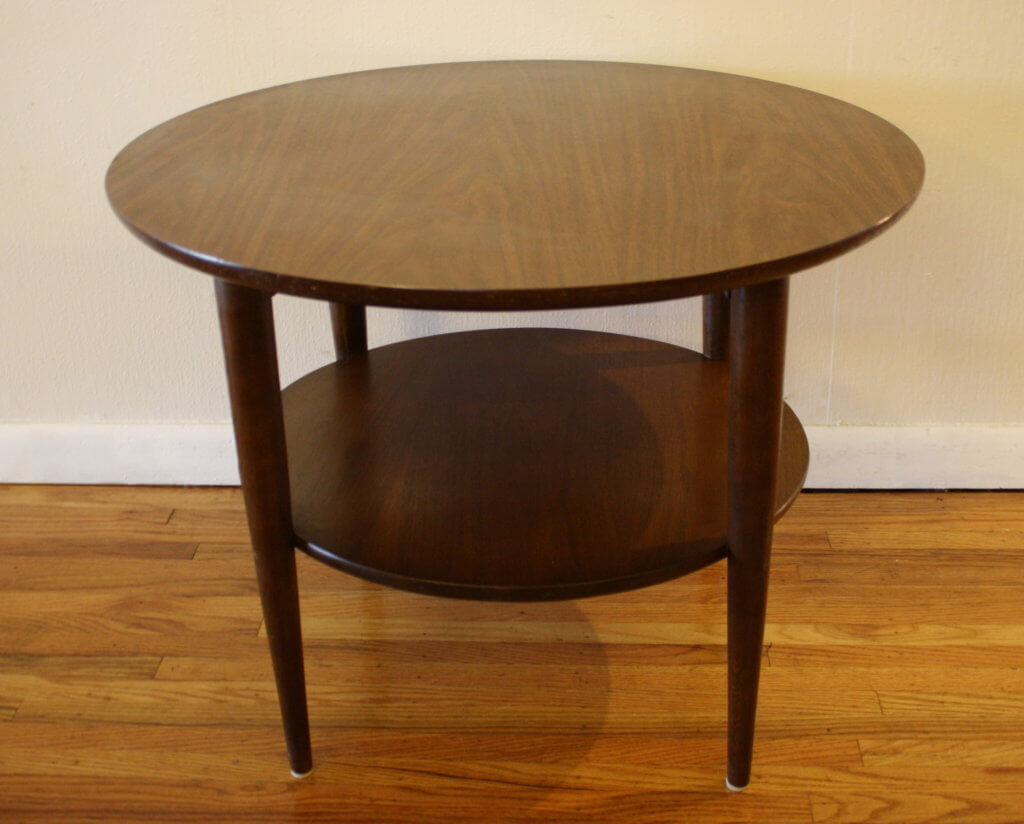 Mid Century Modern Tall Dresser
If you are looking for a mid-century modern, tall dresser, then look no further than the image below. The use of natural wood, painted wood, and brass fittings that do not match is a great way to incorporate this look. And, if you have not looked through our furniture refinishing article, then perhaps that will give you some ideas of how to get the most out of the furniture that you already have.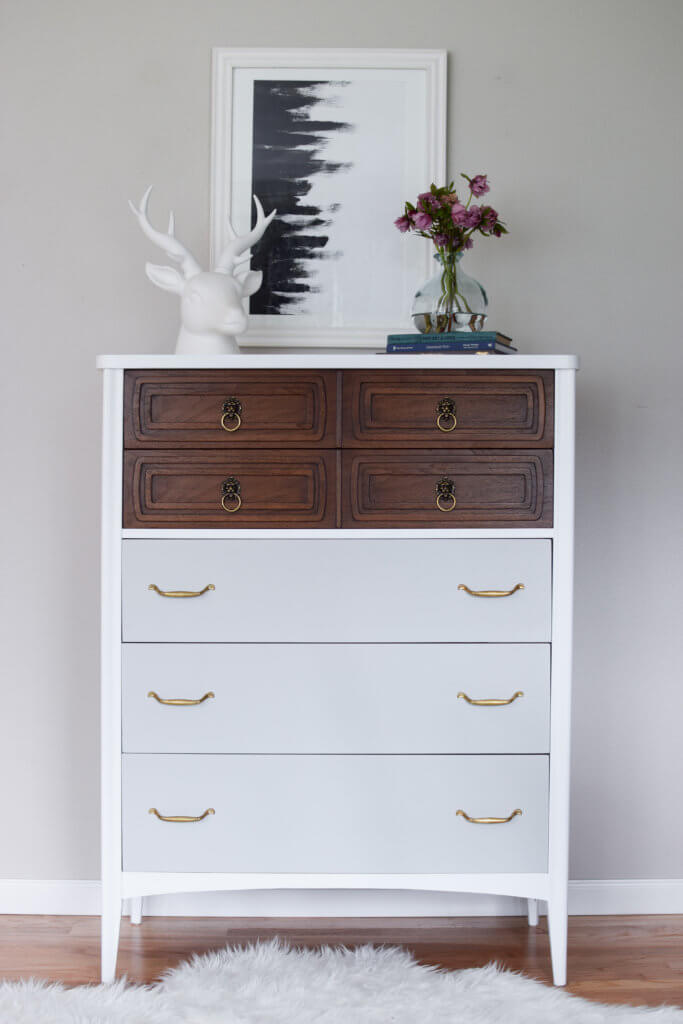 Mid Century Modern Vanity
A mid-century modern vanity may be all that you need to add a splash of MCM into your bathroom. One of the beauties of this style is that you do not need to have a full MCM bathroom for this to work. Even if you have a thoroughly modern bathroom, a beautiful, dark wood vanity will look incredible. Use simple drawer and cupboard facias with chrome handles to complete the look.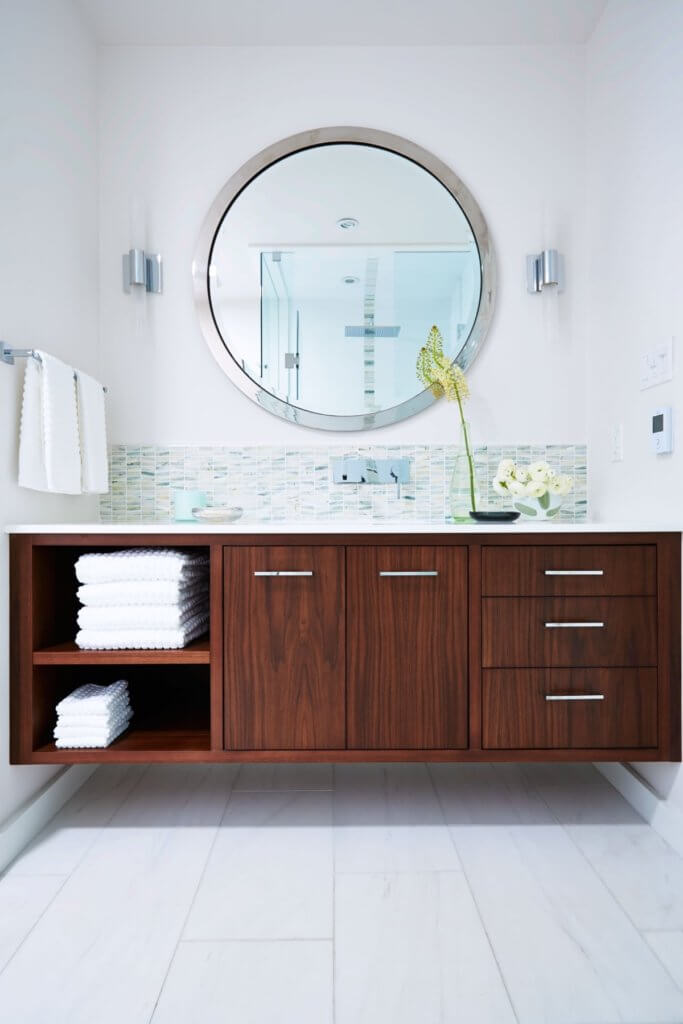 White Mid Century Modern Dresser
Let's take a look at this white mid-century modern dresser. The addition of the gold colored backing plates, handles and corners give this dresser the typical MCM look. 
This dresser is also something that could be a DIY project to spruce up some old furniture.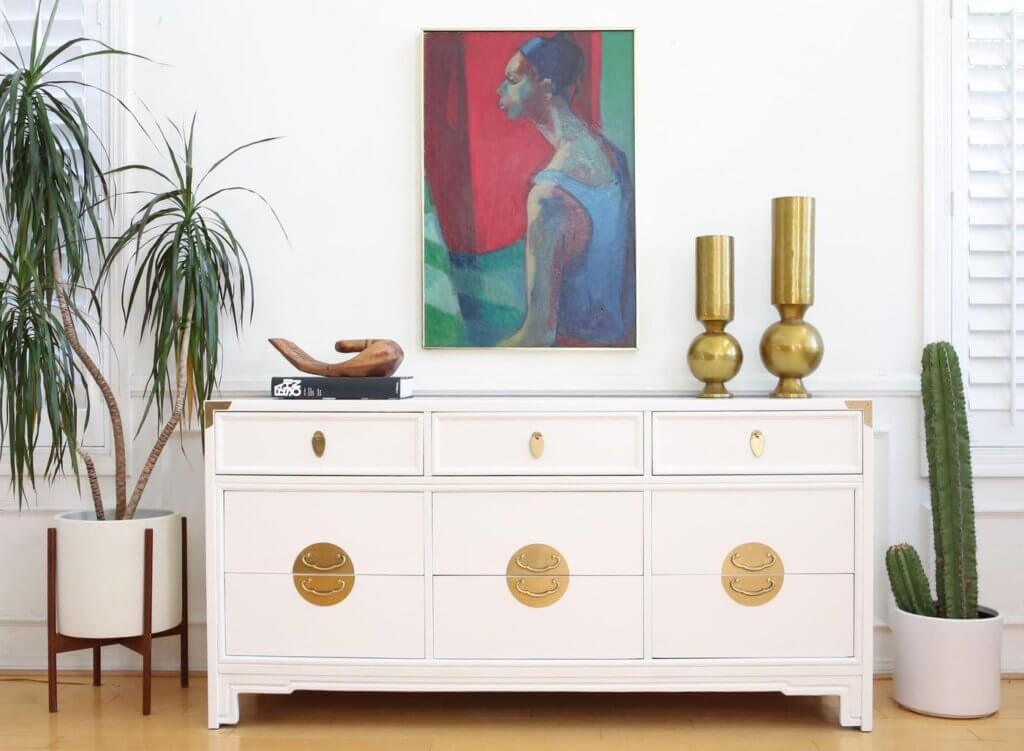 Mid Century Modern Bathroom
This next image is going back to bathrooms. However, this mid-century modern bathroom, it is still quite a modern look. This contemporary style incorporating the MCM will keep your bathroom looking fresh and up to date while adding a touch of the MCM style.
The main things that have been used to complete this look are; adding a wooden console, marble tops, and blue sinks. However, the added touch of the light diffuser finished the look off nicely.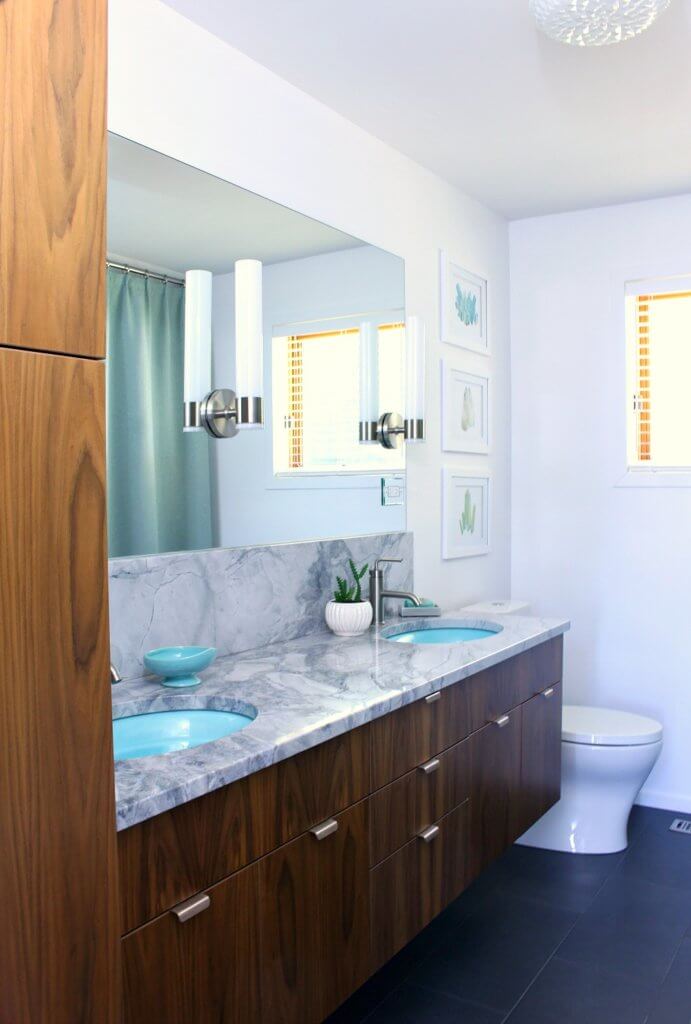 Mid Century Modern Bedroom Furniture
Here we have an image showing a classic mid-century modern bedroom furniture set. As you can see, the whole set is made up of straight lines in the wood, accentuated with splashes of color.
The other great feature in this room is the use of different textured fabrics, even within the headboard. Straight lines and chrome give the bedside lamp a perfect fit, while the paintings on the wall add perfectly to the colors.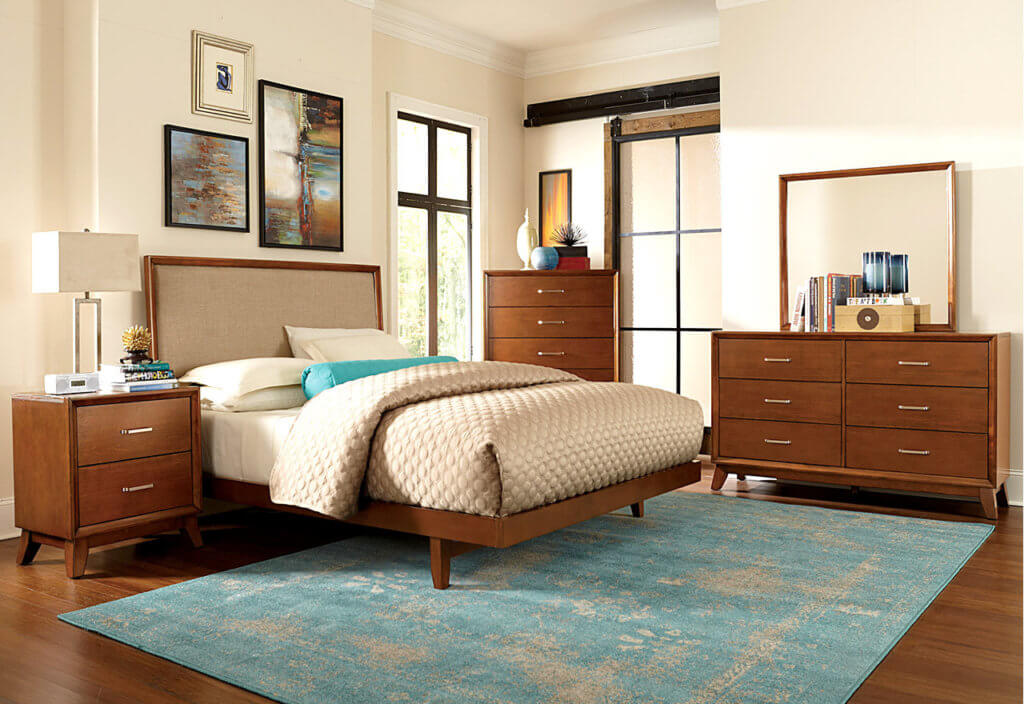 Mid Century Modern Bedroom
While we are talking about bedroom furniture, why not take a look at this beautiful example of a mid-century modern bedroom. This does not look like a set like in the image above. However, due to the flexibility of this style of decor, not of the items seem out of place.
The simplicity of the white walls, mixed with the dark wood of the floor and furniture provide a perfect contrast. While the round legs and the straight lines of the bed also give that MCM feel with ease. The geometry and wood/fabric mixture of the chair also adds to the effect, and it wouldn't even matter what color the fabric was.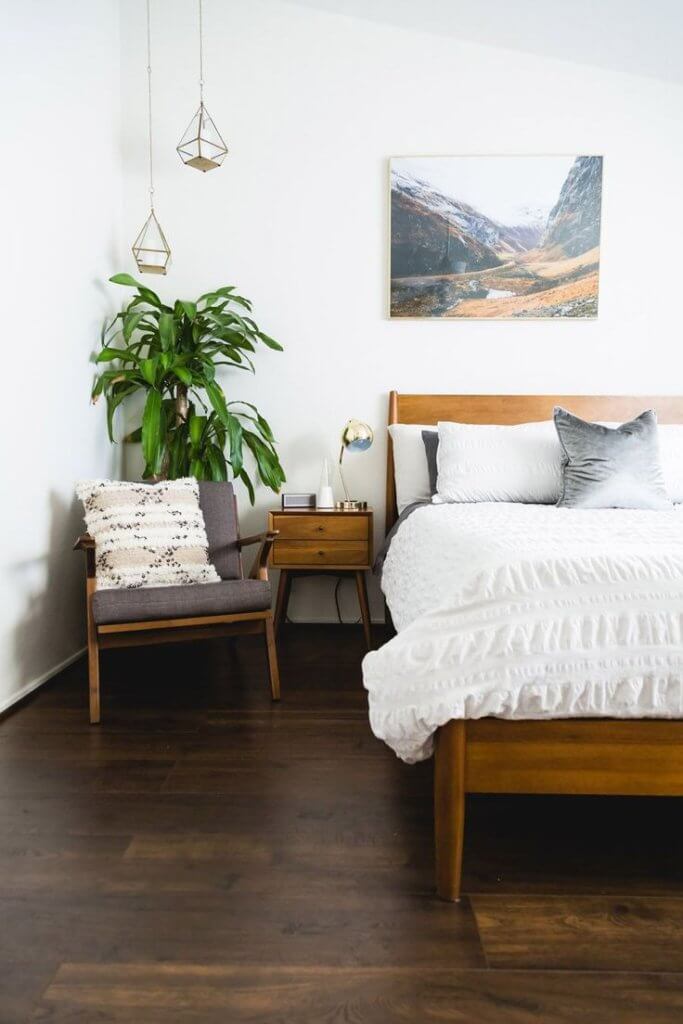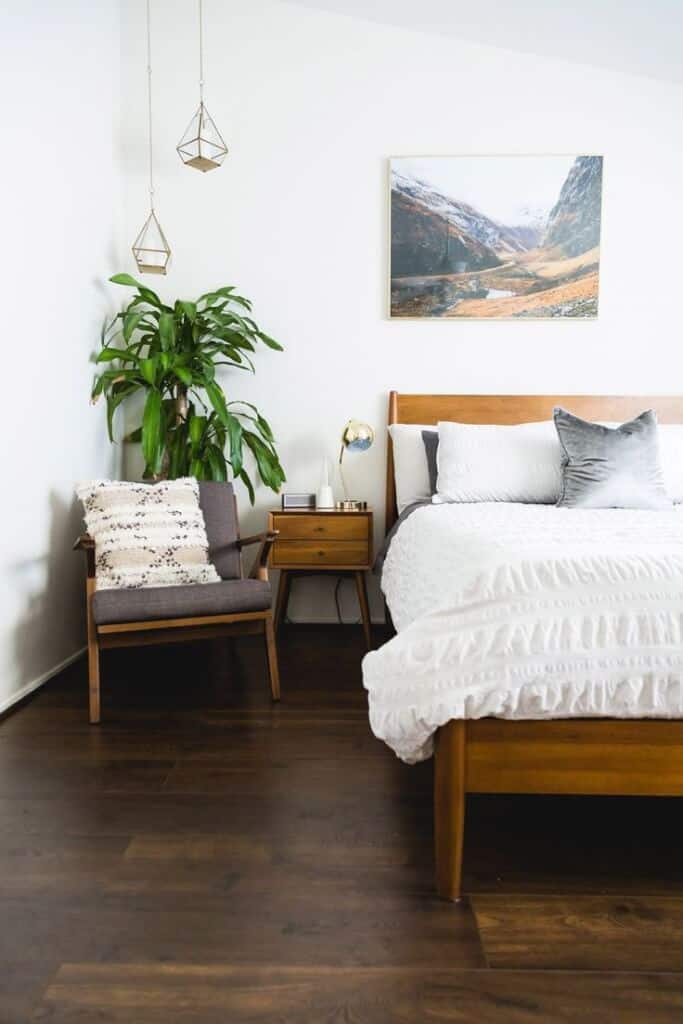 Mid Century Modern Coffee Table
Here we have another example of how straight lines, rounded corners, and a simple, plain facade will give a perfect look with a mid-century modern coffee table. As you can also see, the fabrics and patterns of the sofa have also been utilized to provide the decor too.
While you are looking through these images, it is easy to see that almost any color combination will work well together, so feel free to be adventurous.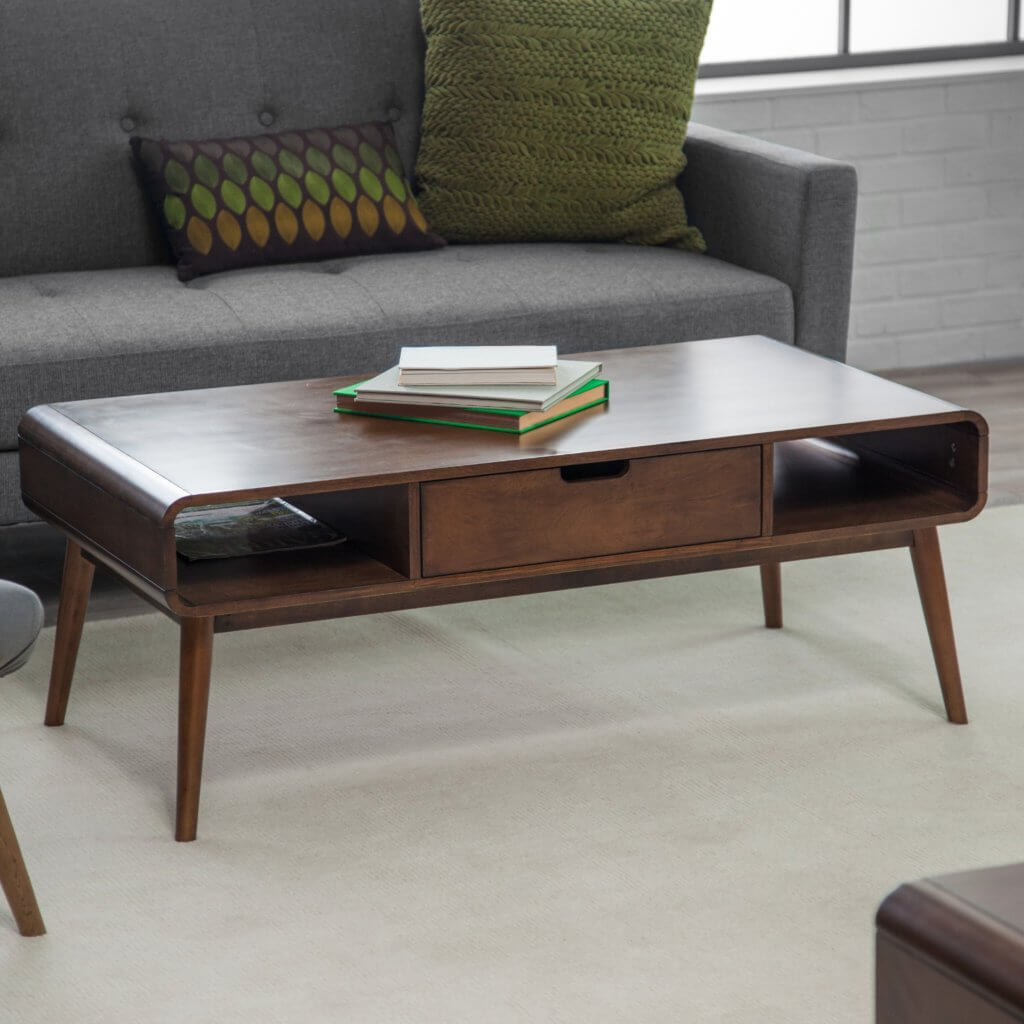 Mid Century Modern Desk Chair
There is nothing that you are unable to acquire in the MCM decor style. Take this mid-century modern desk chair, for example. As you can see, it is a more modern chair, as it has an adjustable height cylinder. However, the lovely brown leather, chrome fixtures, and the shapes within the structure of the chair make it an MCM centerpiece for any office.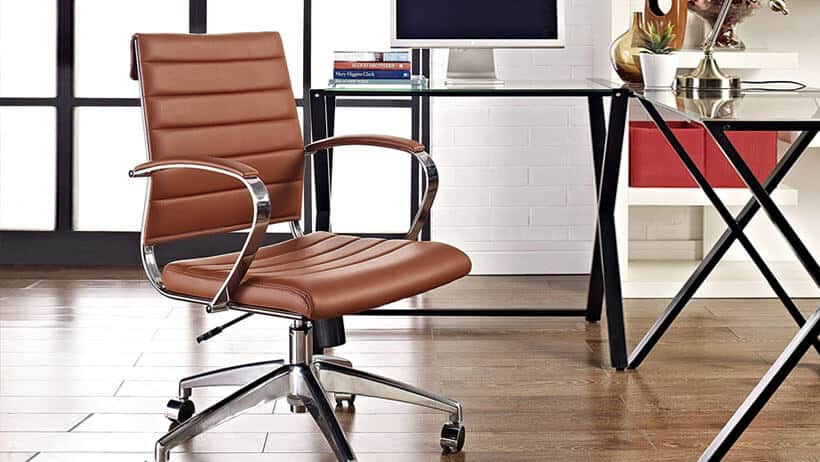 Mid Century Modern Desk
While we are talking about office furniture, take a look at this stunning, mid-century modern desk. The clean, straight lines, angled legs, and the single white drawer add the '60s rawness, and the Scandinavian feel together beautifully. The laptop gives a wonderfully futuristic look to the room, and I would be proud to be using one of these desks myself.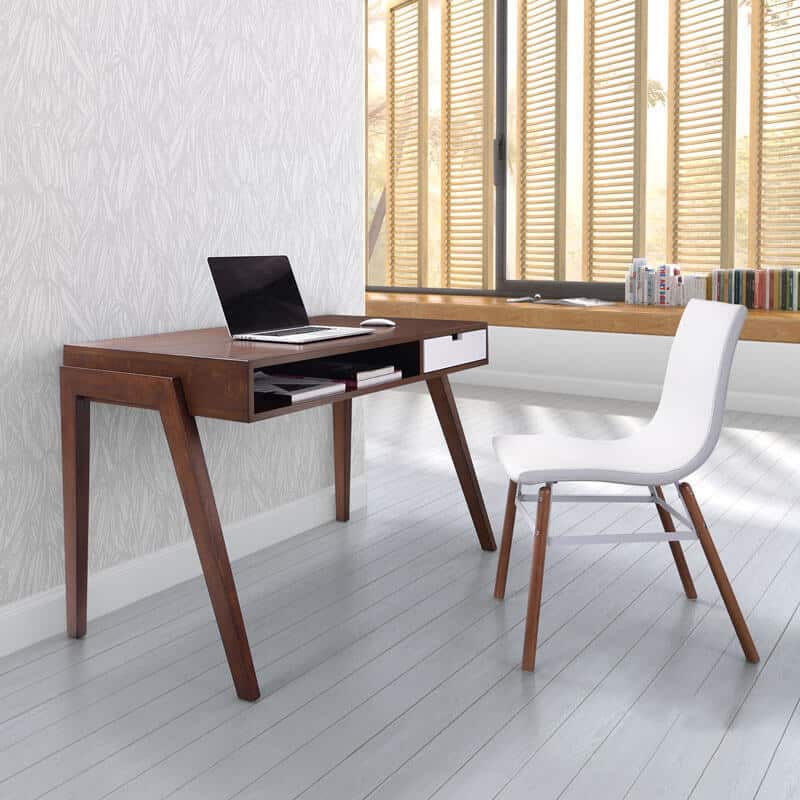 Mid Century Modern Dresser
Here is another example of a mid-century modern dresser. However, this one has been left in its natural, wooden state. The use of straight lines and curved corners give this dresser a very endearing appearance. The mixture of black metal handles and handles that have been cut into the wood is a very nice feature too.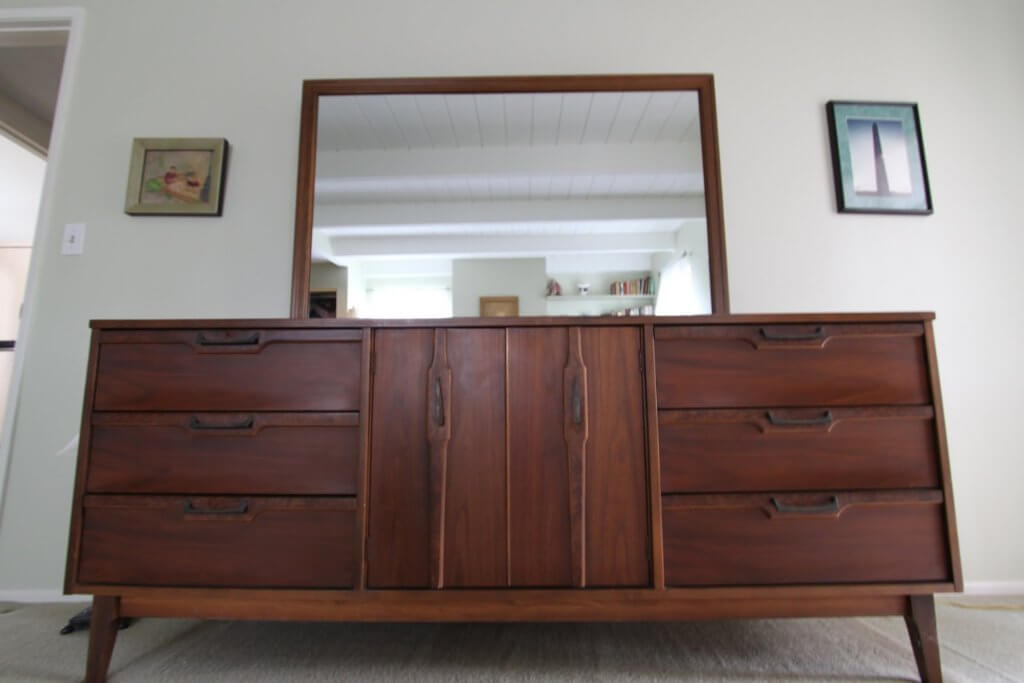 Mid Century Modern Kitchen
If you are looking for a mid-century modern kitchen, then one of the main features that you may want to include is Formica laminates. When they are used for cupboard facias and paired with brushed aluminum extractors, they look wonderfully MCM. The wooden ceiling beams and faux cladding ceiling add more effect than you would possibly realize too.

Mid Century Modern Kitchen Cabinets
While we are talking about mid-century modern kitchens, take a look at some of the cabinets in this next image. As it was previously stated, one of the main aspects of the MCM design was acrylics. So, if the geometric shapes, wood and metal mixture is not quite enough: Take a look at the acrylic cupboard facias. They are a great way to add color while still keeping the style.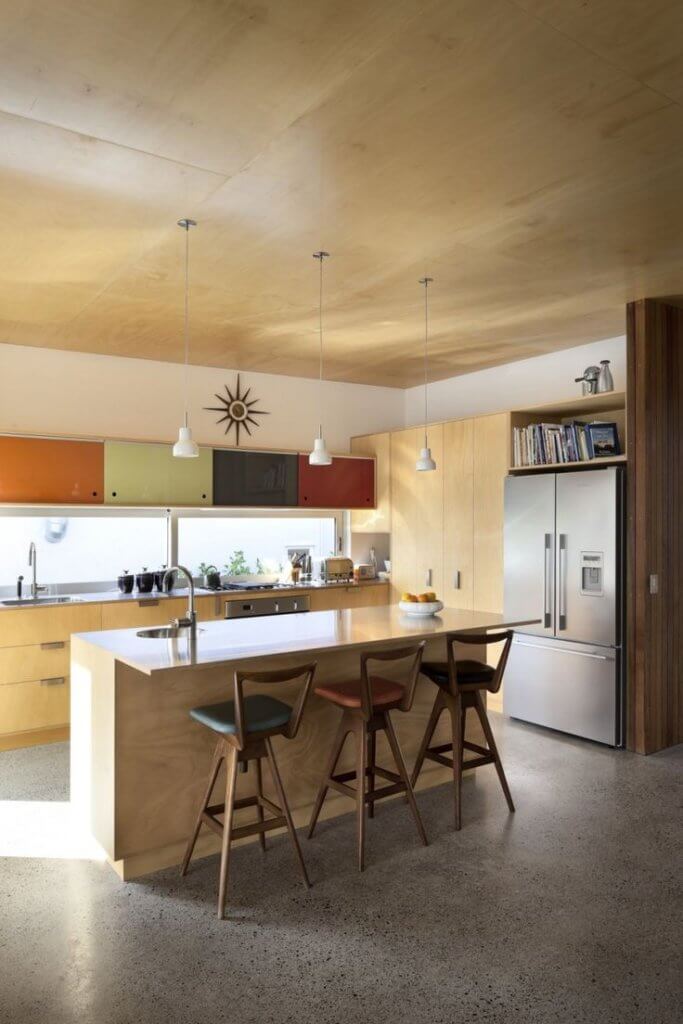 Mid Century Modern Living Room Furniture
Ending how we started, with mid-century modern living room furniture. And again, if you have not read our article on this specific topic, then I urge you to do so here. I have left this image til last as it shows you what really can be done with the MCM decor style. Triangular shelf legs, geometric shapes in the soft furnishings, and the cocoon style seating all come together to give a perfect living room that any MCM enthusiast would be proud of.
Even take a look at the abstract, central light fitting. I don't think there is another style in the world that would pull this off so nicely. Except maybe the Scandinavian, and let's not forget that this encapsulates that style anyway!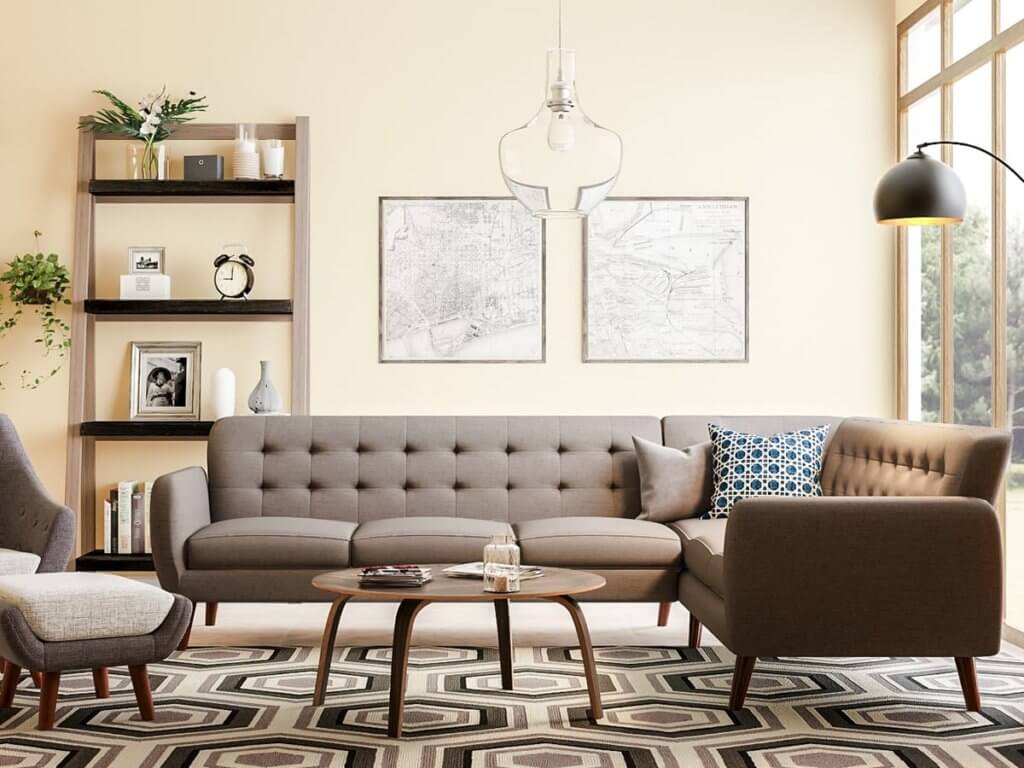 Conclusion
I hope that throughout this article, you have found some insights into ideas that you can use for mid-century modern decor for your home. There is a lot that can be done with the style, and you can even mix and match it all very well. Therefore, if you are looking for a style that you can truly make your own, then this may be it.
Please let us know in the comments section below if you have any other suggestions that we can add into this or any other article.