When you are getting a little too hot for comfort at home, there is nothing better than using a modern ceiling fan to circulate some air. Let's face it, there is not always the need for air conditioning units, and they can become very pricey. The price makes them seem like a waste of money if you live somewhere that either doesn't get hot enough, or hot for long enough to warrant spending the money.
Ceiling fans are a great way to add some breeze into any room in the house. The only limiting factor that you may have is the size of the room. However, this is often easy to overcome with the wide variety of fans that are now available.
Therefore, here at Kudos House, we have compiled a list of 22 of the best images to give you a breeze of inspiration for your ceiling fans.
Ceiling Fans Modern
Some of the more modern styles of ceiling fans look a little bit more rustic than you would think. Take a look at this next image, and you will see that it seems quite a lot like a propeller from an antique aircraft. This ceiling fan even has a hardwood shaft from the ceiling, giving it an extra unique look.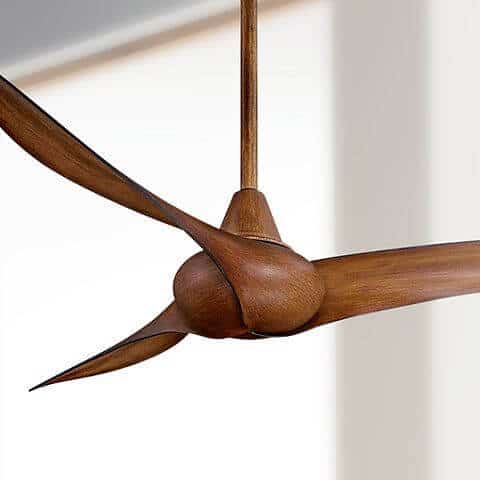 The curves of the blades not only look great, but they will also produce high airflow. The blades also have an air of the helicopter seedpods that come from Maple trees.
Cool Modern Ceiling Fans
If you have a more significant amount of space that you can fit a ceiling fan, then check out this next image: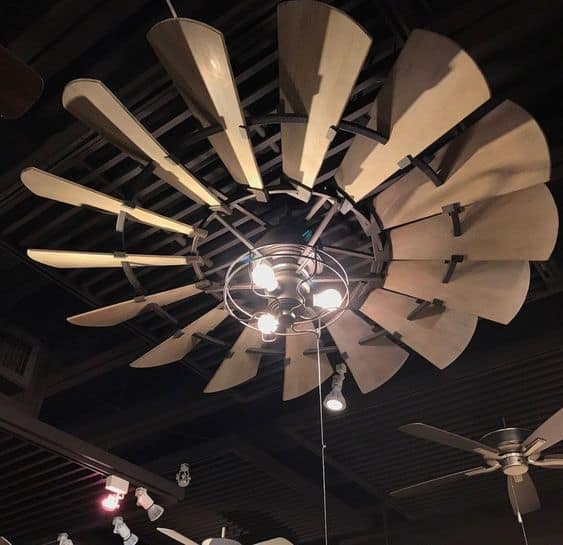 This is a cool modern ceiling fan. Not only does it look cool, but with fifteen massive blades, it is sure to do a great job of keeping the room cool too. This fan has the additional benefit of having inbuilt lighting in the form of three standard fittings. Therefore, you can put any light bulbs in it that you would typically use in your home. It also has a pull-cord switch meaning that you can use it in high ceiling areas.
Large Modern Ceiling Fans
If you are looking for a large modern ceiling fan, then take a look at the next image.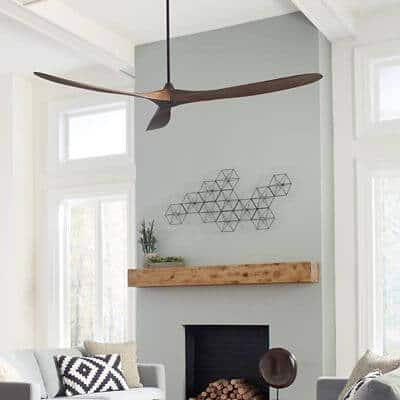 This fan is a lot like the first image that we showed you. However, it has a more sleek and thin shaft from the ceiling. It has a more conventional, three-blade formation, but they are larger than the first image so that it will produce a higher amount of airflow than the first one. It will suit either a modern or farmhouse style room.
Mid-Century Modern Ceiling Fan
If you are looking for a mid-century modern ceiling fan to match some of the other ideas in our mid-century modern article, found here, then this could be for you.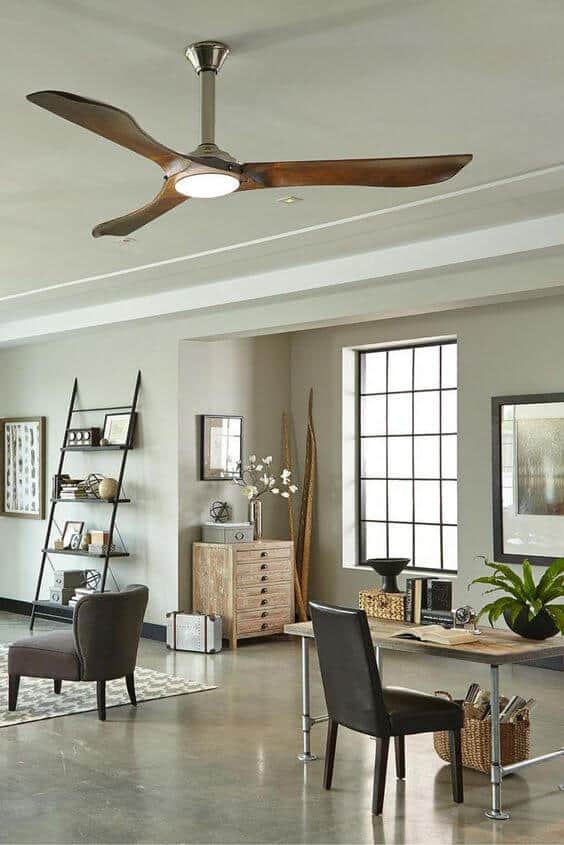 The curves of this fan have a perfect look for mid-century modern rooms. Those curves, the corner flick, along with the center light make it look perfect in this type of room. The blades are made from a single piece of dark hardwood, which gives it an extra unique feel in the MCM rooms.
Modern Bedroom Fans
If you have a modern bedroom, you are likely to want a modern bedroom fan in there. We all know that sleeping in a room that is too hot can be very difficult. (A little snippet of information for you; your body temperature usually drops to its lowest point at about 2 am).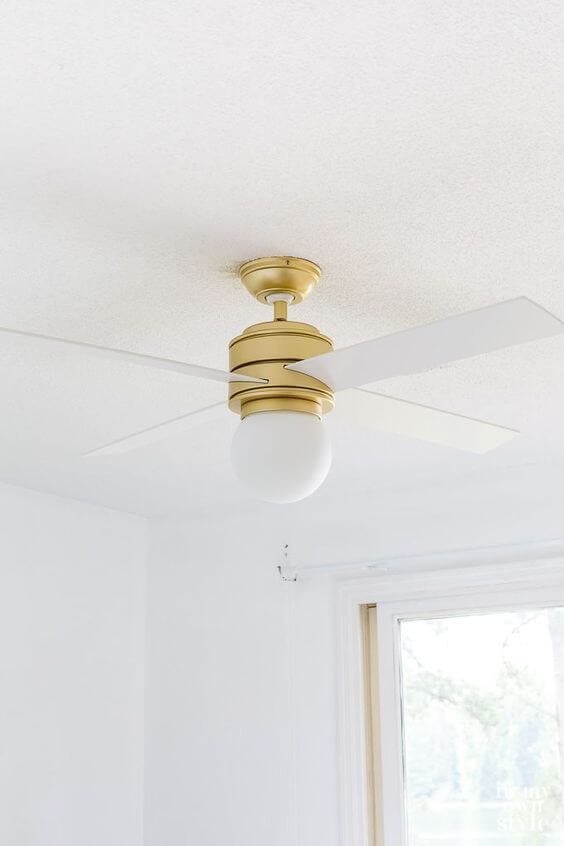 The white and brass color, along with the straight lines and sharp corners, make this fan look very modern. The in-built light means that you do not have to have a separate light fitting. Therefore, you are less limited by the size of your room.
Modern Ceiling Fans Cheap
The majority of the fans that you have seen are probably quite expensive. They are of very little use to you if you are on a tight budget. This next modern ceiling fan is mass-produced, and therefore, quite cheap.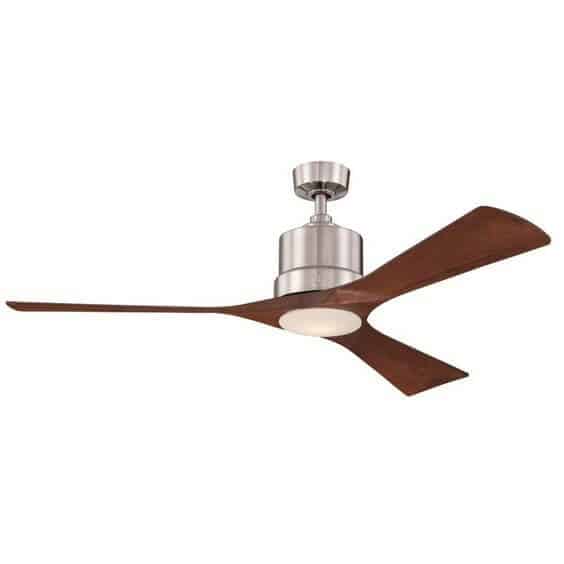 Do not let the price fool you, though. This fan has been styled on an MCM style fan like above, and it looks the part. The chrome fixtures, with the wooden blades and the built-in, slightly yellow light gives it an authentic MCM look, with the price of any modern ceiling fan.
Modern Ceiling Fans With Lights And Remote
One of the more appealing things about having a modern ceiling light is to have one with inbuilt lights and remote control. Think about it, when you have just settled in for the evening with a film and your dinner, and you get a bit too hot. Do you want to get up and turn the fan on at a switch or pull cord? Probably not.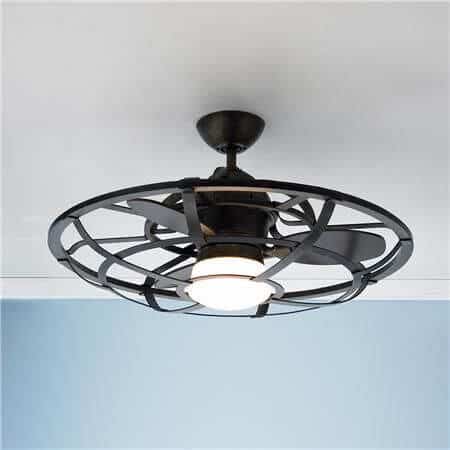 This fan has quite an industrial feel to it. It would not look out of place in the industrial living rooms that we have shown in this article. However, the beauty of this look is that it still has a very modern feel to it if you use the right decor to accompany it.
Modern Ceiling Fans With Lights
If you are wanting modern ceiling fans with lights, but do not want to have a remote, or want a slightly different feel, then this next one is nice too.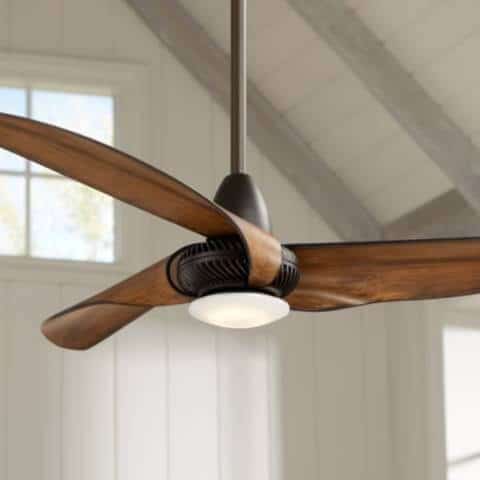 It is quite similar to some of the others in this article. However, my favorite features of this fan are the grille in the motor housing, and the way the fan blades wrap around the motor housing. Not only does this type of blade look nice, but it will also produce high airflow.
Modern Ceiling Fans
As we have been talking about modern ceiling fans for a little while now, we thought it might be beneficial for you to have a few pointers. Here is an image showing what some of the best utilizations are of modern ceiling fan styles.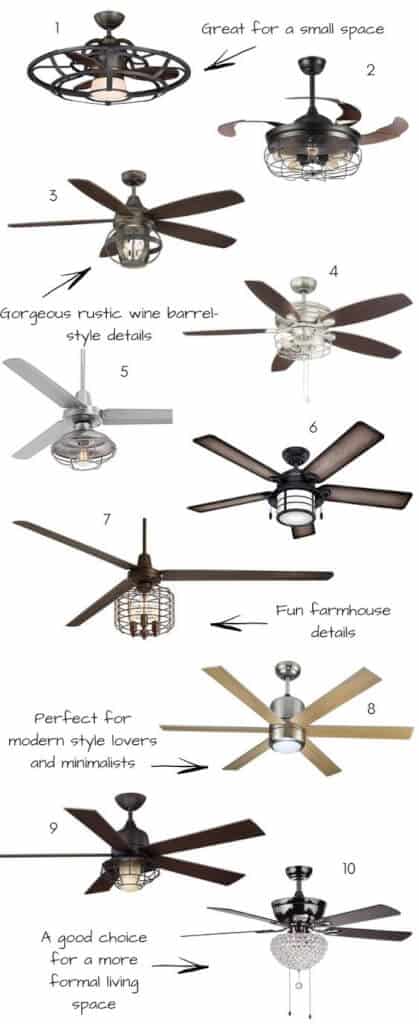 Granted, not all of these fans look very modern. However, I can assure you that they are. The difference is that they do not look modern. However, a lot of modern decors are now going the way of the rustic feel.
Modern Contemporary Ceiling Fans
Modern contemporary ceiling fans are indeed for a smaller, more specific audience. However, here at Kudos House, we love all things contemporary. They keep decor design alive. Constantly changing ideas and introducing new ones.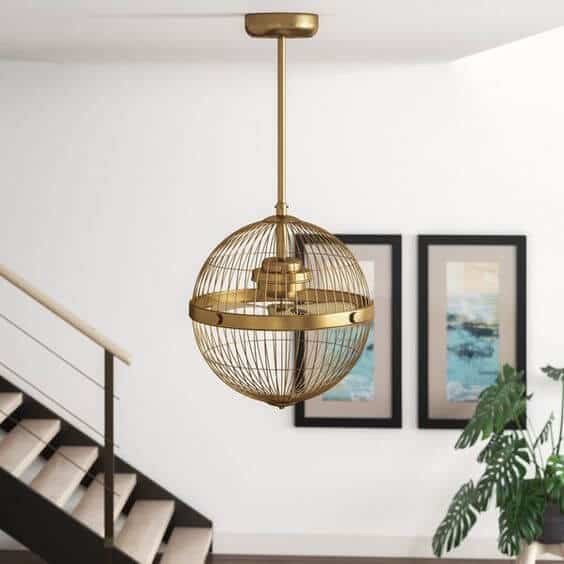 This ceiling fan is no different. Encaged in a globe-shaped, birdcage style framework, this fan certainly has something different to it. Although you may feel like this will not look right in your home, if you have a modern style room, I guarantee it will look better than you expect.
Modern Flush Mount Ceiling Fans
Not everyone has a high ceiling to work with. When you have lower ceilings, you are, in fact, more likely to have a heat issue. That is because the hot air cannot rise as much as in high ceiling rooms. Therefore, you are more likely to need a fan. In this situation, it is a great idea to have a modern flush mount ceiling fan.

This fan, with its small blades and built-in light, would be ideal for in small rooms such as bedrooms.
Modern Low Profile Ceiling Fans
As I have just mentioned, not as many people have high ceilings as the number of people who have lower ceilings. That fact brings about the need for modern low profile ceiling fans.

This fan has even more similarities to a propeller than any of the images that we have shown you already. However, the crisp angles and black powder-coated hardware give this fan a beautiful modern look. This fan would be ideal in a larger room, yet, it has no internal light. Therefore, you will need an extra power supply, or to sacrifice a light fitting.
Modern Outdoor Ceiling Fans
If you have a patio and live in an area that gets hot, you are likely to want to sit outside and watch the world go by. Although, no matter how much money you spend, an air conditioner is bound to be wasted in such a space. Therefore, if you have a ceiling on your patio, you may want to consider modern outdoor ceiling fans.

This beautiful, sleek, and sharp ceiling fan looks wonderful accented in black against the white walls and ceiling. Just remember to check the NEMA or IP rating of any electrical appliance before you have it outside.
Modern Stainless Steel Ceiling Fans
While it would be super easy to put a completely stainless steel fan here, we thought it might be better for you to see something a little different. This modern stainless steel ceiling fan has been powder coated black, with some accents of brushed stainless steel. Those two colors together give the fan more of a modern look than the typical stainless steel ceiling fan that you may see.

This would look beautiful as a ceiling fan in a modern kitchen or open plan studio apartment. With the in-built light, you will not have to have an extra power outlet either.
Modern Style Ceiling Fan
Here we have an image of another modern style ceiling fan. As with the other low profile ceiling fans, this one would be great for lower ceilings. I think that the color combination of the brushed aluminum and beech style wood would go well in a kitchen. However, it would be sure to look great in any room.

It may be better suited for a large room, however, as there are no light fittings. This lack of light will mean that you will need additional lighting in the place.
Small Modern Ceiling Fans
If you have a smaller room, then you may be looking for a small modern ceiling fan with a light in it. Here we have a perfect example of such a fan. It is small, compact, and even comes with an LED built into the fan casing.

The intricate detailing in this fan case would look beautiful in any room in the home. But personally, I picture it in a large hallway, with dark wooden accents.
Ultra Modern Ceiling Fans
Perhaps some of the previous fans have not been quite modern enough for you. Well, take a look at this. The crisp, sharp edges and angles in places that you have never seen them before making this the stealth fighter jet of ceiling fans.

This sort of ceiling fan would look fabulous in an ultra-modern home that has been decored with black and chrome. You could almost imagine it would sound like a jet engine when you turn it on. However, I highly suspect that it is the complete opposite.
White Modern Ceiling Fans
Perhaps the black, stealth-like fan above is a little too angled for your liking. Then maybe this next white modern ceiling fan fits better. This fan has small blades and an inbuilt light, which as you know, both make for exceptional use in a smaller modern room.

An LED light fitting makes this more of a modern style. However, the overall style may not be as advanced as some of them.
Modern Ceiling Fans – 22 Cool Ideas to Cool Your House – Conclusion
As you have seen, there are a lot of different designs when you are looking for a modern ceiling fan. Of course, you have to take into consideration the rest of your decor, but I highly doubt that there has not been one that would suit any room in your house on this page. Even if you are looking for a fan for your garage gym.
If you are still planning a room, then please make sure to look through our other articles on our home page for inspiration. There is sure to be something there that you would like.