A retaining wall are for more than just "retaining." Typical boundary walls are for protecting your home, companies, shops, school and much more. They give you privacy and security to your belongings. Let's see about retaining wall and retaining wall ideas.
Retaining walls are rigid walls that are built to preserve soil. They are typically designed with a beautiful structure. Several materials are used to create retaining walls. Some of the materials are concrete blocks, rocks, timbers, and much more. All of these walls help to retain the soil. These walls give you extra support for your building; the problem with them is that they do not look too pleasing.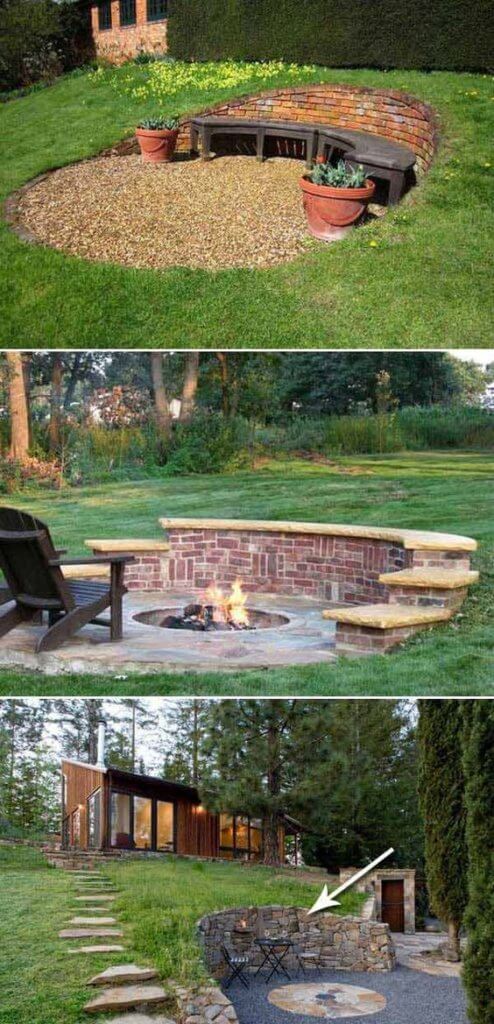 Retaining walls are used mainly for people who live next to relatively large sized hills. These walls help your home from flooding and reduce the risk of erosion. These are mostly used in places where there is an increased risk of soil erosion, which in turn can cause you problems. Utilized correctly, They give more than just stability, you can use them to add additional beauty to your surroundings.
Here at Kudos House, we have scaled the web for some of the best retaining wall ideas. When you see some of these walls, you will be amazed at what can be made with them. The structure of these walls can be quite complicated, but you can still make them look beautiful.
The Retaining Wall Ideas
Depending on if you already have a wall, or if you are building one from scratch will change the possibility of some of these ideas. If you have a wall that is already in place, it will limit you somewhat. But if you are building one, then you get to be a little more adventurous.
You can do the following things on and around your current retaining walls:
Try to plant small plants around your walls. Add shrubs and bushes and so on for decorating the retaining walls. You could even use some herbs to please the passers-by with the aroma.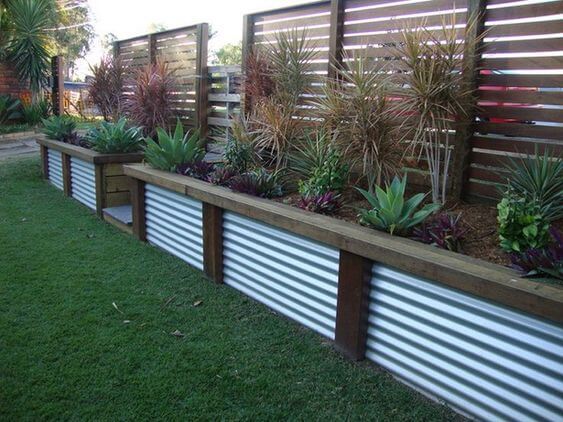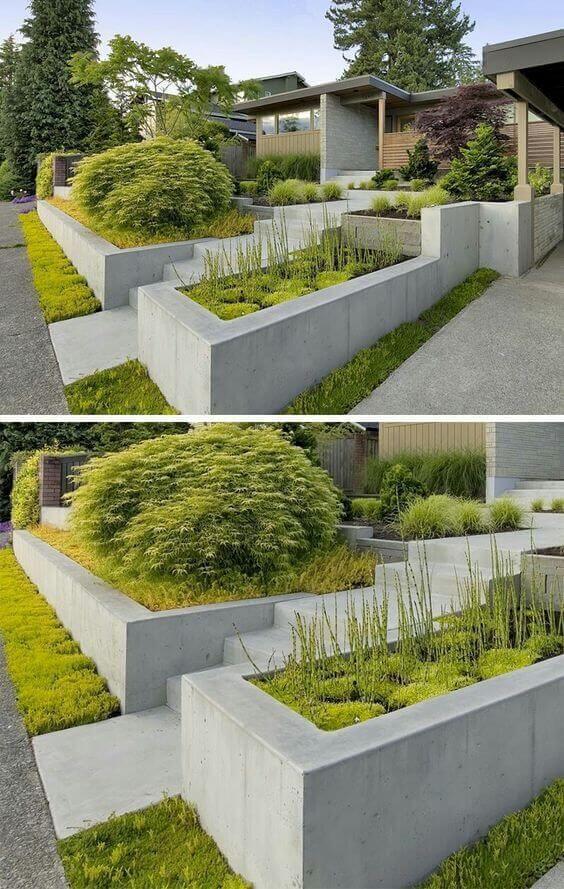 Rock or Dry Stone Retaining Wall Ideas
The countryside is one of the most abundant places when it comes to rock or stone retaining walls. Dry stone walls were traditionally made in the olden days when there were limited or no manufacturing processes for creating bricks or concrete. These types of walls still stand today. If they are built correctly, they will last for decades. Given the fact of when and how these were built, they will give your wall an almost historical, or country look.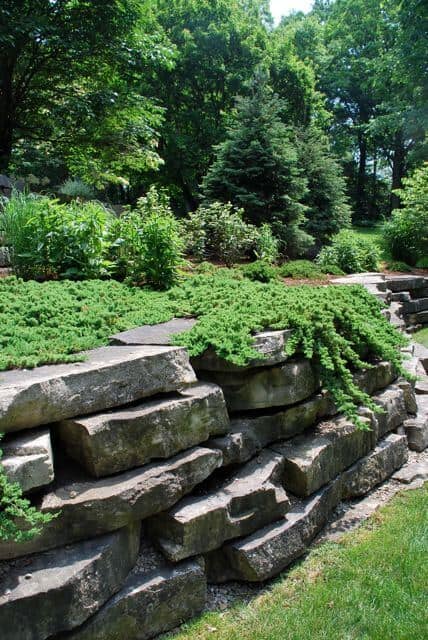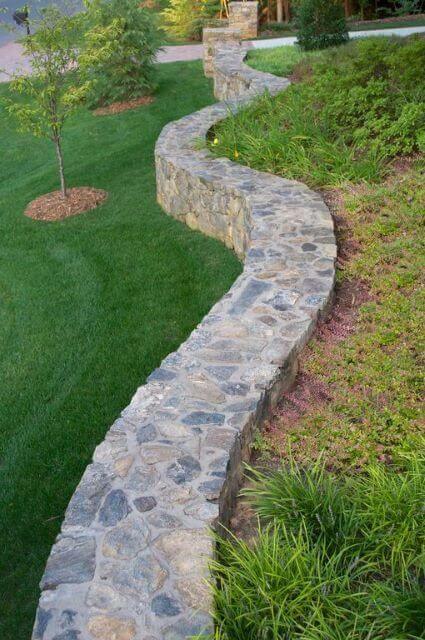 Large Stone Walls
Do not get these mixed up with dry stone walls. Although they are often "dry", and can be made in varying shapes of stone, they are often sorted first. By sorting, I mean that they will all be approximately the same size and shape as each other. Some of the stones are even cut or chiseled into almost brick shapes, only much larger. This can really change the look of a dry stone wall, and add some modern twists to an otherwise traditional building form.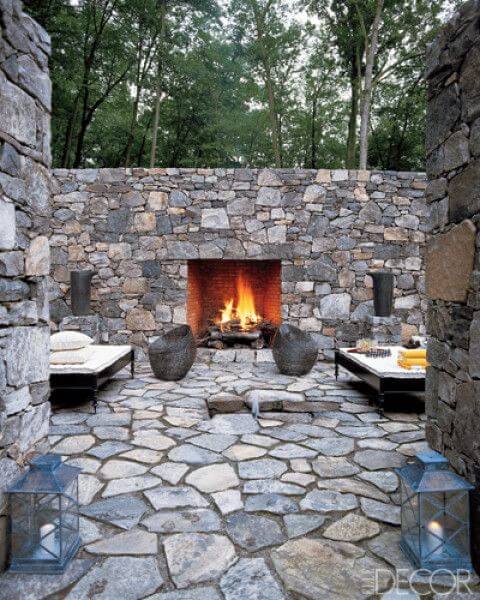 Concrete Retaining Wall Ideas
Concrete retaining walls are often thought of as very boring. However, that is not the case anymore. Concrete has become more versatile as manufacturing processes have evolved. You do not have to settle for flat and boring, reservoir style walls, just because you choose concrete.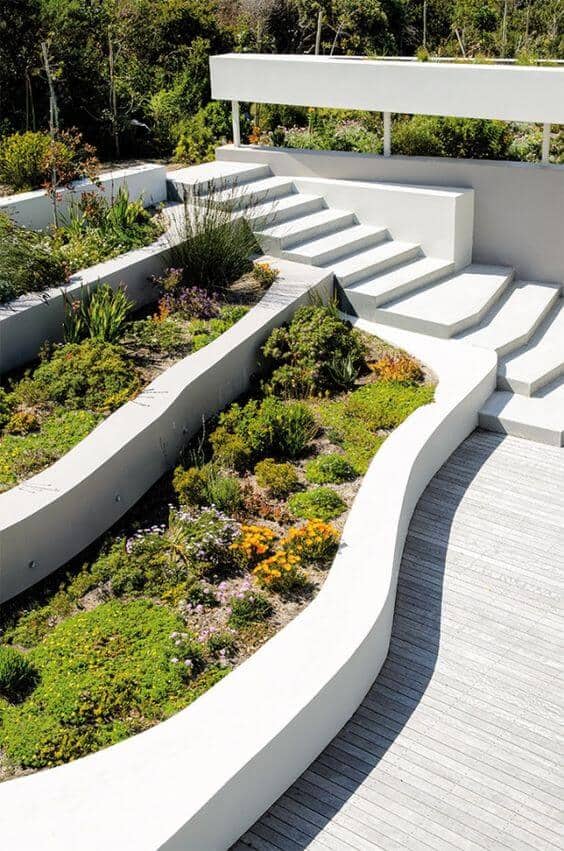 Retaining Walls With Steps
Do you have got either a steep bank in your garden or a raised level? You may think you will struggle to find ideas that will give you beauty and access at the same time. This is where retaining walls with steps will help you. There are a plethora of ways that you can use stepped gardens. In fact, some of the most famous gardens and shows in the world will use stepped gardens because of two of the reasons that are likely to help you.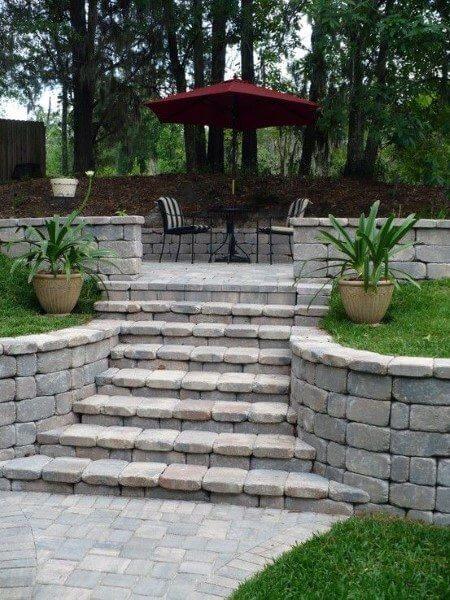 They look great. Some of the unique and stunning designs that you can plan and make are just unbelievable.
Provide more planting space. Steps will provide more planting opportunities, as you make flat areas.
Allow easy access. If you plan your garden well, you can easily have access to all of your areas without the need to strain.
Gabion retaining wall ideas
Gabion retaining walls offer a relatively cost-effective, and natural look. Then, given time, they maybe your foundation. Eventually, natural drainage occurs through the rocks and soil. This will leave pockets of water within the gabion. This will create places for vegetation to take root and grow. After the vegetation has grown it will have a nice connection with nature.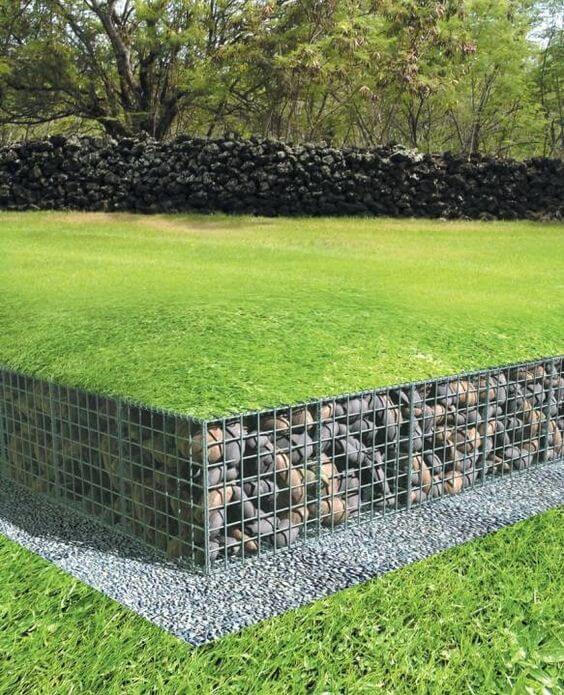 Wooden retaining wall
Wooden retaining walls are possibly the cheapest option available to you if you are willing to put the work into it or to pay for someone to do the work for you. If you choose the right sources of wood, it is a sustainable building material too.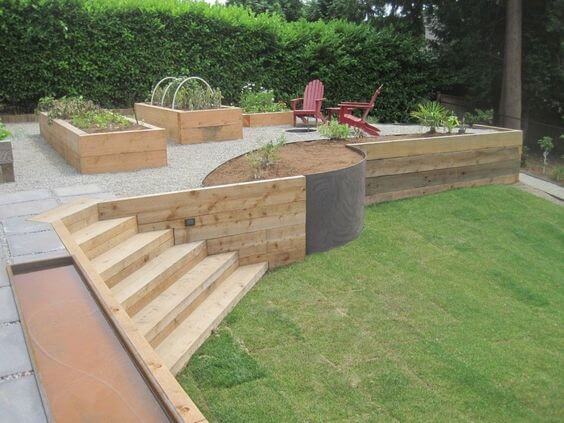 Timber
Timber walls are probably the most common types of wooden retainers that you will come across. They can be made in almost any way that you can imagine. You can make them from any type of timber that you can think of. However, ensure that you plan it well. You can not make a retaining all out of lapboard alone!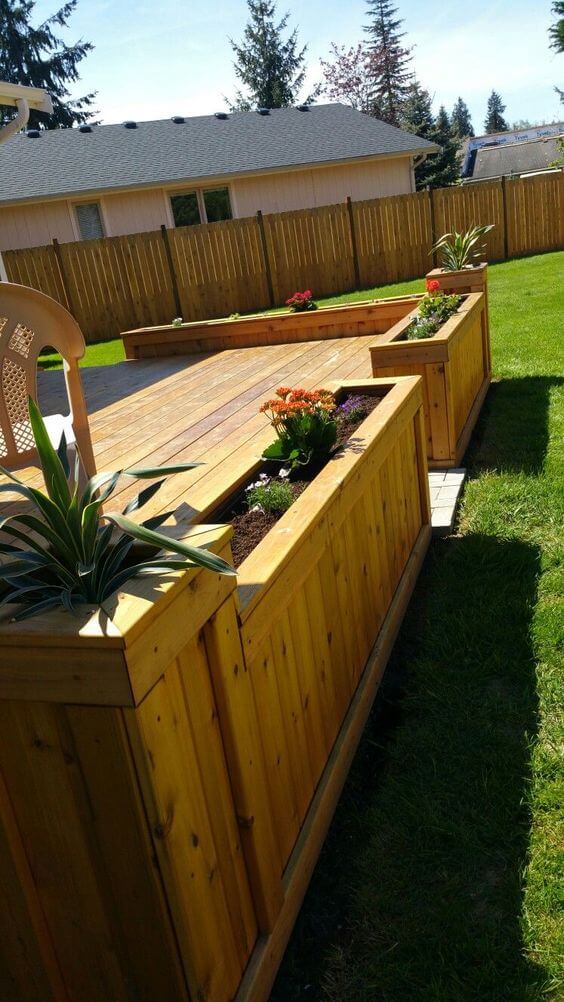 Source: Pinterest.com
Sleeper retaining walls
Railway sleepers are one of the more common materials when making a wooden retaining wall. This is mainly because of how heavy, strong, and hard wearing they are. Railway sleepers can become costly though. However, if you are planning on keeping your garden with the same design for a long time, then they could be perfect.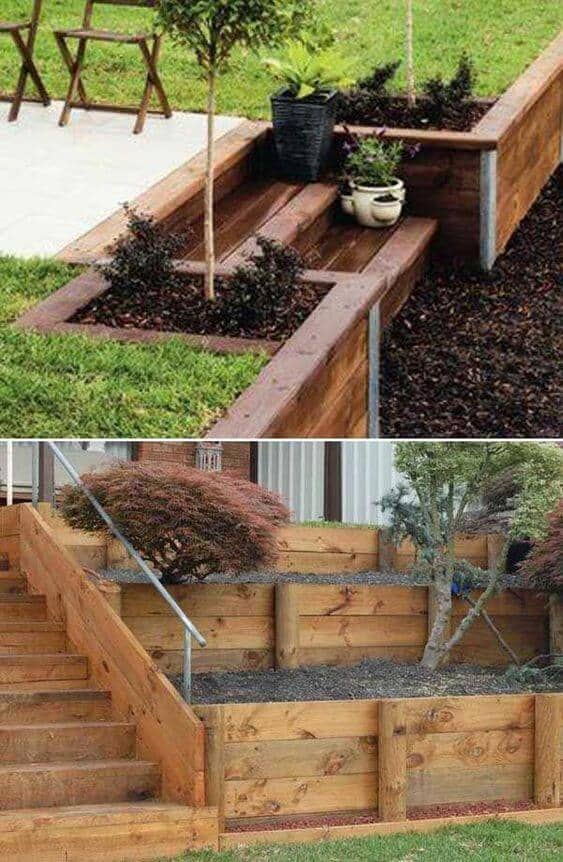 They will give you a classic industrial look while keeping the wooden element of nature.
I Beam and Wood Retainers
Are you looking for the classic, wood and industrial look but do not want sleepers? I beams and wood make a beautiful combination. With the I beams, you can go for a couple of looks. You could paint them black, or you can leave them natural to rust. My advice though, if you want them rusted, is to leave them to weather for a while first, then lacquer them before using them. If you let them rust in situ, they may ruin the wood.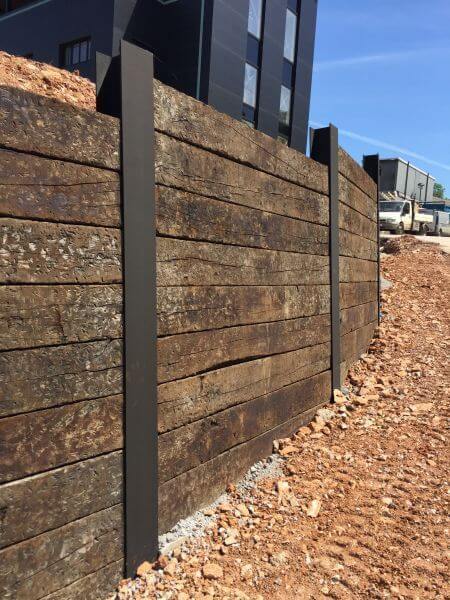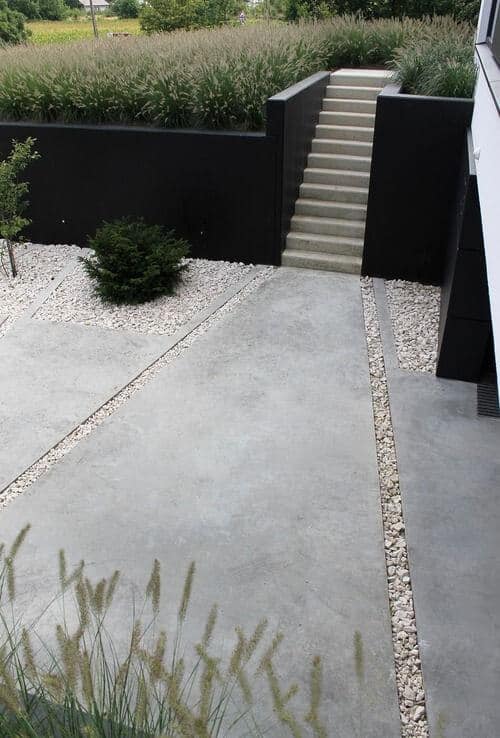 My preference with the wood in an I beam and wood retaining wall is to go as dark as you would like. It will most certainly give the feel of old and rustic a lot better than light pine!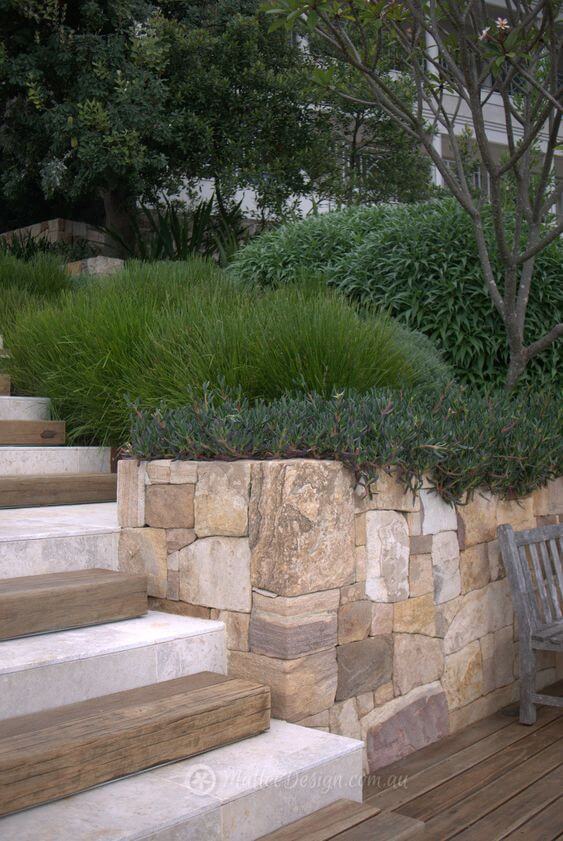 Stunning Retaining Wall Ideas Conclusion
Obviously, we have not gone through everything that you could do with retaining walls. There are so many options that you would be reading for hours and still be no better off. We have tried to keep it relatively simple, with ideas to spark your own imagination. As we all know, it is a much nicer feeling when you have thought of something and put it into action yourself. Leave a comment below to let us know what sort of retaining wall you have, and let us know if you have something that we have not covered. Perhaps we can put it in the next article!