Where do you spend most of your time relaxing at home? If you are anything like us, then it is probably in the living room, sat in front of the TV. If this is you too, then you probably want to know what the best living room ideas are so that you can make the most of your time. A living room is a family room. It is probably the most used room in most houses, second only to the kitchen. Let's face it though; you can not relax in the kitchen as much as you can in your living room.
This room of your house can become the epicenter of a family. It is where people gather to chat about the days' events that have happened. Where you sit and watch your favorite movies with your favorite people, it is where you all spend most of your time. So you really should take some time to make it a beautiful place to do all of these things.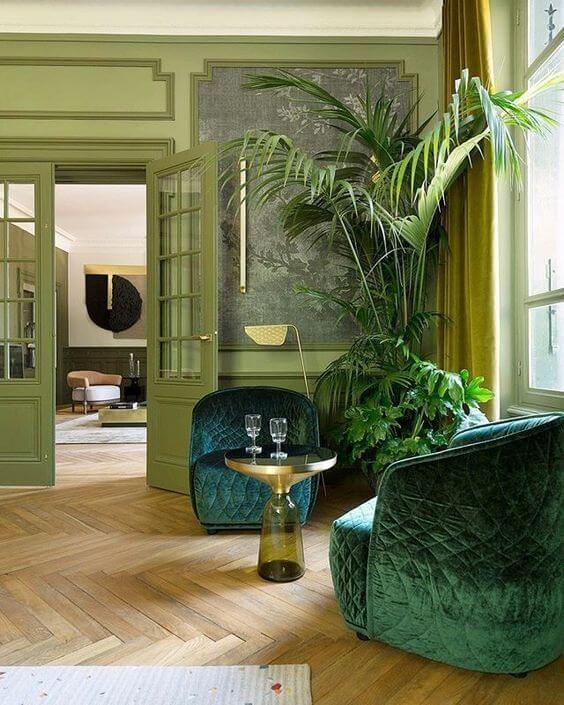 That is why, here at Kudos House, we have assembled some of the best ideas that you will come across for that seated sanctuary that you deserve. Take a look through our favorite.
Rustic Living Room Ideas – Giving Your Living Space a Fun Farmhouse Feel
Farmhouse rooms are comfy, adorable, family spaces that can be enjoyed the whole year round. Have you ever wanted a living room to look like it has come straight from the set of a farm TV show? If you have, then take a look through some of our favorite rustic living room ideas. All of the items and opinions in this section of the article will go together very well. The reason they will match so well is that they all have a similar style.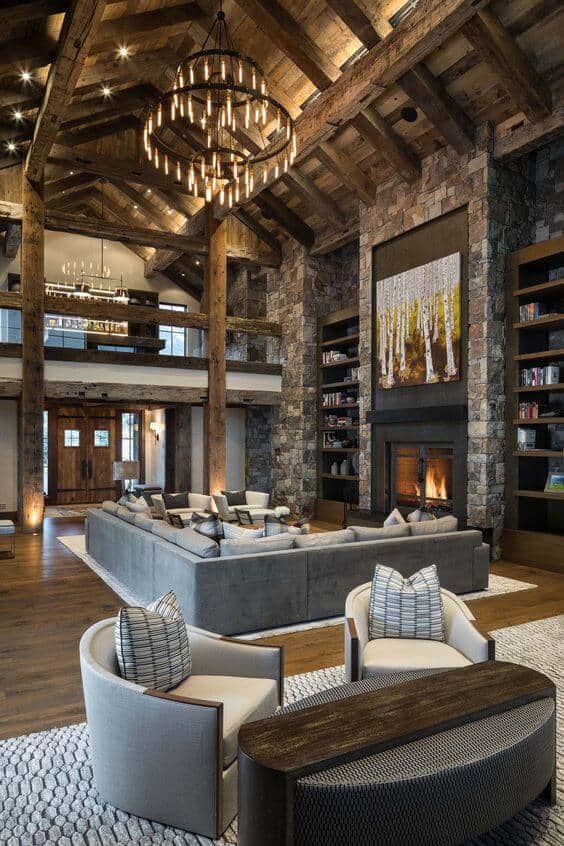 The meaning of rustic is: Plain and simple. That can be a perfect thing for more than one reason. Firstly, you will be able to pick up most of the items pretty cheaply on places like eBay. Secondly, if you are an avid DIY enthusiast, you can probably make some of the furniture yourself. Rustic can save you a lot of money while giving your living space a cozy and homely feel.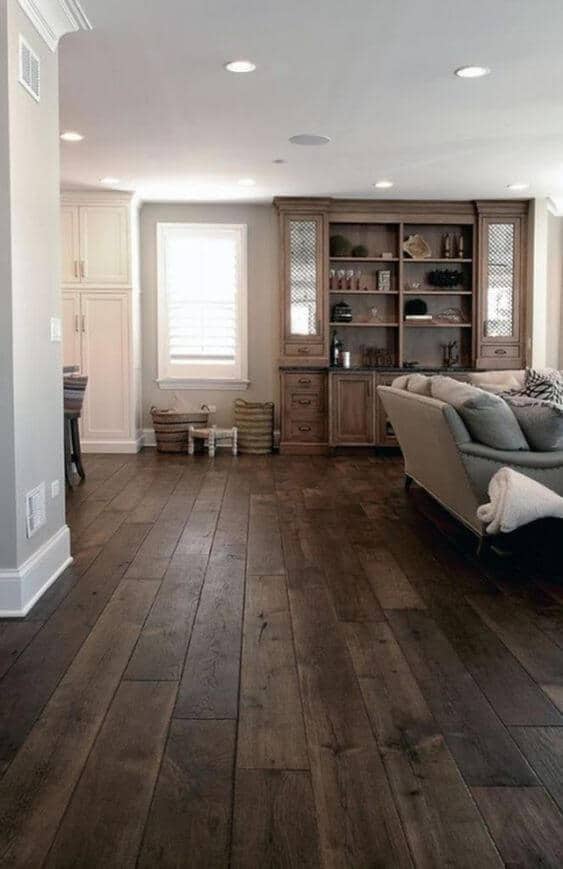 Let's take a look at some of the items that you can get to give your room a feeling that you want.
Old Wooden Window Frames – You can decorate a wall space with old wooden window frames. Place wreaths or flowers on them for added decoration.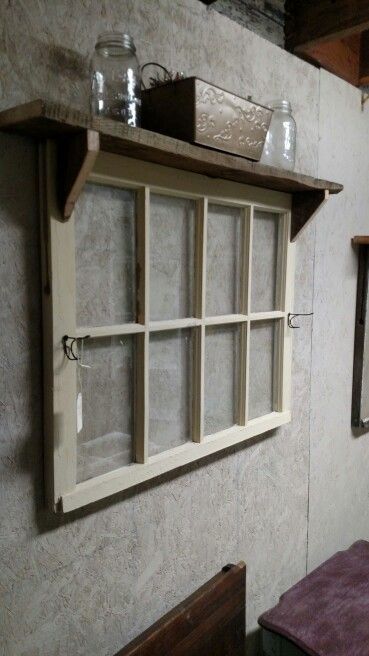 Wooden Fold Away Table – These are easy to store and handy when you have friends and family around.

Milk Can Coffee Table – Milk cans are easy to get hold of and cheap. Adding a top to them is simple yet effective.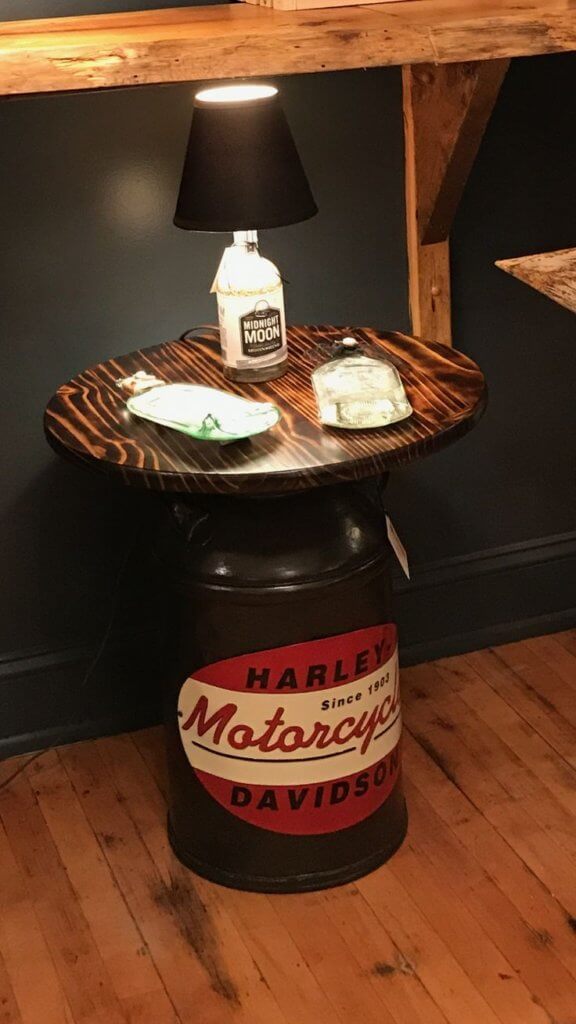 Cable Drum End Clock – They make lovely, oversized, clock faces.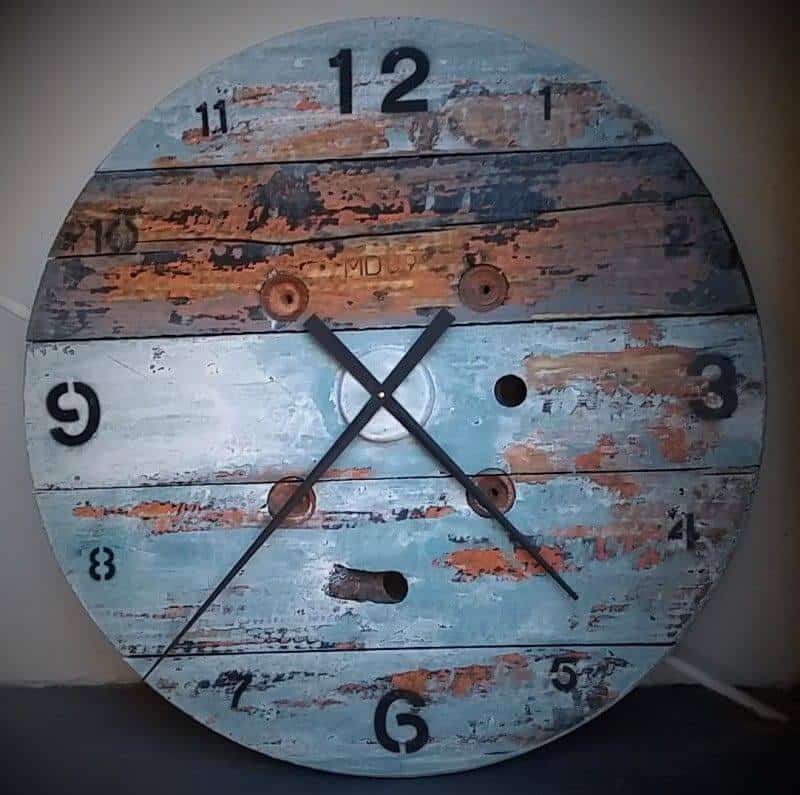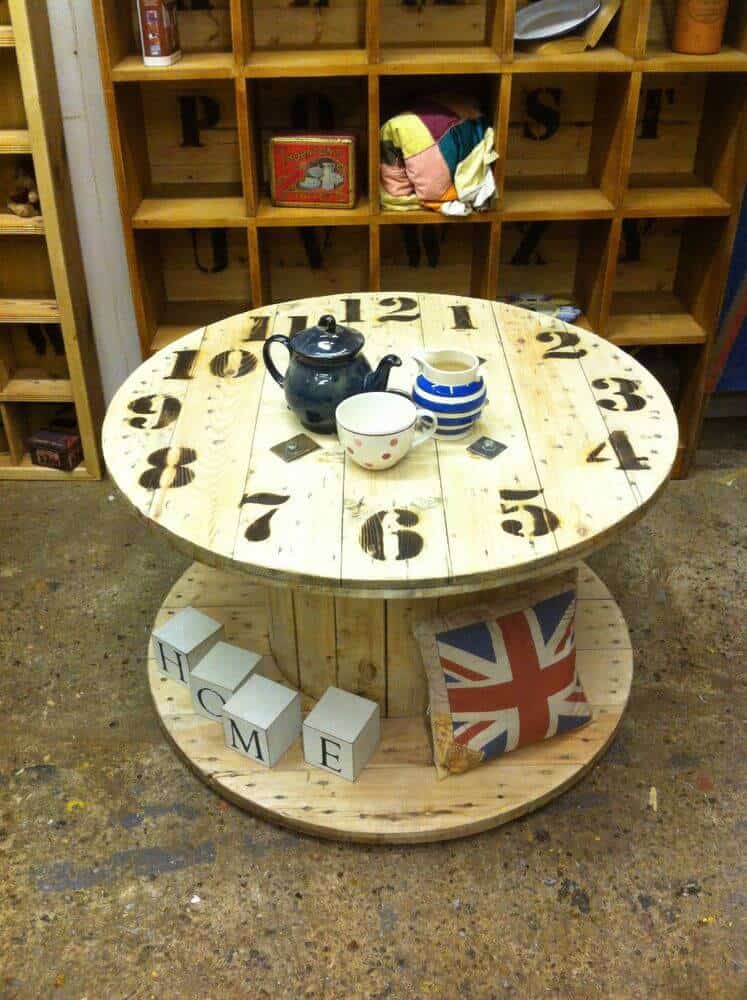 Pallet Wood Wall – Use pallet wood walls in alcoves or other small wall areas as a feature.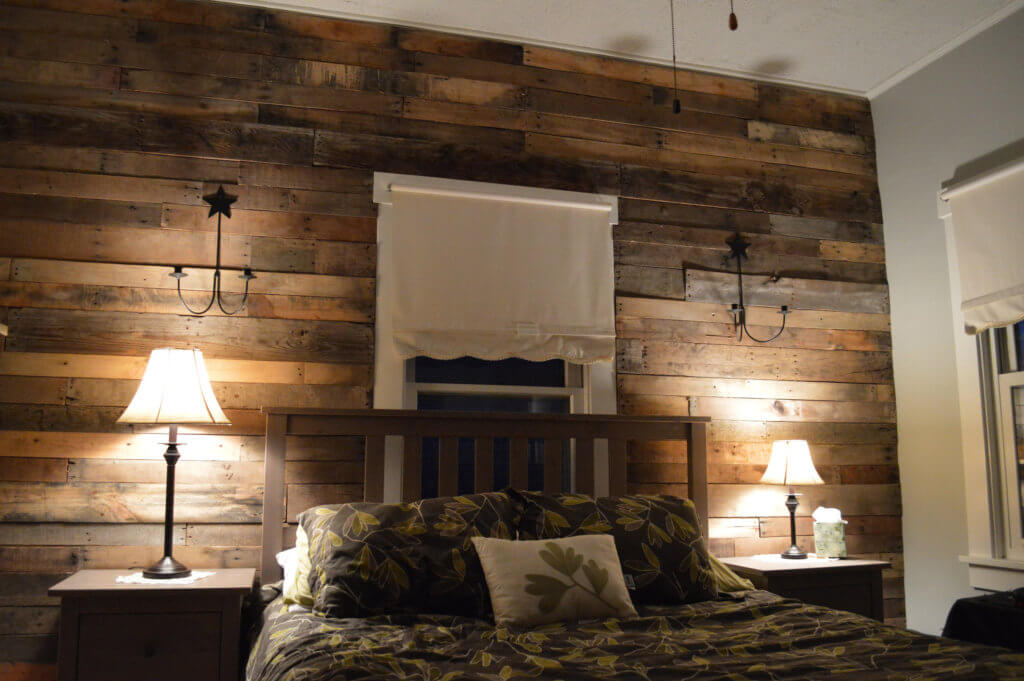 Firewood Stacks – Logs can be stacked into alcoves and under coffee tables to give an authentic rustic look.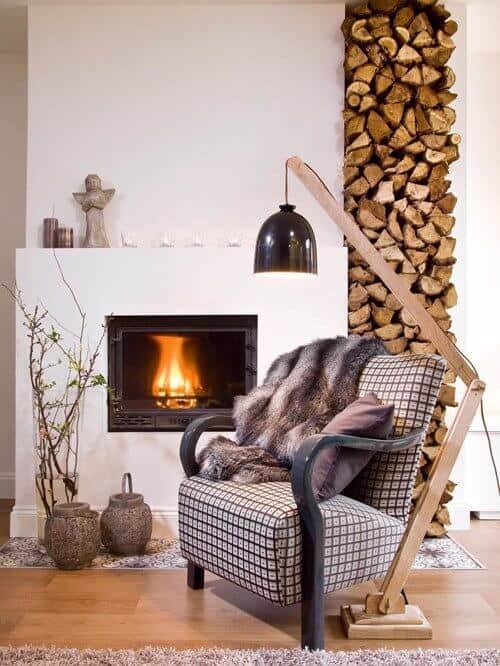 Ikea Living Room Ideas
Possibly one of the most famous furniture stores, and with good reason. Take a look at some of our favorite Ikea living room ideas that we have chosen. They offer a range of furniture to suit every taste that you have. Ikea sells everything that you need for the perfect living room.
Just for the living room they sell the following.
Sofas and armchairs
Tv and media furniture
Storage
Coffee and side tables
Textiles and rugs
Lighting
I like Ikea furniture. It offers functionality and style as a package. Whether you are looking for clean and fresh, or colorful and playful. A retro style or more of a  modern look, they are sure to have what is right for you. Some of the extreme ends of the spectrum are below.
Colorful, Playful, and Bright
Have you ever wanted to make your living room into an area that looks like it came straight from a soft-play area? Because one of Ikea's most striking living room set-ups is just that. From sofas with "paint splash" patterns on it to bright yellow dining chairs. I am not sure that you could find another shop quite like Ikea.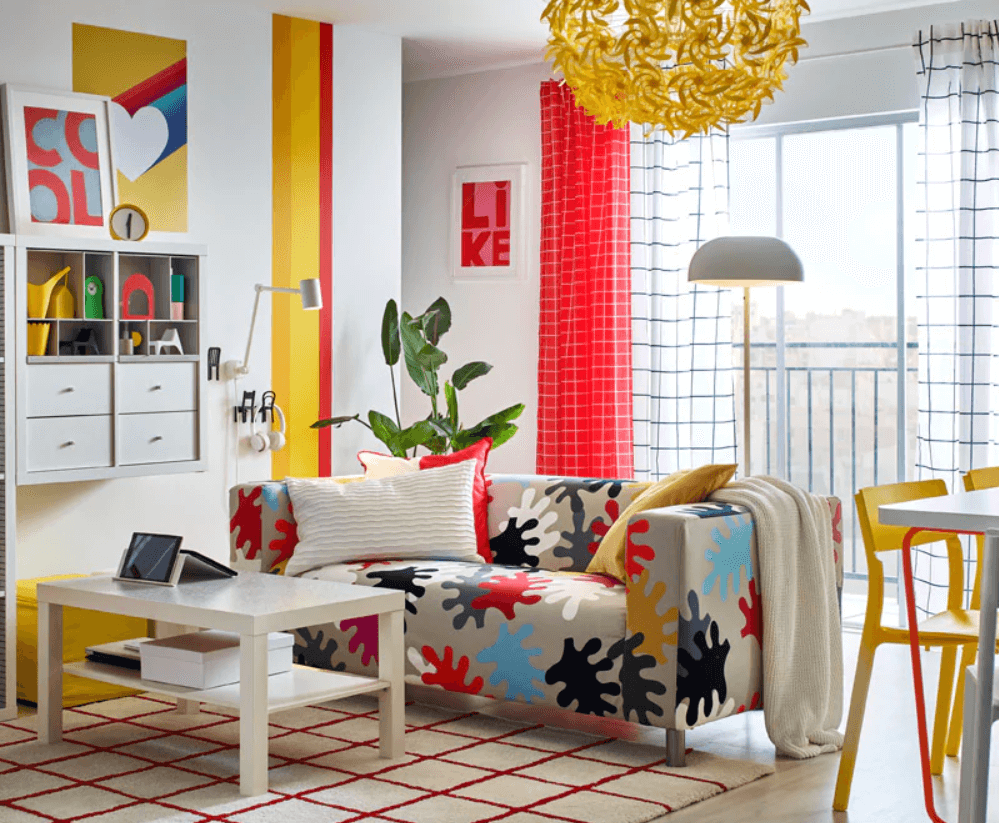 Source: Ikea
Contemporary Style
If the bright and vibrant colors are not what you are looking for, maybe you would prefer more of a modern living room? Ikea has that too. Keep your place with more of a minimalist look without the sacrifice that comes with getting rid of all of your stuff with this style. It also brings out the inner Diva.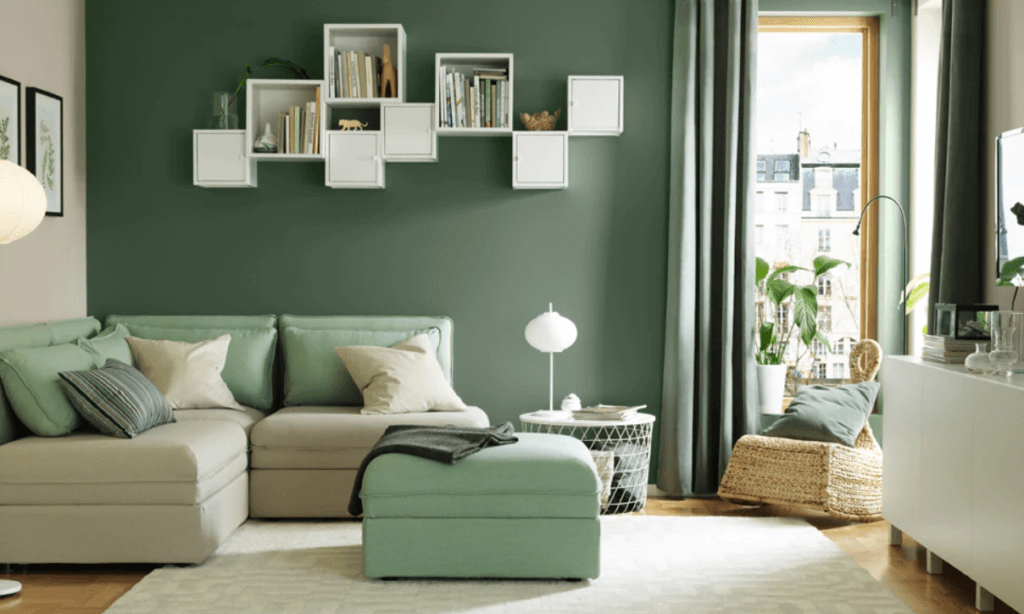 Source: Ikea
Ikea has these and everything in-between. Take a look and see which is your favorite.
Gray Living Room Ideas
We have covered grey bedroom ideas in depth, so go there to look at some of the ideas that you can incorporate into this section. However, grey living rooms aren't always the same style that you'd like your grey bedroom. You may want more of an elegant look in the living room.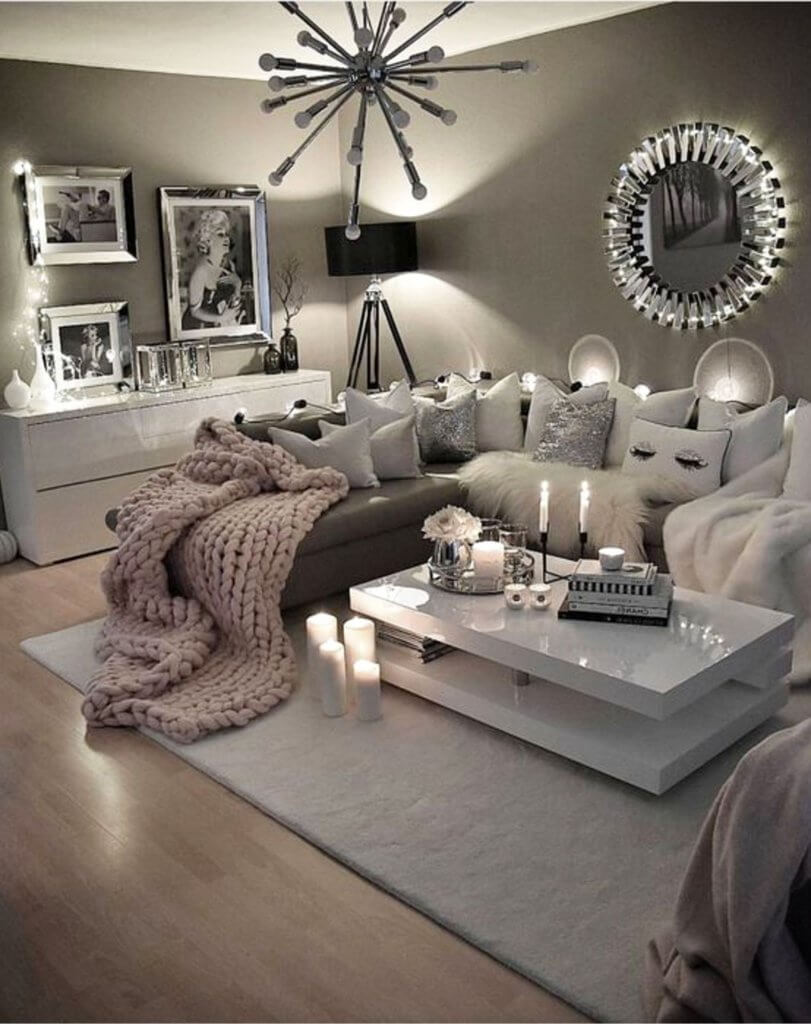 5 Shades of Grey
If you like the look of grey and want your living space that way, then why not try to mix up the shades? If you already have a grey living room and want to change it, but still really like grey, you may be wondering how to do it. Adding shades to an already grey room is a straightforward way to decorate without redecorating. Shading is exceptionally effortless if you still have the paint left over, as you can add white or black to it to change up the shades.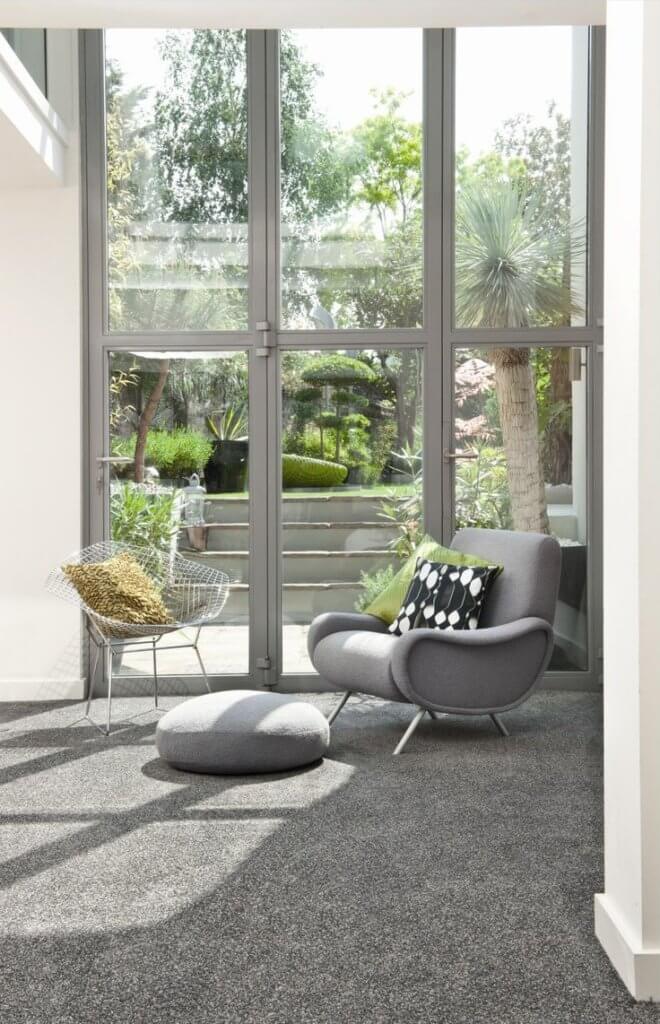 Regal Grey
You can turn a dull living room into a regal grey room with touches of gold and patterns. Although you have the option to buy some of the gold-colored furniture, Kudos House is a big fan of upcycling, as you can see in our refinishing article. Therefore, we would urge you to take some time to look around your room and see if you can add some gold paint to any of your existing furniture to give it a look you are after.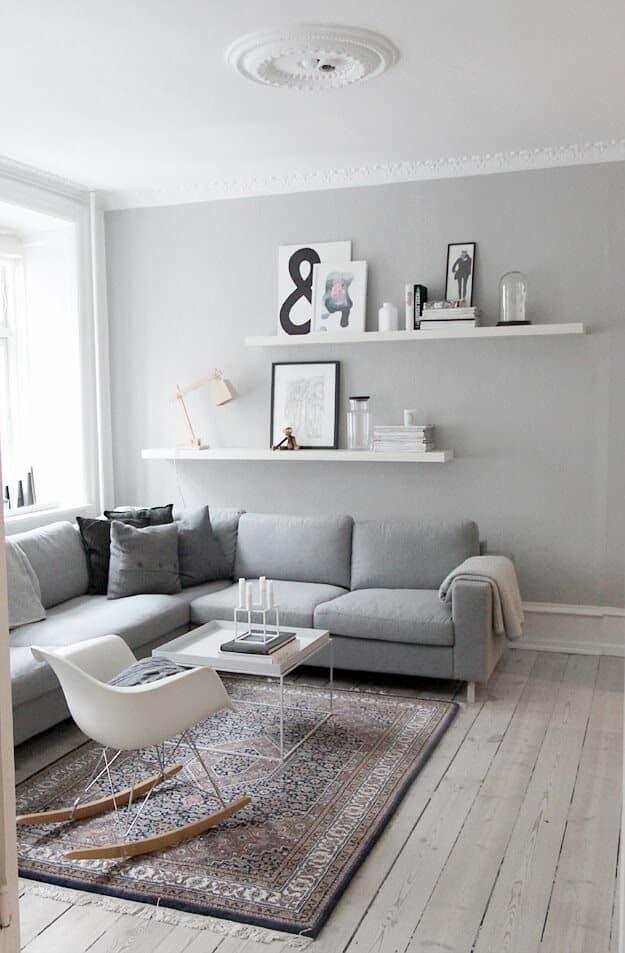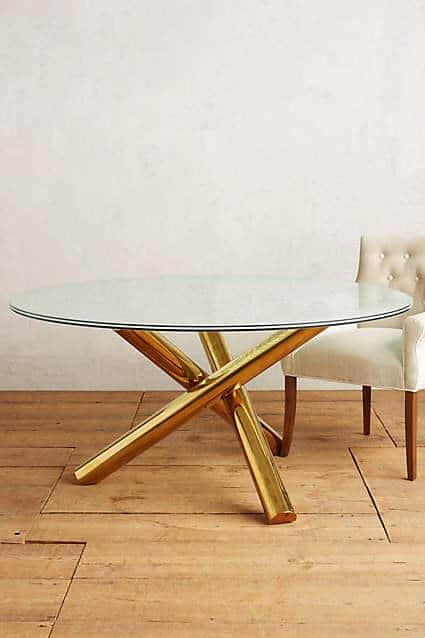 Gold and black mirror or picture frames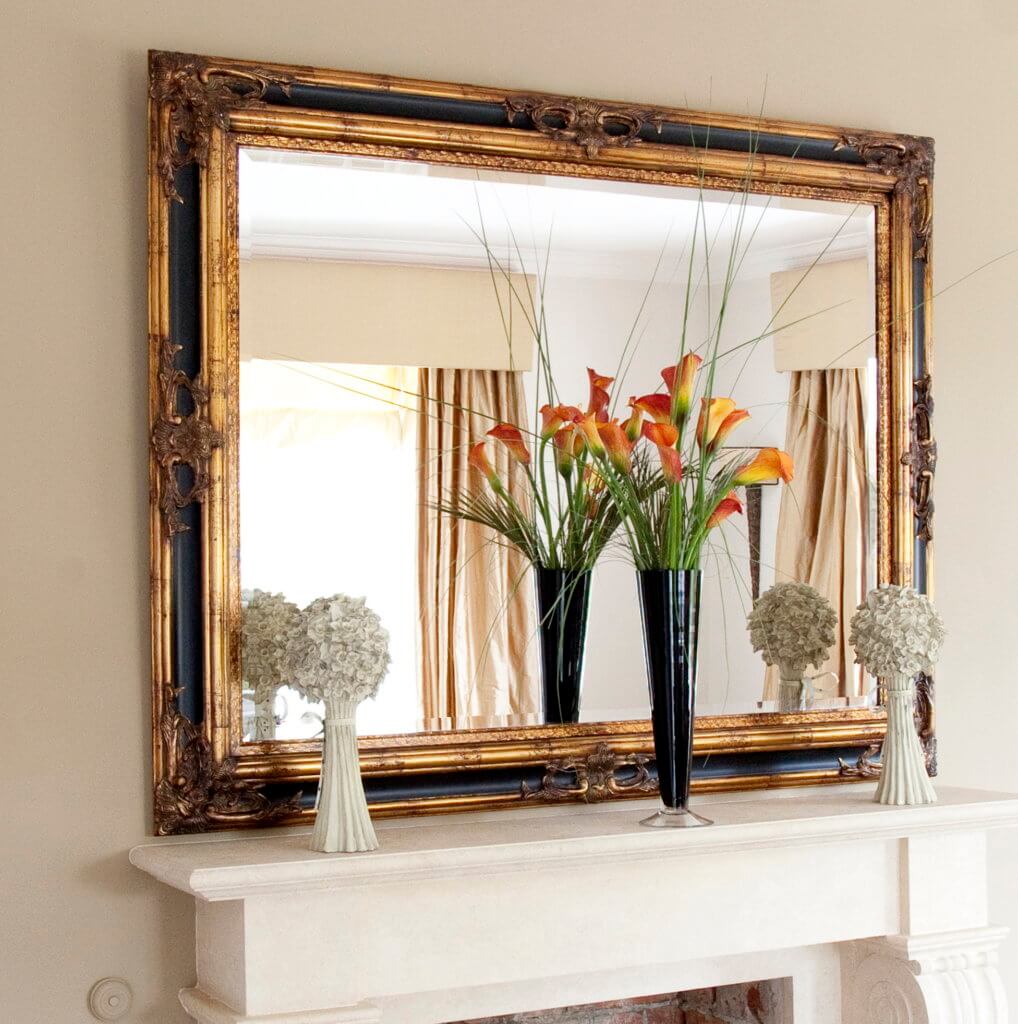 Curtain tie backs in gold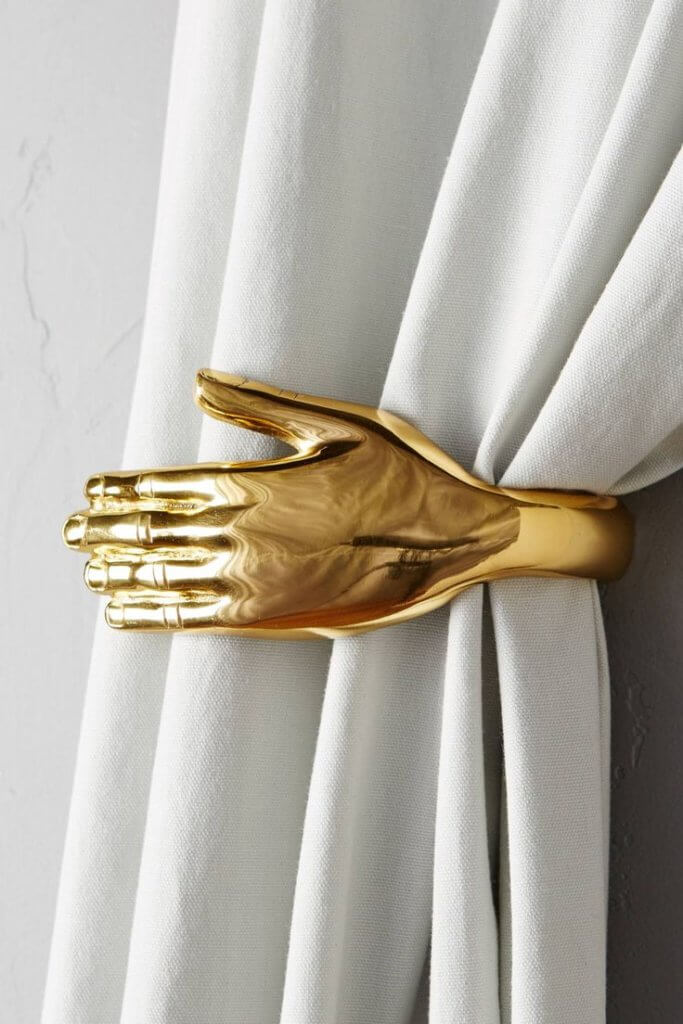 Cushion covers with gold tassels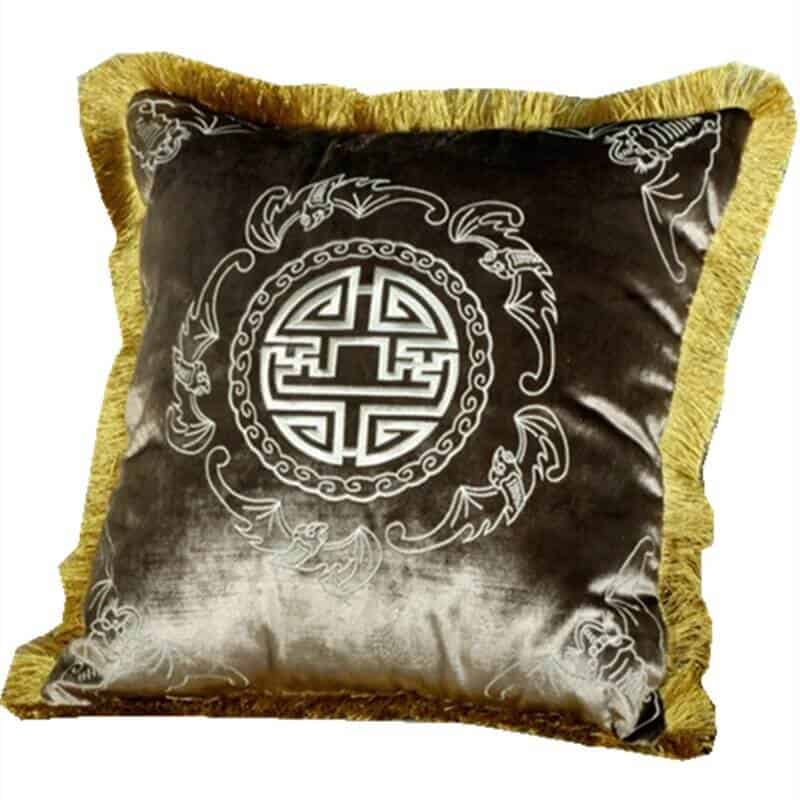 The ideas that we have given you here will not only look good in gold. You can use any color you like to accent grey. But my suggestion to you, the same as the bedroom, take something that is the same color as your room with you when you go to buy accessories. That will give you reasonable indications of what shades of what color will look good.
Grey living rooms are one of the most natural colors that you can mold into your own space with just a few items. Add some of the following colors for different looks.
Ivory and Cream for the elegant look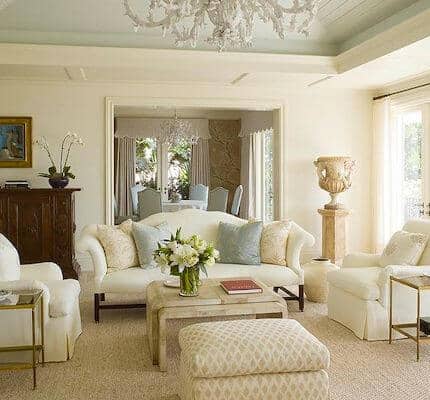 Yellow for a bright and lively feel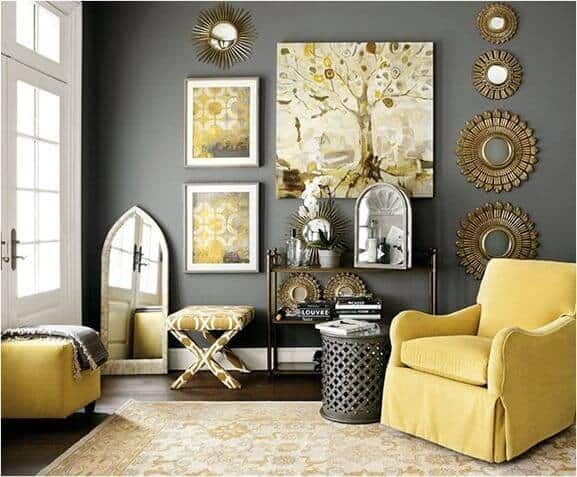 Brown and deep reds for warmth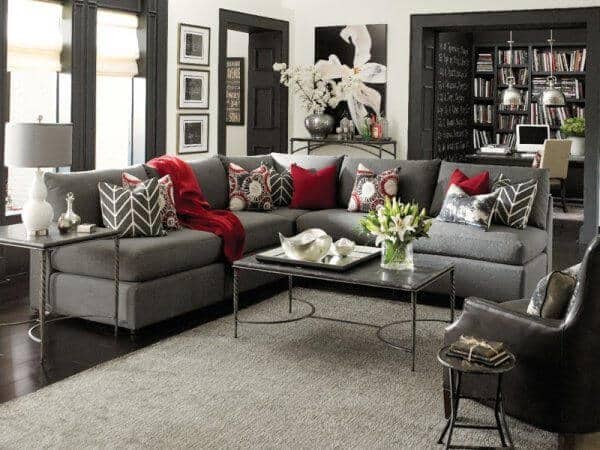 Soft and clean with white and cream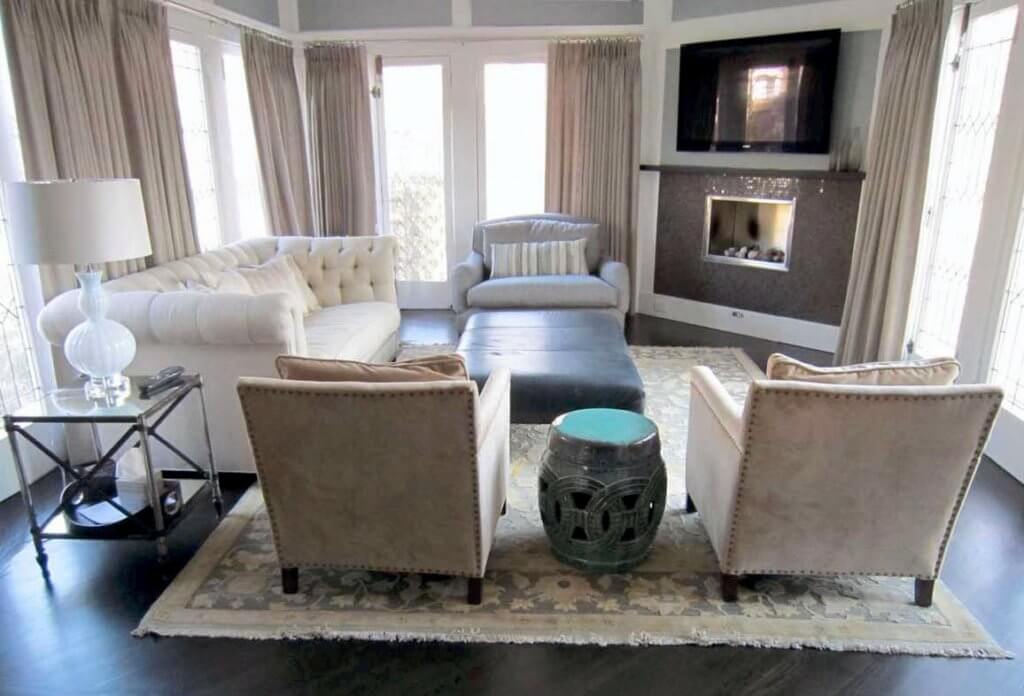 One more piece of advice that I have is this: Paint your room in the grey you like. Go around your house and pick some items in colors that you want. Take those items into your living room and place them by the wall. Doing this with the things will give you some ideas about which colors you like and which will look the best.
Industrial Living Room Ideas
Are you looking for a living room with more character than most? An industrial style living room has more personality than you could imagine. There are two main ways that you can complete this style. One is by customizing the walls, floor, and ceiling. The other is to add industrial furniture. In this section, we are going to take a look at the two style options you have and how you can incorporate them.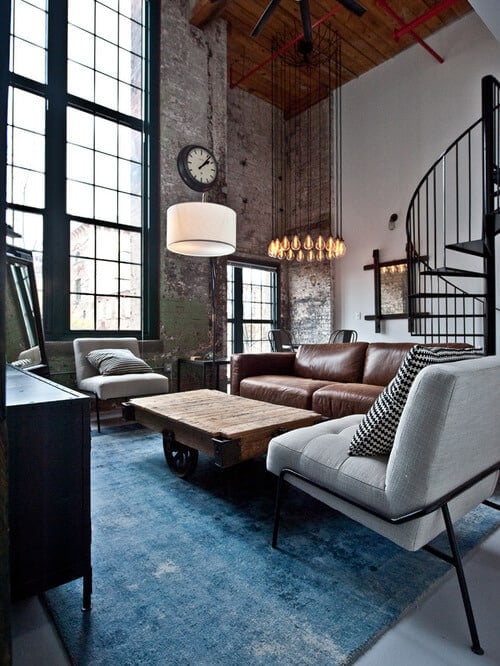 Industrial Walls, Floors, and Ceilings
Some of the most effective ways of turning your living room into an industrial style, space are to utilize the walls, floor, and ceiling. Here are some of the possibilities that you have.
Brick Walls – Not all houses or living rooms have brick walls, or the space needed to build them. But what you can do is get high-quality brick wallpaper. Because of the vast range of brick wallpaper that is available to you, I would suggest that you take some time to look through it. Furthermore, I would look for some that look like old bricks.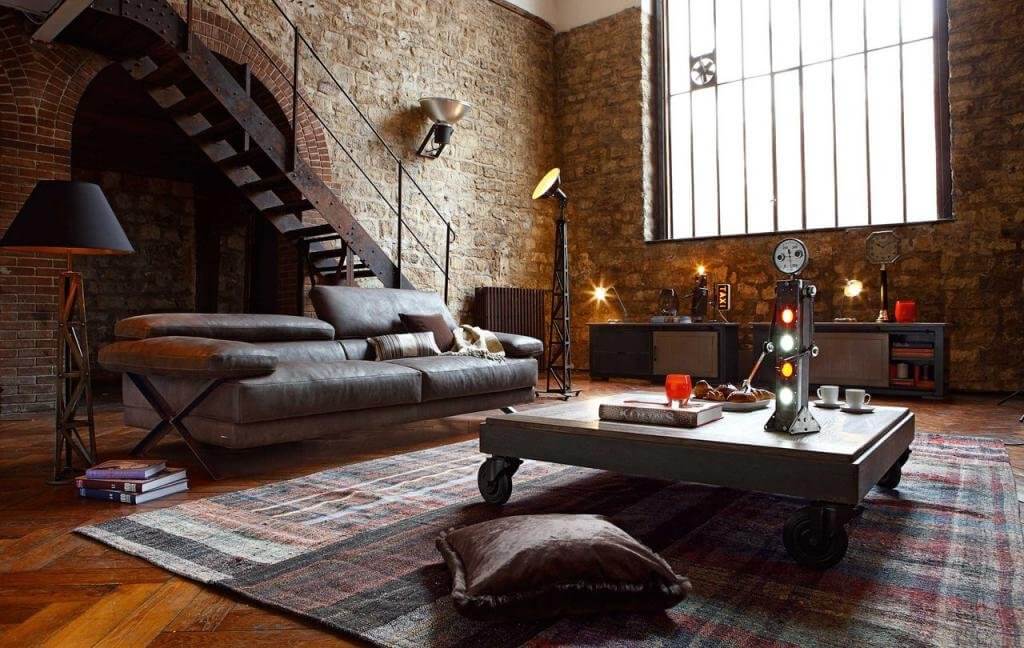 Dark, reclaimed wooden Floor – Certainly not all people have the money for reclaimed wood flooring. However, if you already have a wooden floor of some sort, then you may be best to look into getting it stained to look like old, reclaimed wood.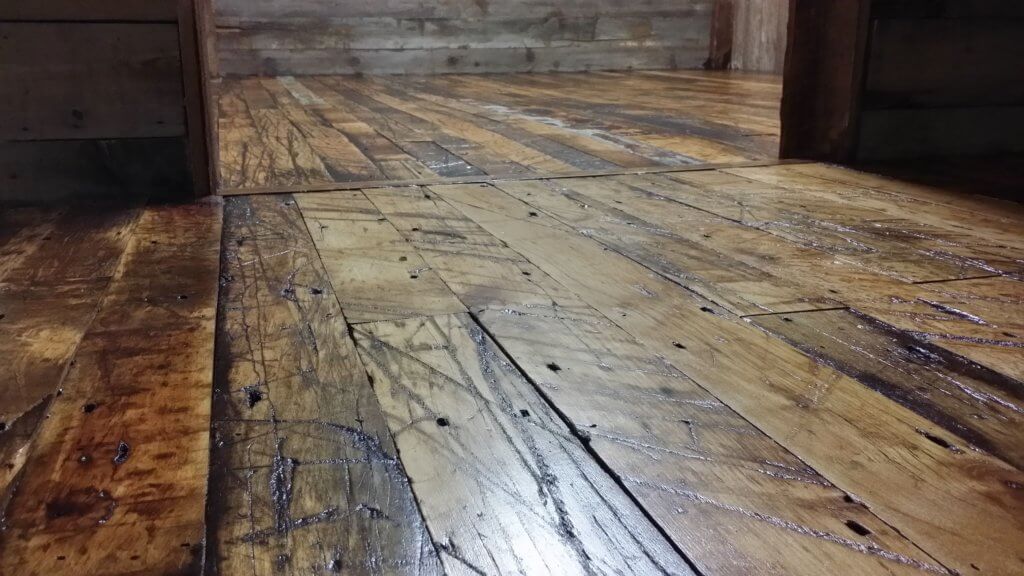 Wooden Ceiling Beams – In contrast to the previous two ideas, there is no cheap fix to get wooden ceiling beams. You can either buy them or not. However, what you can do is buy half beams and attach them to your existing ceiling.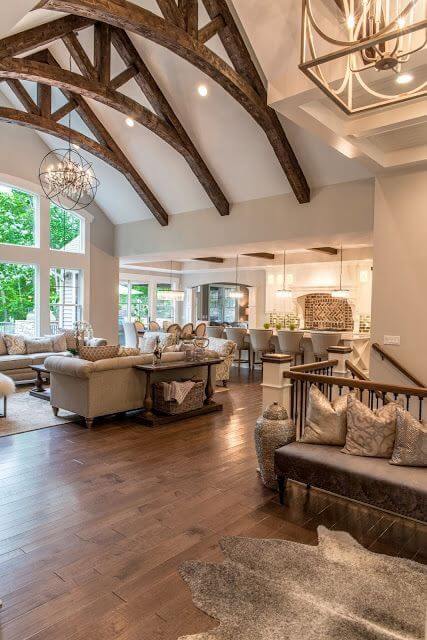 Industrial Furniture
When you first think of industrial furniture, you probably think of sitting on sawmills and eating at a blacksmith bench for your dinner. However, this does not have to be the case. There is quite a lot that you can do with a living space to turn it into an industrial oasis. Depending on your current decor, something as simple as leather furniture will add the look that you may desire.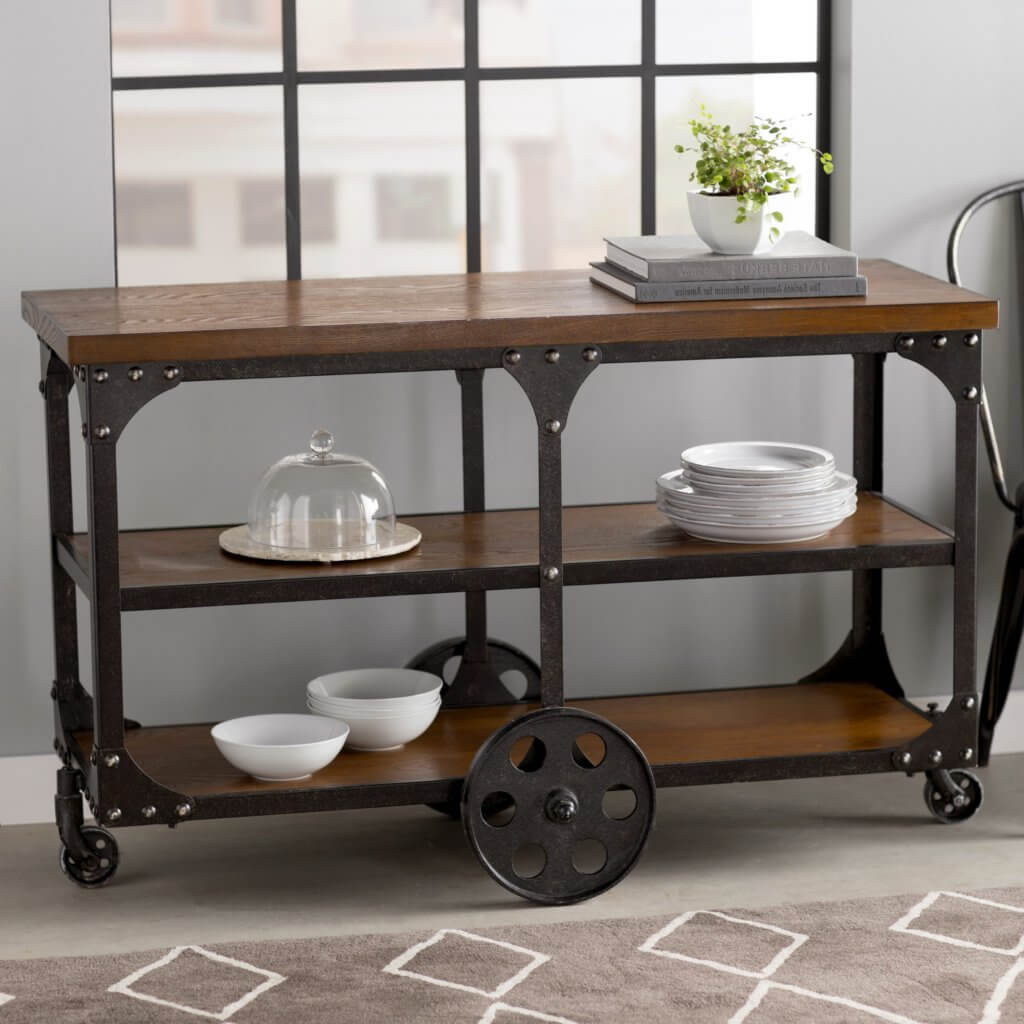 Likewise, as with the walls, floors, and ceilings, here is a list of some of the things that you can do with the furniture.
Metal pipe and Wooden Furniture – You can get extremely creative with making your furniture with this style. 2-inch pipe painted in matt black can be the base for almost anything that you can think of and top it off with wood.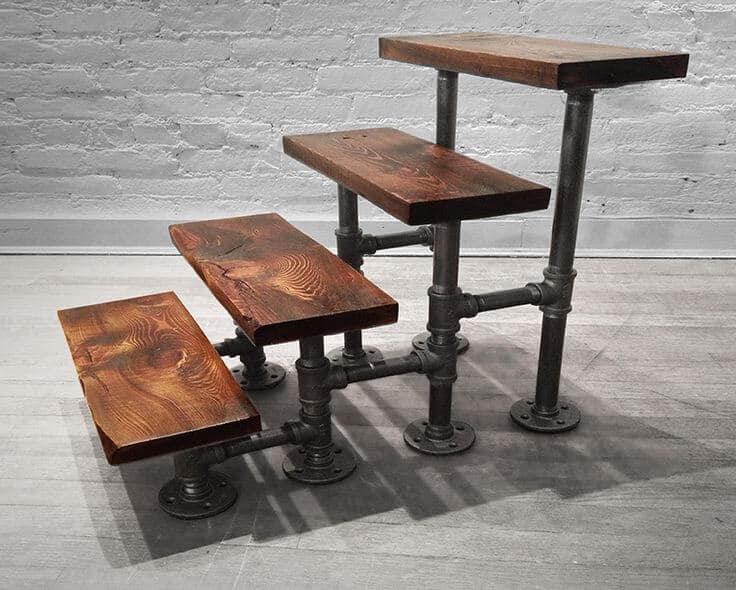 Old Leather Furniture – Old leather can give the appearance of an industrial style office in an instant.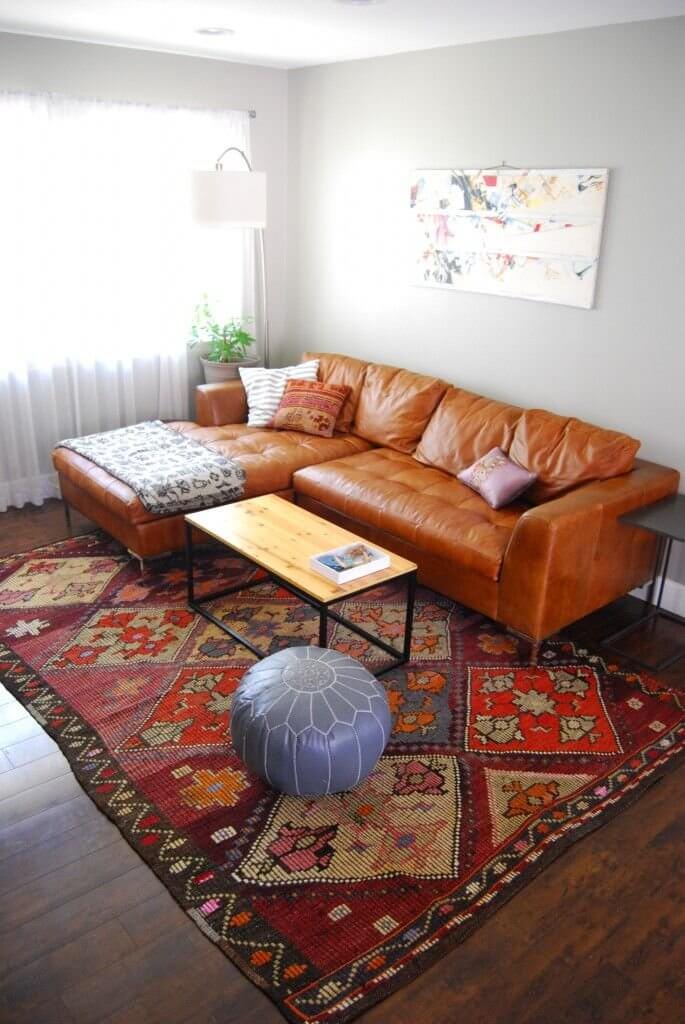 Metal cabinets – Repainted in matt black, or you can mix it up and have a dark red or green weathered look.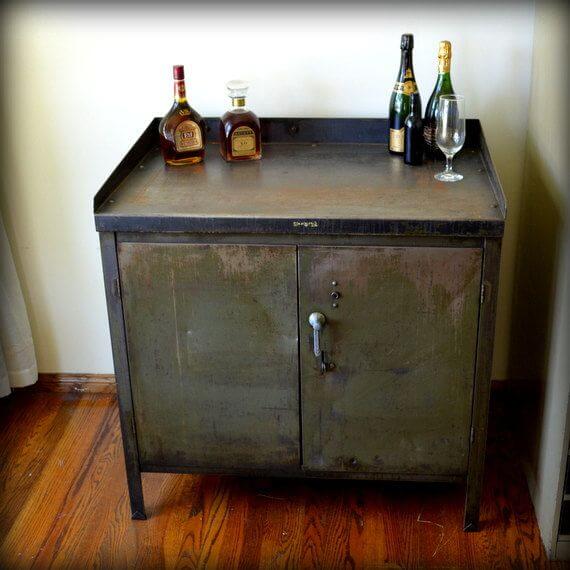 Cast Iron Radiators – One of the most prominent, modern features of a living room can be the radiators. Change these for heaters with cast Iron features, and you will transform a room with ease.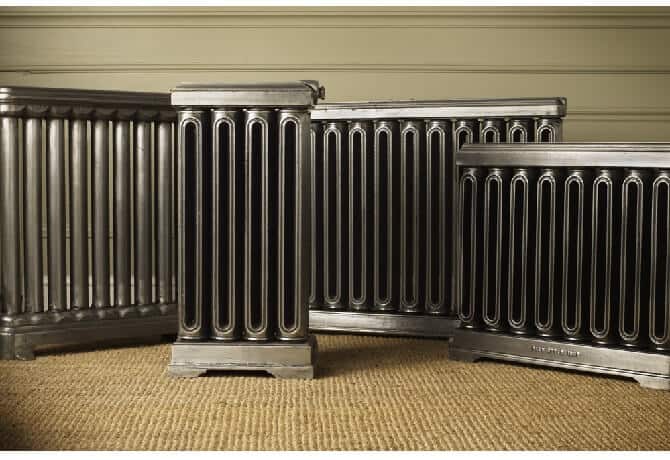 Accessories – There are various accessories that you can use to give your room an industrial look: Vintage lamps, wooden wheels, even old telephone boxes.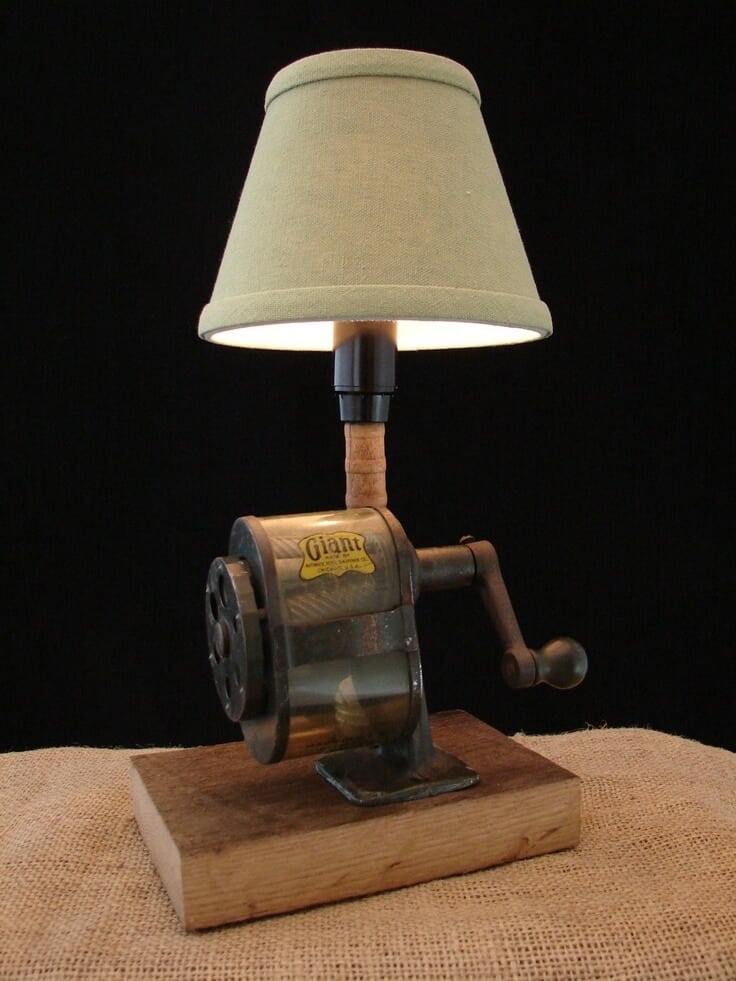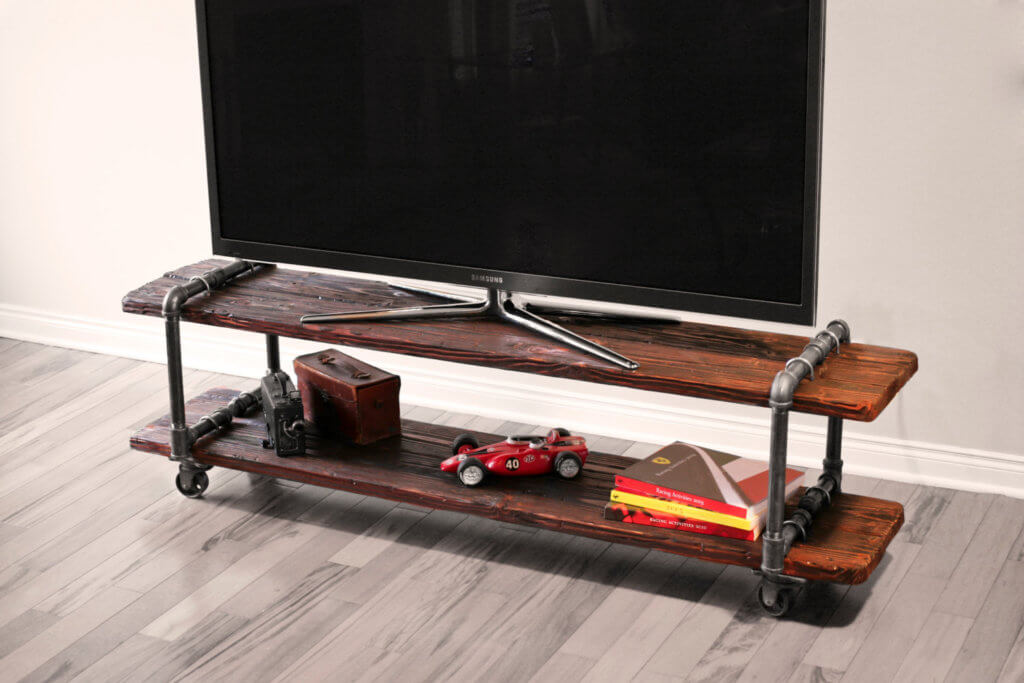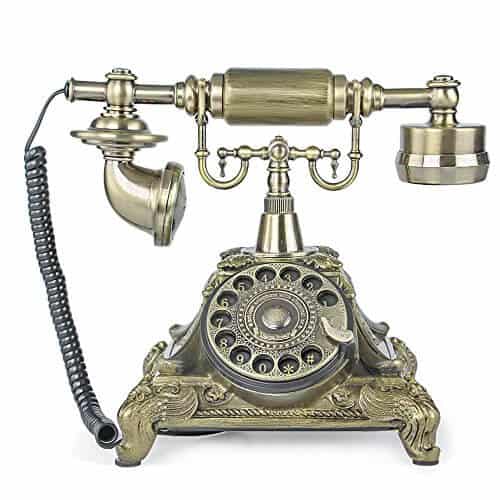 Bohemian Living Room Ideas
First of all, a little bit of background. Bohemian means "socially unconventional in an artistic way." Therefore, it stands to reason that this section of the article is going to be something you like or don't. Pretty much, anything goes in a bohemian room. Although it isn't always as easy as you may first think. You have to plan the room and choose colors before you create the look that you want.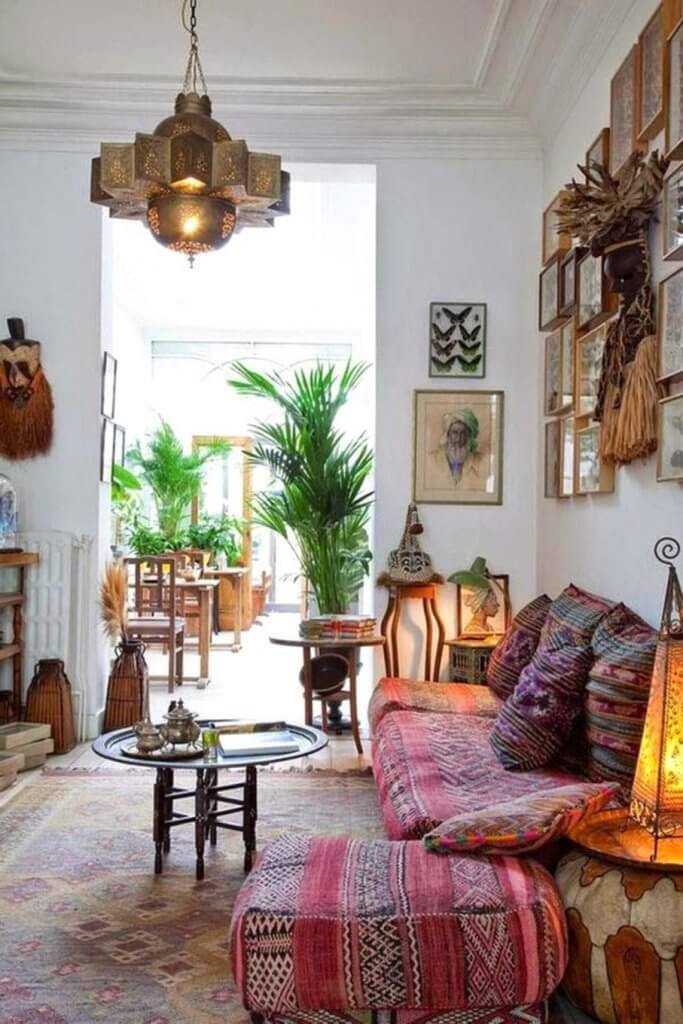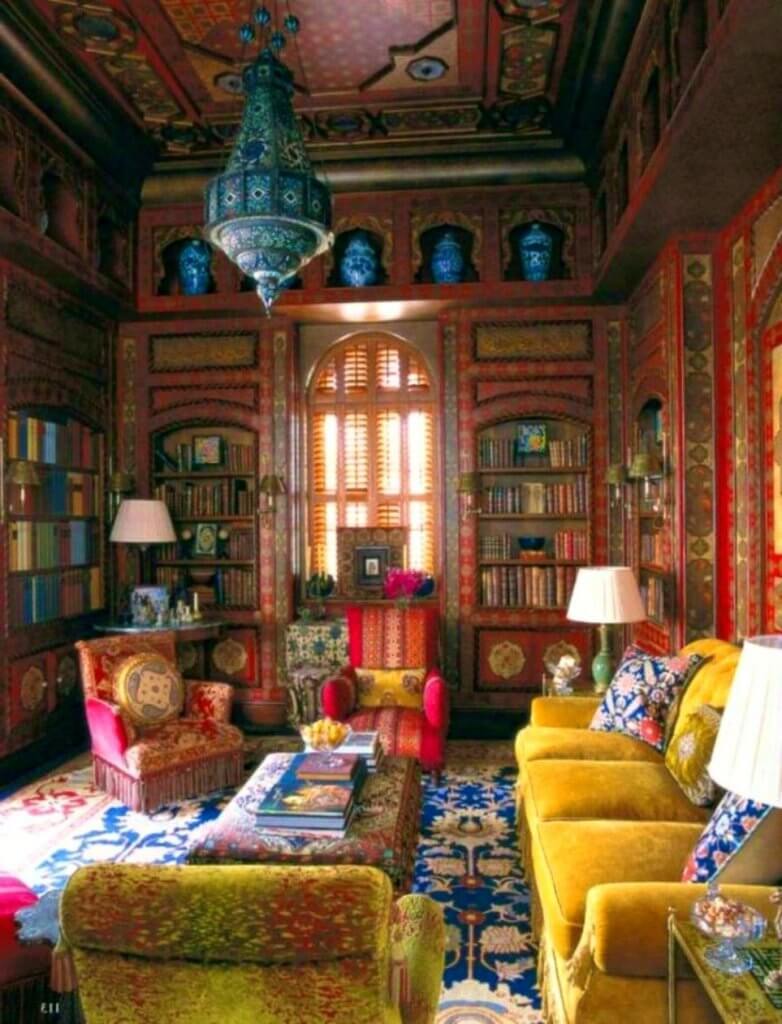 That said, each "boho" room is unique. One of the best features of boho living rooms is that you can use art. Your artworks very well to give it a personalized touch. Some ideas of what you can use to create the perfect bohemian living room are below.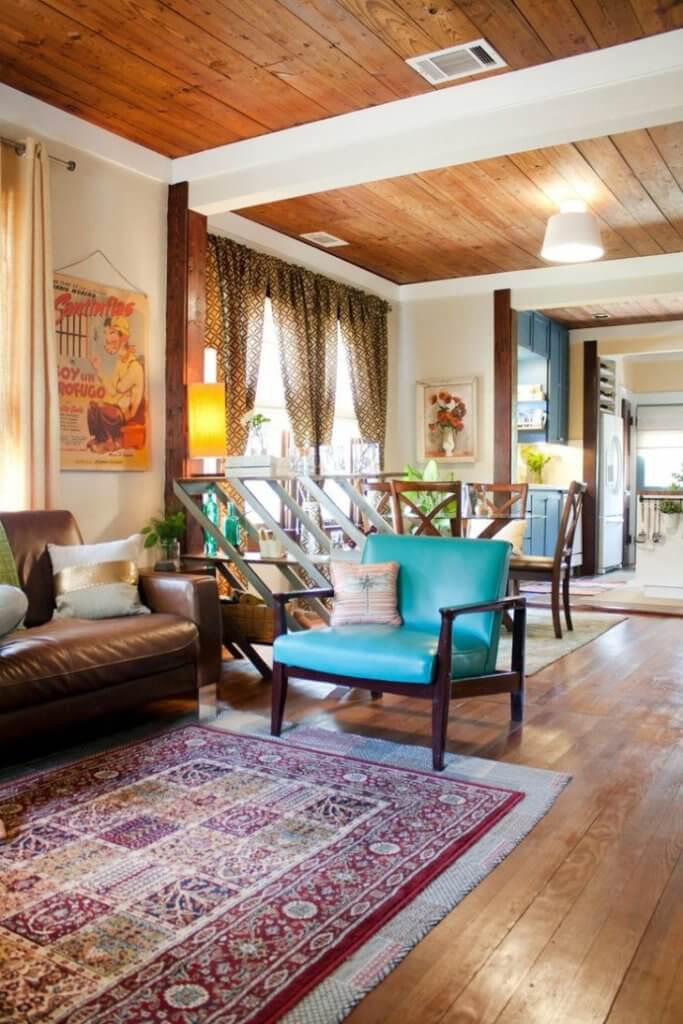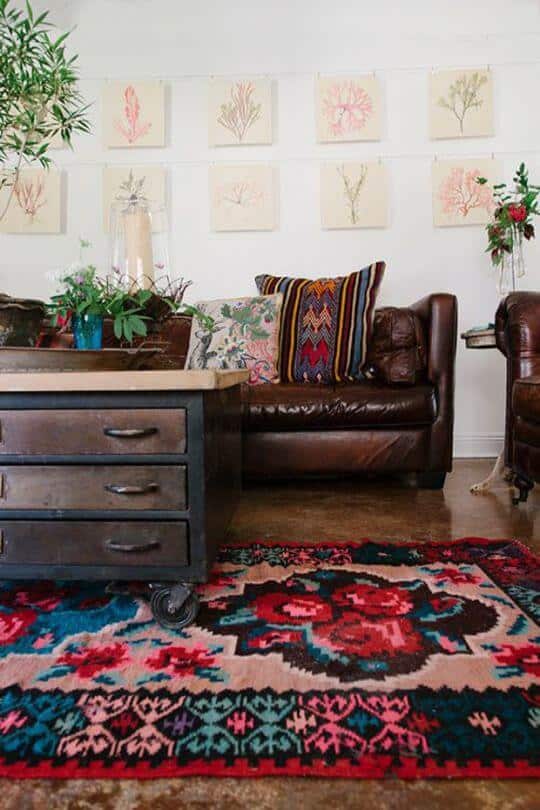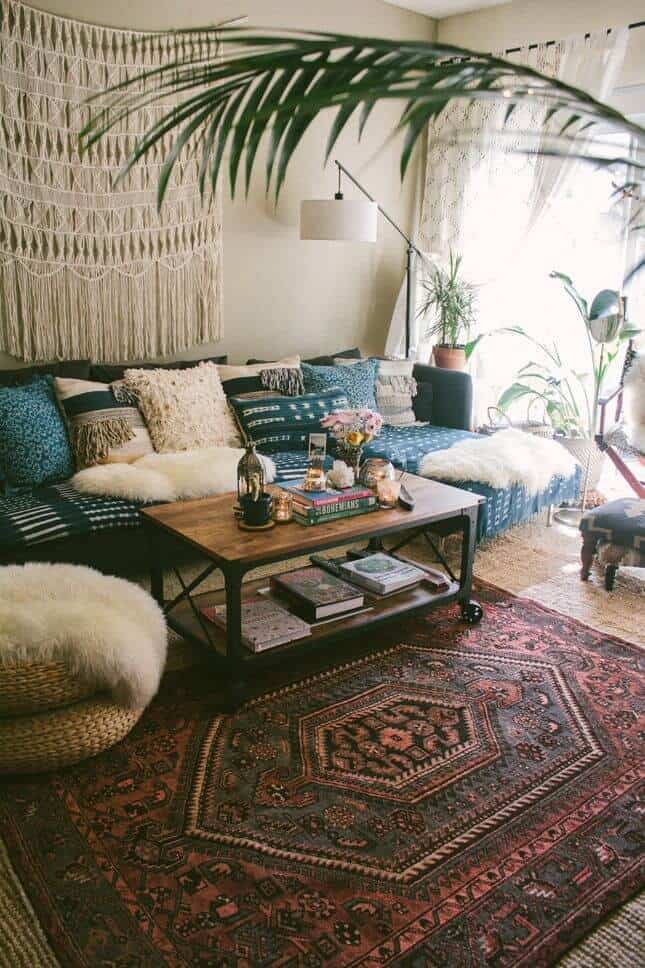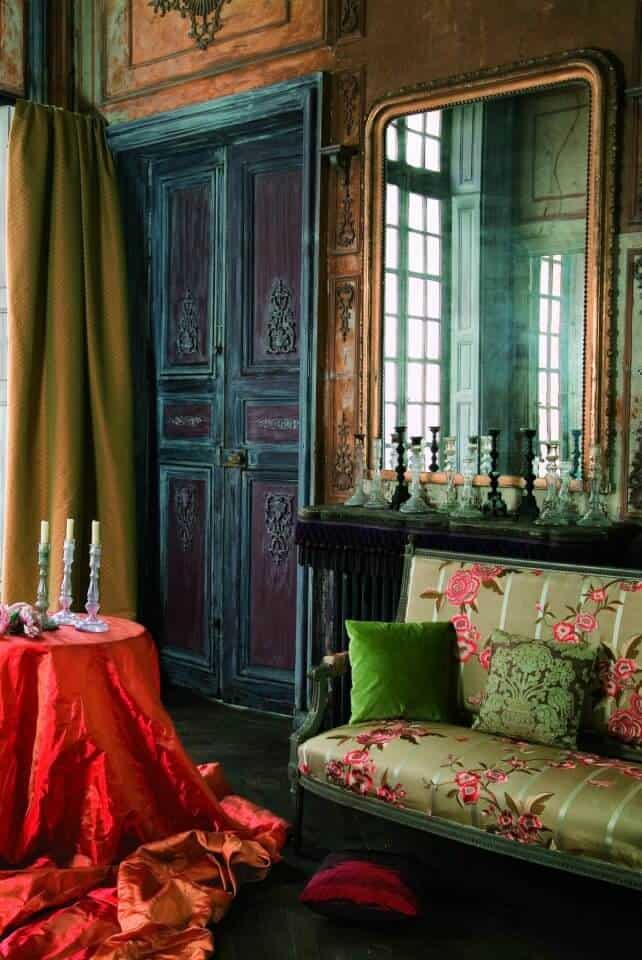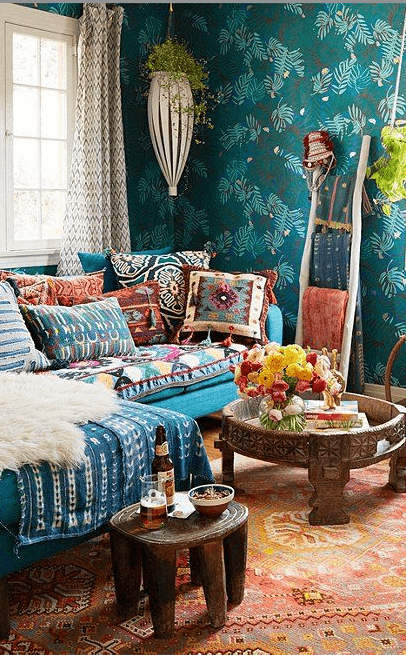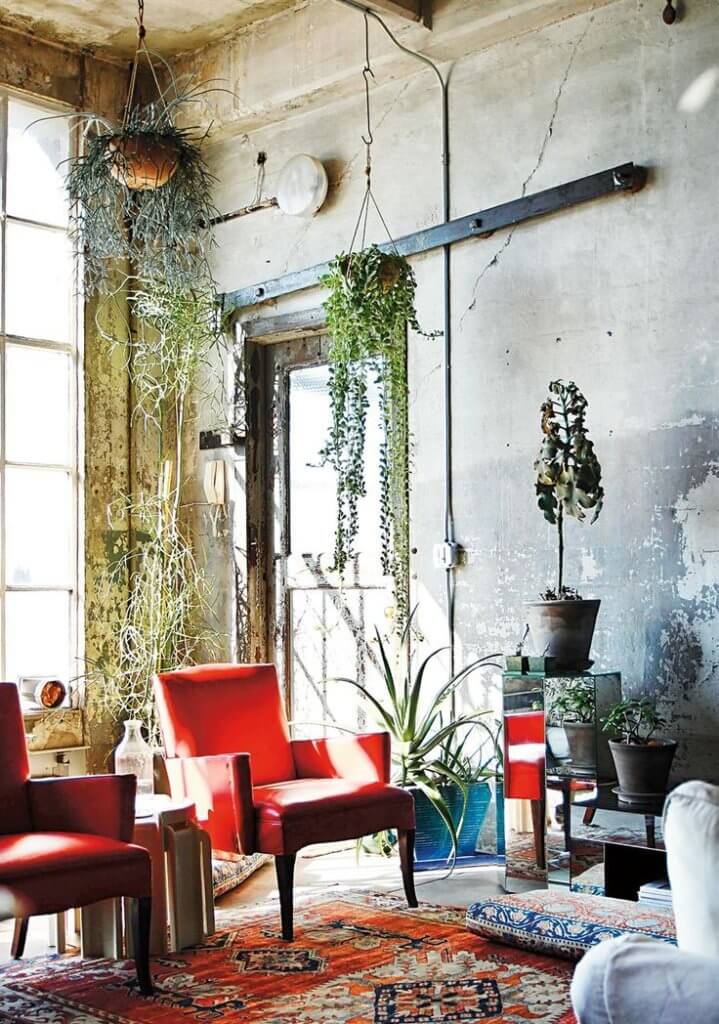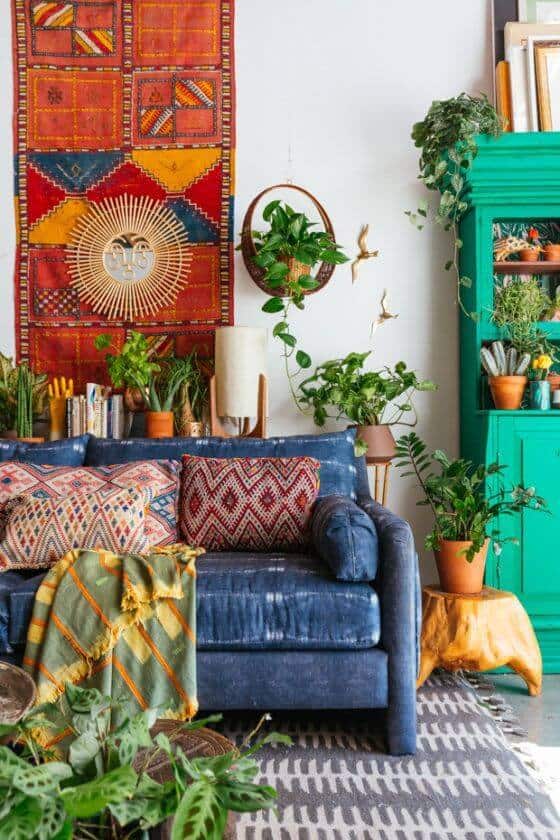 Bohemian designs are so unique that you are best to look through the images and pick what you like. Try to keep patterns and colors similar though. The similarity is because, if the room is not appropriately planned, you could easily make a boho room look messy.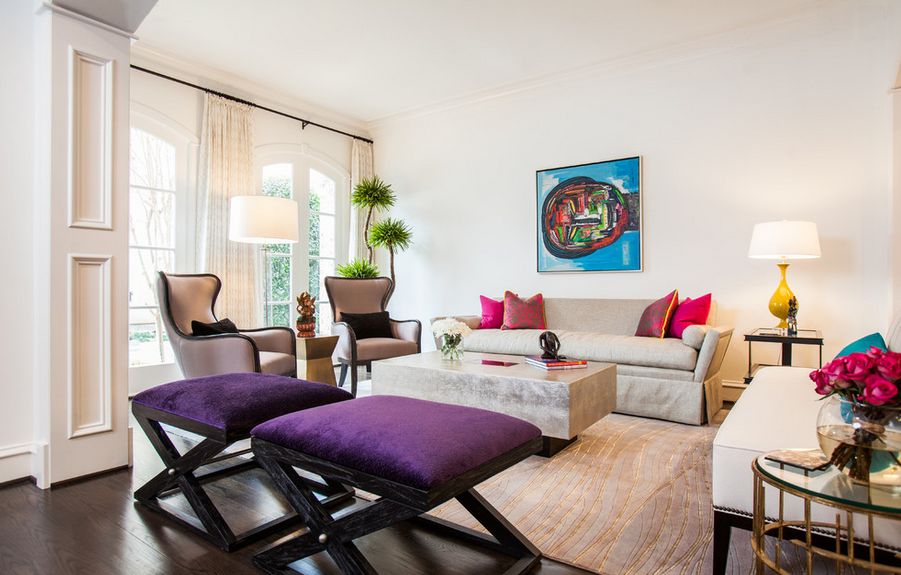 Conclusion
We have opted to stay away from the modern, plastic feel of the usual living room that is commonplace at the moment. This is because you do not get quite as much personality with these rooms. I think that if you are going to completely change a place that you spend most of your time in, then you should do it in a style that you love. One that you are happy to sit in every single day.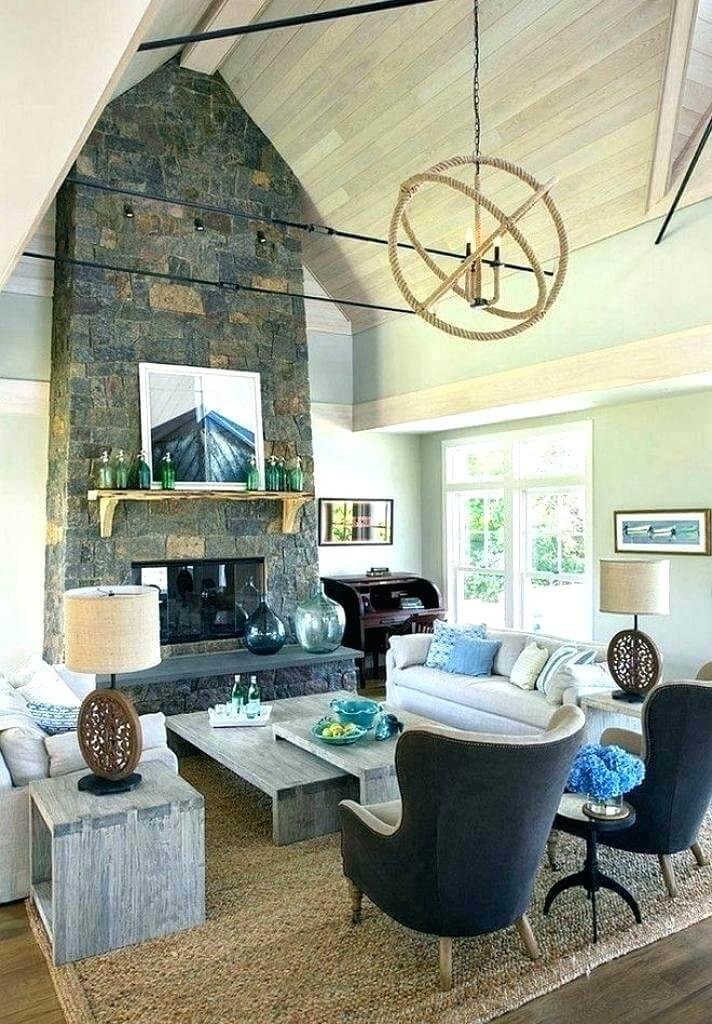 Make your living room somewhere that the whole family feel comfortable. Add touches to the decor that you can use as conversation starters. If you are into art, then hang your work, make people see it.